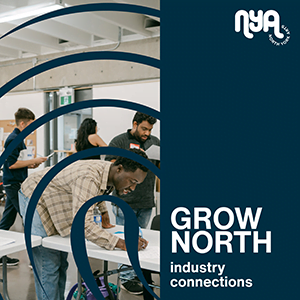 Grow North Industry Connections
Are you a performing artist learning to navigate the arts sector? Do you want to connect with peers and learn how to talk about your work? Are you seeking access to professional development opportunities to expand your artistic practice?
North York Arts' Industry Connections event, is a chance to participate in an in-person meet-and-greet with performing artists, arts organizations, and funders to gain access to information about opportunities to take your performing arts career to the next level. This event is in partnership with TOES FOR DANCE, as a part of Common Ground Dance Festival. and Gibson House Museum.
We're excited to offer:
-FREE professional headshots (limited offer)
-Informal & Facilitated Networking
-Panel discussion from performing arts industry professionals
Stay tuned for the next Industry Conections event!
Through programming, community engagement and development, we prioritize investing in North York based artists.
Starting in 2022, North York Arts has been embarking on an exciting path to provide opportunities for artists living in North York through our Grow North program. With three exciting streams, Grow North aims to support artists by way of creative residencies, a microgrants program, co-working sessions, and most recently, the first in a series of industry connection events.