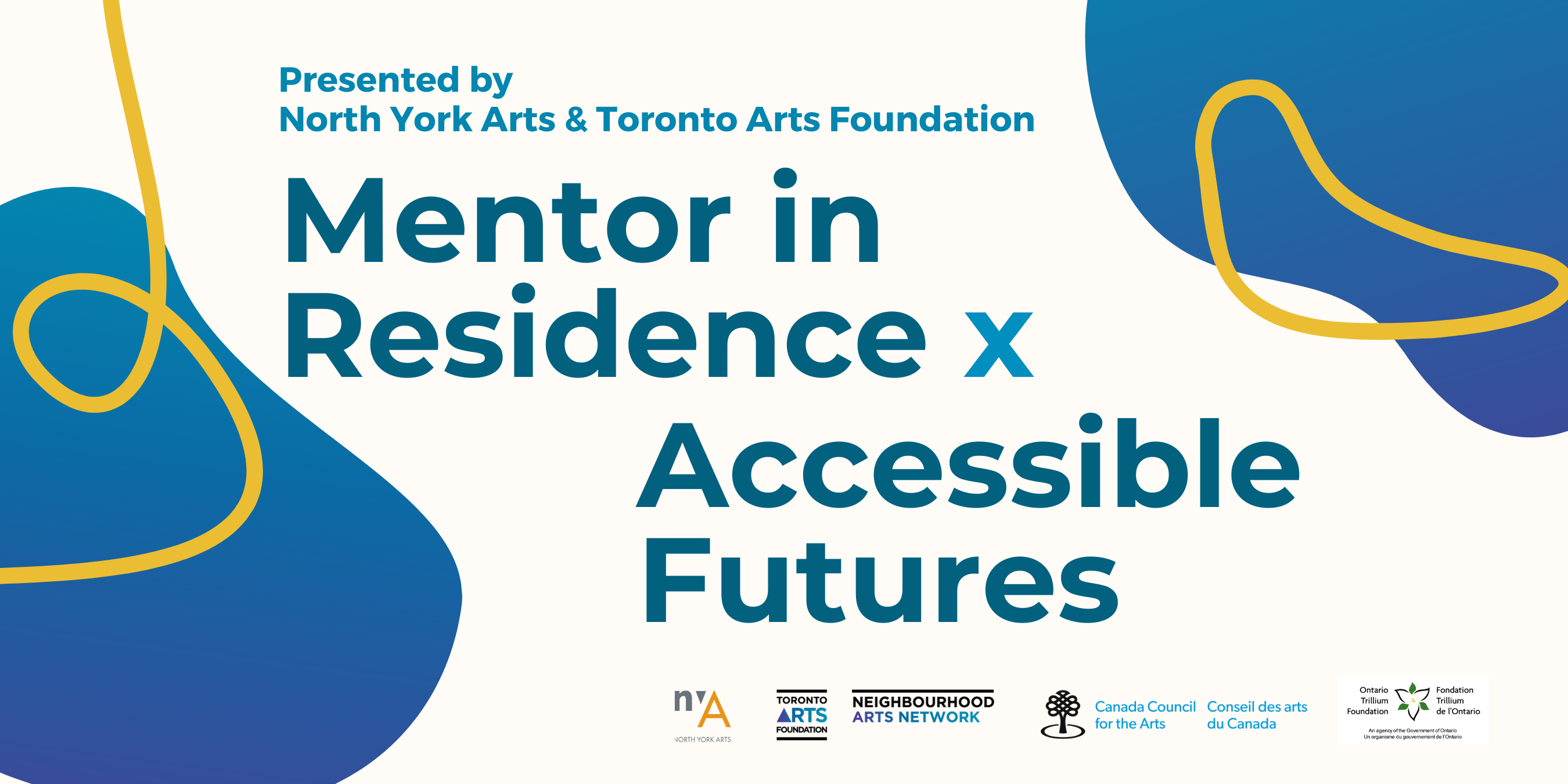 Mentor in Residence x Accessible Futures
We are excited to announce that North York Arts and the Toronto Arts Foundation's Neighbourhood Arts Network are collaborating on the Mentor in Residence x Accessible Futures program.
This program will offer a professional development series, 4 dialogue sessions two-hour long presented online in the fall focused on increasing the capacity of non-disabled led organizations* to work with artists with disabilities/disabled artists and program staff. In addition to being able to attend one or multiple sessions, participating organizations and staff will have the opportunity to book free one-on-one consultation sessions to connect with mentors to support their organizational accessibility goals, frameworks, and advocacy. Registration for one-on-one sessions will be made available after the dialogue sessions.
Dialogue Sessions:
Sept 15, 2022 from 3pm to 5pm
Disability Justice for Organizations
Dev Ramsawakh, Pree aka Sticky Mangos, and Wy Joung Kou
Guided discussion co-led by NAN and NYA
Accessibility: CART
Sept 22, 2022 from 3pm to 5pm
Disability Justice Journeys Sharing Circles
Jumblies Theatre, Theatre Passe Muraille, and National Creation Fund
Moderated by Shay Erlich
Accessibility: ASL interpreters Latasha Lennox and Rogue Benjamin
CART
Sept 29, 2022 from 3pm to 5pm
All About Accessibility Baseline
Gaitrie  
Accessibility: ASL interpreters
CART
Oct 6, 2022 from 3pm to 5pm
Race and Disability Justice for Organizations
Natasha "Courage" Bacchus and Sivert Das
Moderated by Alia Ettiene
Accessibility: ASL interpreters Latasha Lennox and Kimberley Johnson
CART
Each organization is offered 2 spots for staff or board members per session. Spots are limited and are first come first serve.
*All organizations are welcome and invited to participate should the series topics be of interest.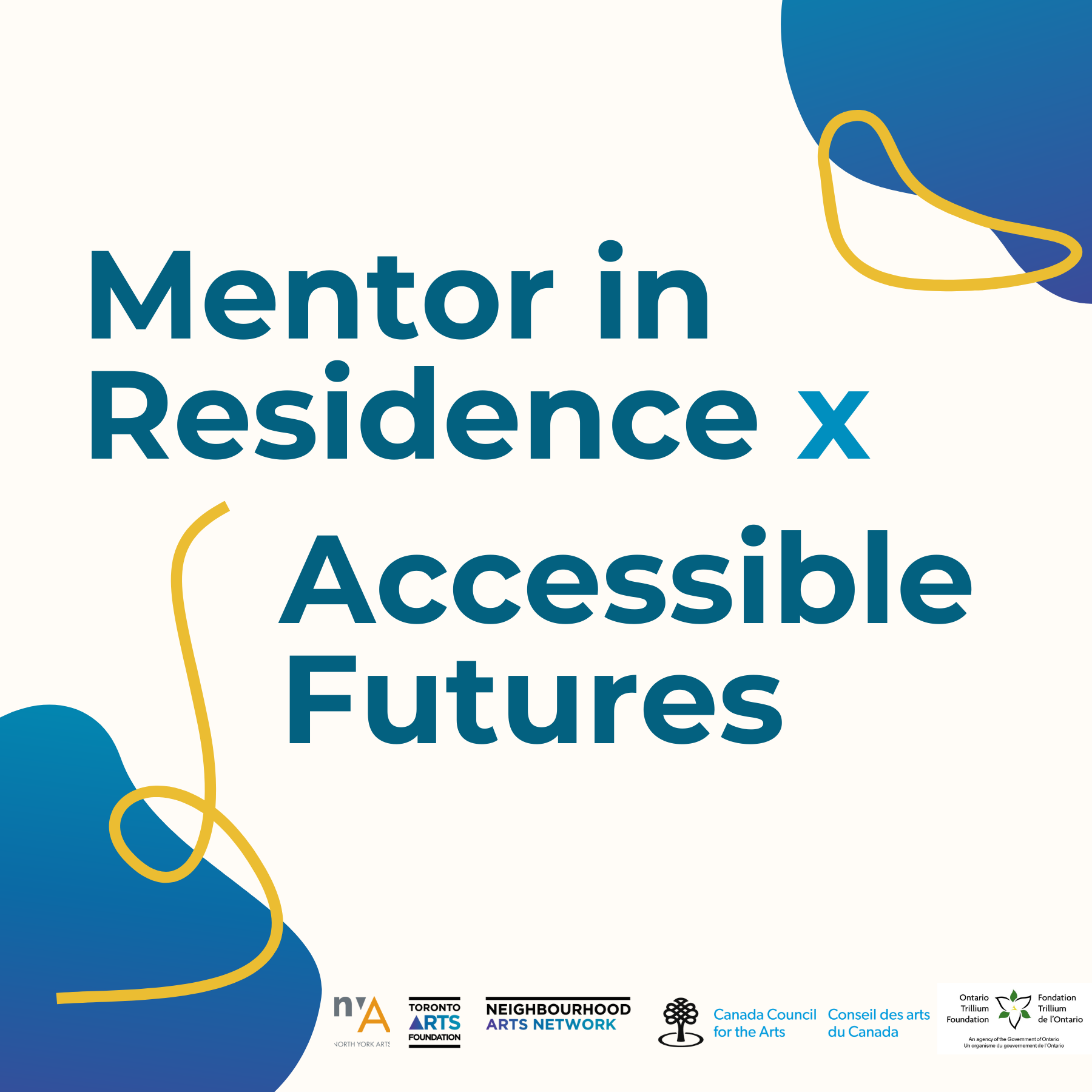 Meet our Mentors & Moderators:
Meet Dev
Dev Ramsawakh is a disabled and non-binary multidisciplinary storyteller and producer. They were the 2019 TVO Short Docs Contest winner and their short films have been screened at CaribbeanTales Film Festival, Inside Out Film Festival, Toronto Queer Film Festival, and ReelAbilities Film Festival, among others. Their work has been published on Chatelaine, CBC, them, Xtra, and other publications. They're included in the Disability Visibility anthology edited by Alice Wong and have fiction in the anthologies Two Times Removed and Toronto 2033. They also write poetry and facilitate workshops independently and with CRIP Collective around disability justice, storytelling, and more. 
Meet Pree
Pree (they/them) is an artist educator currently based in Tkaronto, originally from Tiohtià:ke. They're a child of immigrant settlers from Panjab. Pree's work is an ode to their extended youth as a trans and non-binary person, and create art for their inner child. Their main medium is watercolour, but Pree also embroiders, creates short films, writes and performs drag. They have an interdisciplinary arts practice under the name: Sticky Mangos. Pree's online shop has been featured in CBC, Xtra magazine, and BlogTo. Their art has been featured in Luminato Arts Festival, Design TO festival and the Art Gallery of Ontario.
Meet Wy J
Wy Joung Kou is an interdisciplinary artist, based in Treaty 13 Territory (Toronto), with a practice rooted in frameworks of disability justice. Their body of work spans mosaic, poetry, sound, movement, performance, video, and installation, and their educational trajectory as a professional artist has followed a path combining mentorship and community-models of learning & skill exchange. Kou is the Associate Artistic Director of ReDefine Arts, a performing member of Raging Asian Womxn Taiko Drummers, the inaugural winner of the 2018 JRG Grant for Artists with Disabilities, and an ILGBT Artist Residency alum.
www.wyjoungkou.com 
Meet Shay
Shay Erlich is a hard of hearing, multiply disabled, and genderqueer child and youth care practitioner, wheelchair dancer, and circus artist. Shay holds a MA degree in Child and Youth Care from X University. Shay is the co-founder of The Cyborg Circus Project, is a trans and disability led arts collective offering arts education, performance and social support to disabled young people aged 16-35 in Canada, centred in the Greater Toronto Area. Shay has also worked on dance and performance projects with a number of organizations including Political Movement, Theatre Passe Muraille, Jumblies Theatre, and Spur of the Moment Shakespeare Collective.
Furthermore, Shay has extensive experience working as an accessibility consultant in many settings including academic, artistic, and frontline services. They have spent the last ten years advocating for better inclusion and services for young people with disabilities, and currently work as an independent consultant assisting frontline service organizations and arts institutions in creating more accessible programs and productions for the diverse people that they work with through their business Shay Erlich Consulting. Shay also provides training and support for frontline practitioners who wish to improve their practice with disabled clients. Shay strongly believes in a social justice and disability rights approach within a child and youth care relational context. Shay's vision for the future is one where disabled people have the support and resources that they need to thrive, and to fully participate in all areas of their lives, without having to constantly fight for resources.
Meet Natasha
I am Natasha Cecily Bacchus. I am an athlete and interdisciplinary visual artist, passionate about deaf advocacy, fitness and physical expression. Throughout my life, I have nurtured my passion for fitness competing as a professional athlete and securing medal positions in the Deaf Olympics, Pan Am  Olympics and many other competitive sporting events. As an actress, I have participated in numerous theatre and film productions and have a strong desire to continue to grow and develop as a performing artist, expanding representation to include differently-abled persons and empowering Black Deaf women in Canada to shine on and off the stage.
Meet Sivert
Sivert Das is a biracial, visibly, and invisibly disabled immigrant actor, voiceover artist, writer, musician, comedian, and activist based in Toronto. He a University of Victoria's performance program and the Second City Conservatory graduate. He is the first physically disabled person of color to graduate from those programs. He has worked all over Canada as an actor. He has worked with Realwheels theatre, The Citadel Theatre, Second City, Bad Dog Theatre, Exitstageleft Productions, Workman Arts and the Phoenix Theatre. He has written two plays, "My Right Arm" "Zordon" .the former was read as part of Realwheels programming and the latter has been supported by grants from Cahoots Theatre and Theatre Passe Muraille. His writing has also been published by Intermission magazine. His work combines the absurd and the fantastical mixed with poignant social commentary. His activism focuses on raising awareness for Disabled and BIPOC communities. He is grateful to be part of this process.
Meet Alia
Alia Ettienne is a theatre writer, actor, performer and facilitator from Toronto, ON. Initially, she studied Performance at Sheridan College, moving on to explore Creative Writing and Arts Marketing. Her first solo piece, YellowZoned, premiered in The 2016 Toronto Fringe Festival and her creative wellness program, Chill N Do Art, has been running for a total of four years. Currently, she is most focused on The Creative Coping Kits Initiative, and writing her second full length piece Allow For Release: The Xiety Complex.
Meet Jocelyn
Jocelyn is a performing artist who is proud to return home to Canada. After studying at American Musical & Dramatic Academy (AMDA) and New School University in NYC, Jocelyn became involved with creating accessible theatre. From volunteering for TDF Autism Friendly Performances, directing pieces for Sign&Sing (Deaf & Opera performers sharing the stage), to teaming up with Drag Story Hour, Jocelyn is looking to expand inclusive art opportunities by sharing her learn knowledge and personal experiences. She has been advocating with award winning disability groups (CIDNY in New York City and Canadian Hearing Services in Toronto), she has developed a wide range of skills with the goal of achieving access for all in creative industries. Additionally, Jocelyn continues to perform in a myriad of projects with voiceover work, the latest being artist informational videos for Deaf Spectrum. She also has become inspired learning from other artists through the pandemic in different practices and now creates watercolours and ink illustrations.
Meet Gaitrie
Gaitrie Persaud, a Torontian, lives and breathes acting and that is reflected in her amazing identity. She has been breaking down barriers to have AMERICAN SIGN LANGUAGE INTERPRETATION provided at music concerts. She has won Air Canada Center's and CBC entertainment's attention. Gaitrie is a firm
believer in creating opportunities for the Deaf Community and young deaf children. She has been in BLUE'S CLUES & YOU as Camila, the Deaf librarian and also, she is the NEWS ANCHOR for SIGNS1 News powered by CNN. She owns a theatre hub which is called PHOENIX THE FIRE. Her company provides ASL INTERPRETATION service, workshops, the plays and many more.
Her creation strives to increase the overall impact to provide the excitement of adventure to the deaf/hard hearing Community with the musical/theatre by ASL interpretations.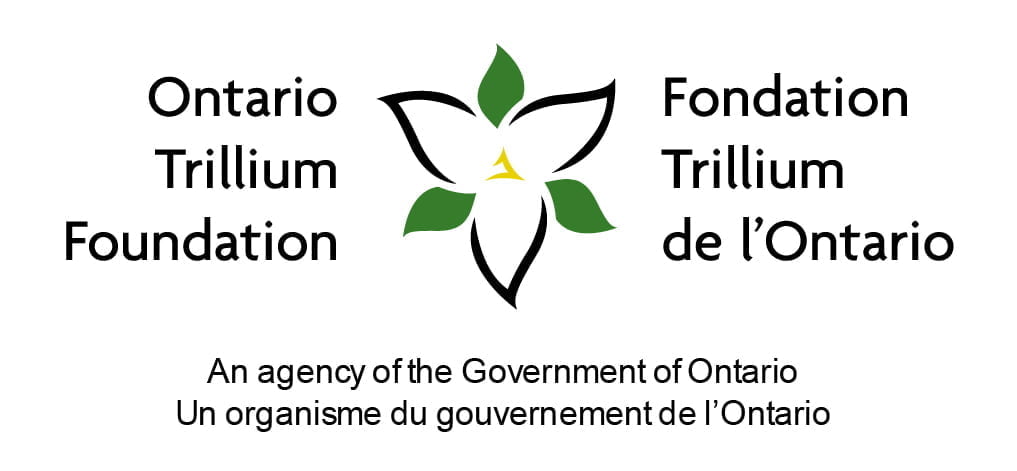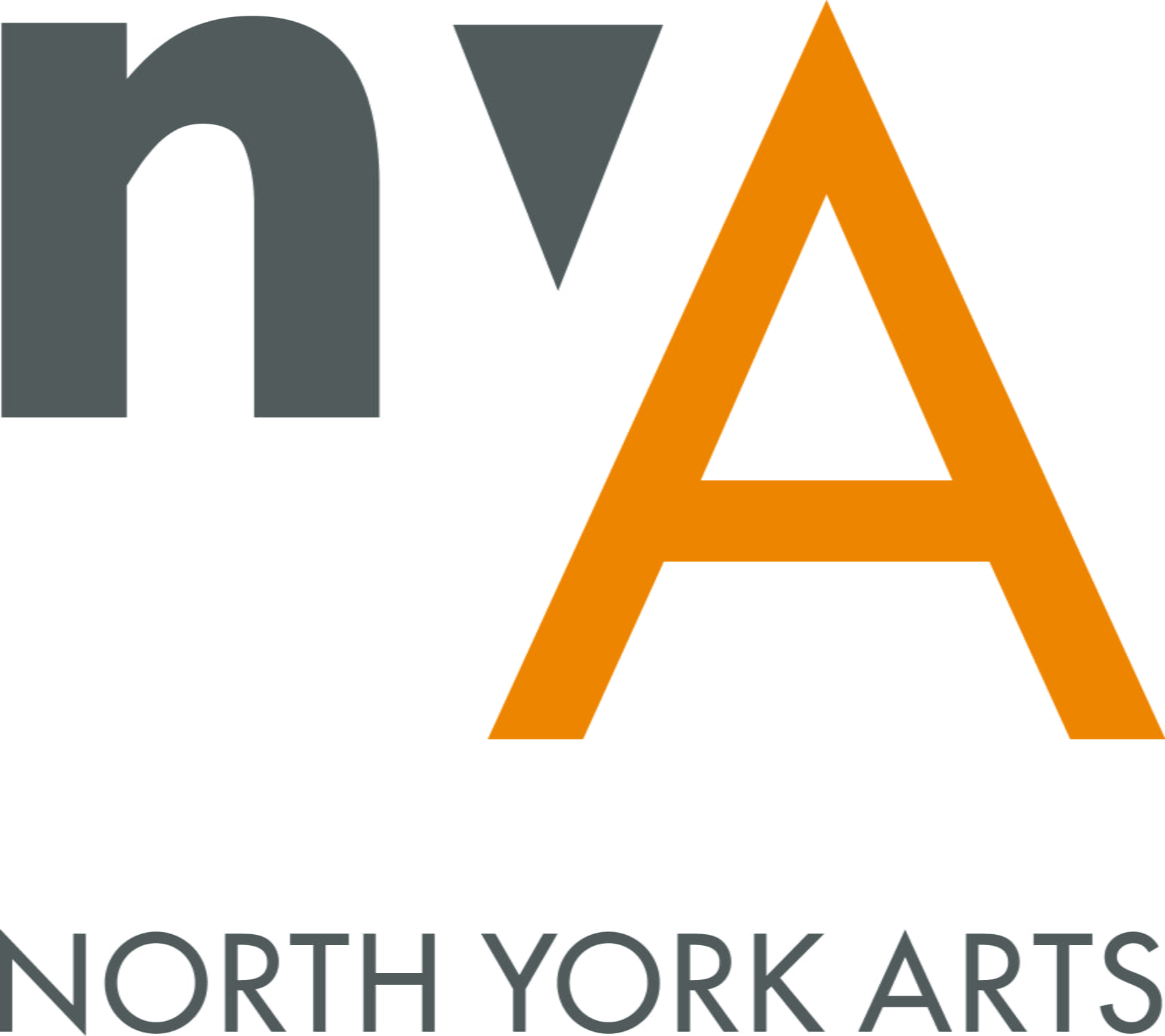 About Us
North York Arts (NYA)  collaborates with artists, arts organizations, and partners to develop, strengthen, and promote cultural programming and initiatives for North York communities
Contact us 
North York Arts
5040 Yonge St.
Toronto, ON, M2N 6R8
Monday – Friday, 9am – 5pm