North York Arts is proud to have promoted, supported, connected, and mentored organizations, independent producers, and artists creating work and projects in North York since its inception.
Through Propel North we continue to promote, support, connect, and mentor initiatives happening in North York. Our staff meets with project leads to provide connections to space, connections to other organizations in North York, and insights into working in specific areas of North York. We've also been able to provide promotional and outreach support, depending on the needs of the project.
Get in touch!
Ask us if your project is a good fit for Propel North, by sending an email to info@northyorkarts.org with some details about your project, including the support you may need, the estimated timeline, and anything else you'd like us to know!
Explore Our Collaborations!
2023 – Projects and Partnerships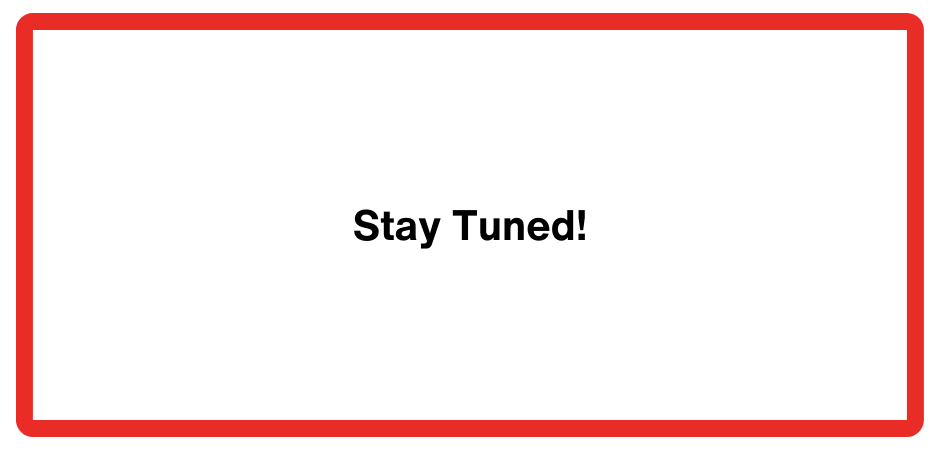 UNITY and FREEDOM Artist Statement by Parvaneh Radmard
"The Ultimate Quest of Human Existence is Unification." -Attar Persian poet
The MAHSA movement and uprising of Iranian Women is known around the world as the first female revolution protesting against an oppressive Government.
When 22 year old Kurdish Iranian woman Mahsa Jina Amini died in the custody of the morality police, who enforce strict dress codes, the authorities responded to peaceful protests of Iranians with violent attacks and arrests.
Around the world, people stand with the Iranian protesters and call for justice. This was a victory for Iranian revolutionaries who are facing gun bullets as they fight this gender apartheid state.
Prime Minister Justin Trudeau marches along with the protesters, in support of the death of Mahsa Amini, in Ottawa. The city of Ottawa has installed a tribute to Mahsa Jina Amini outside the former site of the Iranian Embassy. The European Union and its member states urge the Iranian Authorities to stop the violence against peaceful protests. These European Countries supported Iranian protesters by organizing solidarity rallies and renaming Plazas or Streets to MAHSA like Trafalgar Square London England, Brussels, Belgium, Paris, France, Berlin, Germany and Denmark.
I am taking a role as an artist in this meaningful movement by working on the photo based banner project for solidarity with and support of the Iranian Women and the nation's protest for freedom. And to exhibit my art project in a Public environment to share my message of Woman, Life, and Freedom. The unity of people is the key to victory for this uprising. I hope all the courage and sacrifice ends with victory and freedom.
Time magazine 2023: "Heroes of the Year, The Women of Iran" Fighting for Freedom.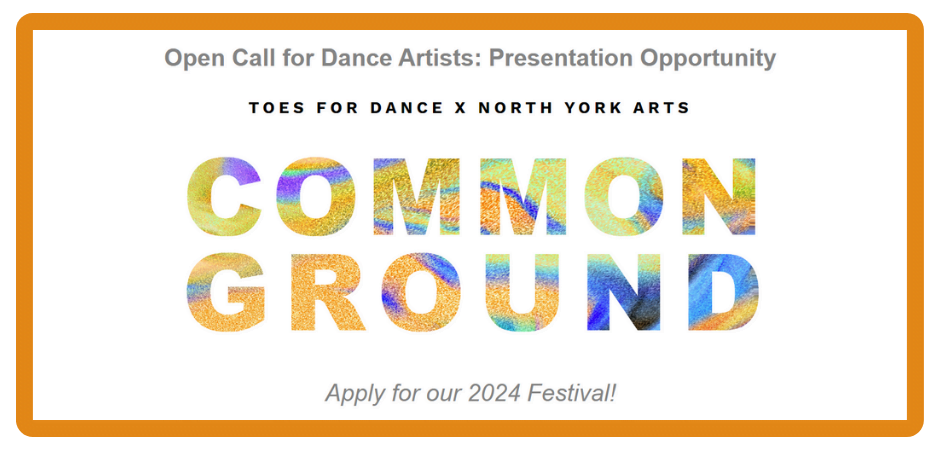 Toes for Dance – Common Ground Dance Festival
Common Ground Dance Festival produced by TOES FOR DANCE (TFD), is a celebration of movement and community that takes place annually in North York's Willowdale neighborhood. Programming includes free performances, workshops, and community-building activities in public space. Since 2021, the festival has activated Lee Lifeson Art Park and is now expanding to other local hubs within the area. Click here for festival history.
The festival's mission is intercultural; intentionally gathering a diverse constellation of artists and community members from North York, Toronto and beyond for the purpose of creating connection. Previously curated dance styles/practices include Tap, Euro-American Contemporary, Kathak, Hip Hop, Commercial, Sinhalese Kandyan Folk, Ballet and Bachata. Our curatorial responsibility is to foster the conditions for embodied togetherness without the imperative of understanding or agreeing; allowing the beauty and power of multiple cultural expressions to move through a shared space. This intersection of ideas generates the possibility for curiosity and belonging to emerge.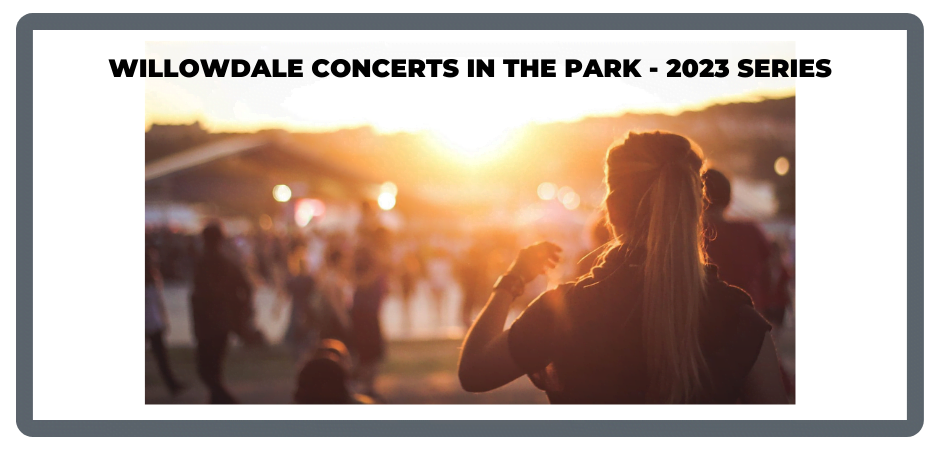 WCRA – Willowdale Concerts in the Park Series
The Willowdale Concerts in the Park Series features live style performances where emerging and established artists showcase their talent. Held weekly, Thursday evenings from 7-9pm at the Lee Lifeson Art Park, June 1 through September 28, these outdoor events are a great opportunity to enjoy the park as it was meant to be!
We are seeking musical acts to participate in the outdoor concert series. This series is looking to support emerging artists, with a focus on individual acts / small groups that live and work in the North York area. We will also accept applications from emerging / established artists that live or work in the GTA.
Are you a musician, or do you know someone who would be interested?… Apply using the link form below. Deadline for submitting an application is May 5, 2023.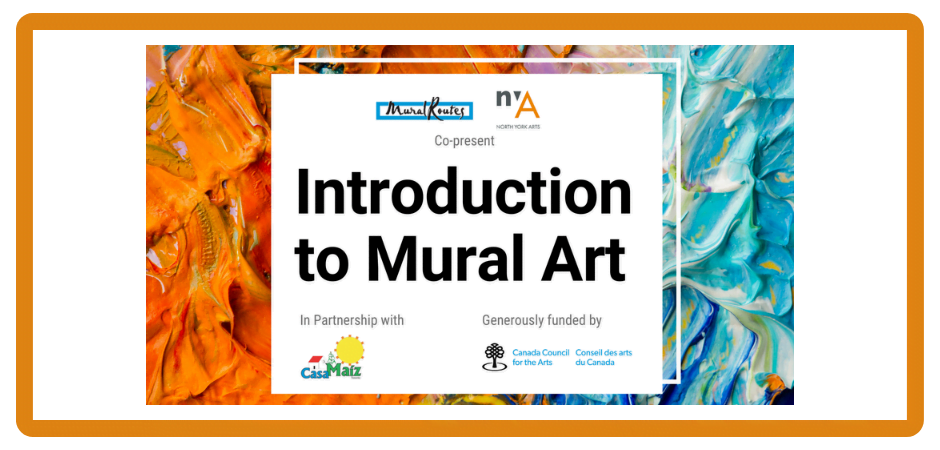 Mural Routes – Introduction to Mural Art
Introduction to Mural Art was a free visual art learning program for all ages and abilities. Participants learn basic art, design, and mural-making skills from professional artists, gaining the skills and confidence to participate in public art projects in their communities.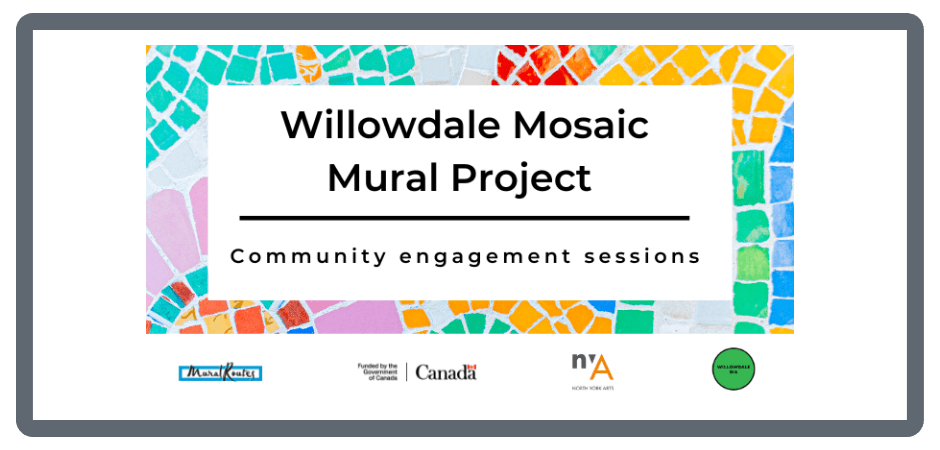 Mural Routes – Willowdale Mosaic Art Project
The Willowdale Mosaic Mural Project was created in 2022-2023, featuring 19 mosaic heart murals installed on planters on the West side of Yonge Street, between North York Boulevard (north) and Upper Madison Avenue (south).
Each heart depicts a reason why the community loves Willowdale, which was determined by the local community who were engaged in the design process in a variety of ways. In Willowdale, the heart shape is considered an artistic and cultural symbol, and is deeply connected to its history – small copper hearts are even embedded on the sidewalks. This mosaic mural aims to celebrate the area and contribute to the revival of the local economy which has suffered deeply due to the COVID pandemic.
2022 – Projects and Partnerships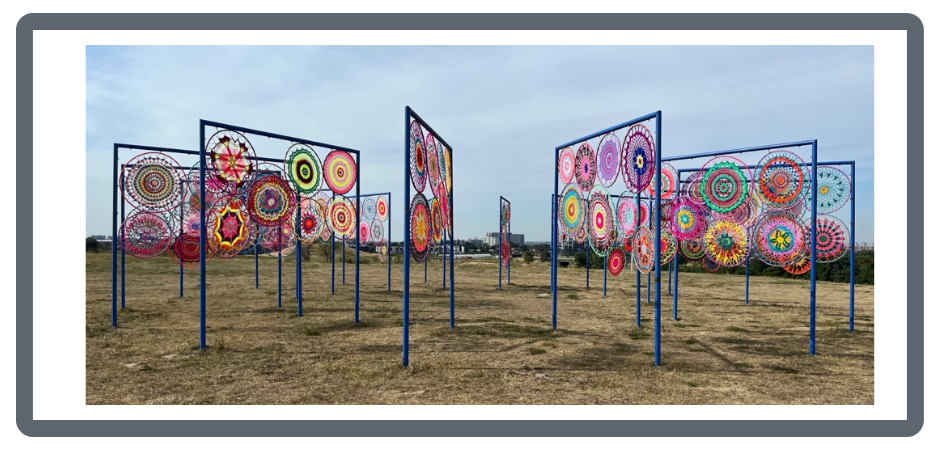 XOXO Downsview – Fabric of our Community
 The Fabric of Community is a textile-art-based community engagement project and public art installation that uses fibres and fabrics to share stories of journeys, arrivals, and legacy. This project intends to embrace and amplify the stories and experiences of community members who have migratory experiences and have settled in North York.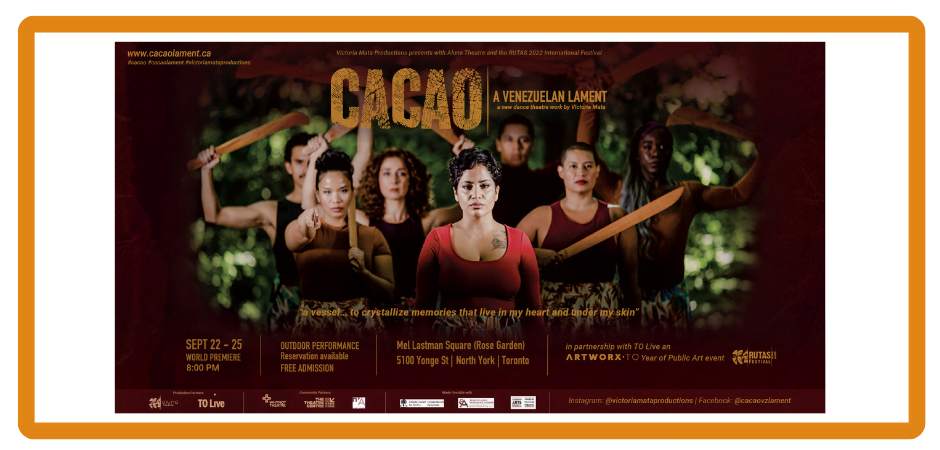 Victoria Mata Productions – Cacao | A Venezuelan Lament
Cacao | A Venezuelan Lament is a live performance work about belonging, land and the preservation of traditions. Drawing on twelve years of community-based fieldwork, this polylingual and multidisciplinary dance and theatre production offers timely insight into the complex lived realities of Venezuela's cacao farmers. Creator, Director and Choreographer Victoria Mata roots her vocabulary and aesthetics in the tensions between remembering and forgetting, and in a dynamic dialogue between Afro-Venezuelan genres and contemporary expressions of dance and music. As part of ArtworxTO: Toronto's Year of Public Art 2021-2022.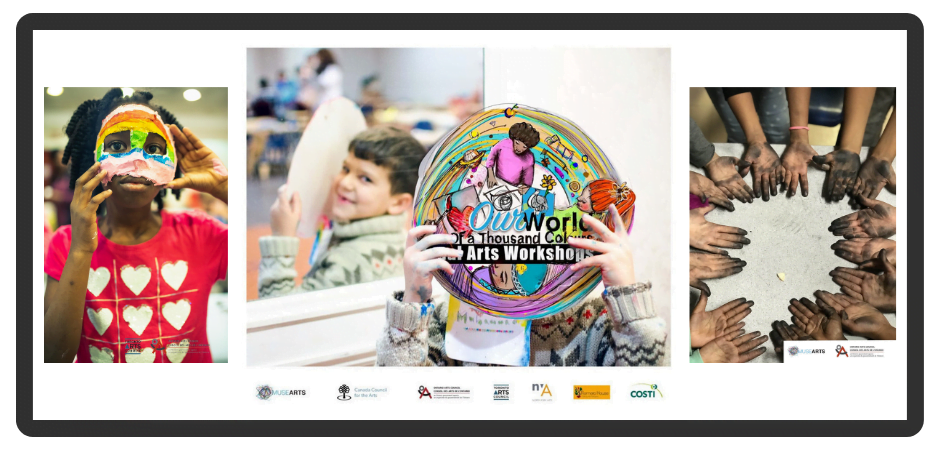 Muse Arts – Our World of a Thousand Colours
Our World of a Thousand Colours is a mosaic of creativity and imagination— a colour explosion that amuses and entertains while holding space for conversations about a better world. Throughout this program, we generate spaces for children ages 4-11 to learn alongside emerging and professional artists and youth completing their community service hours. We develop engaging pedagogy that uses art as the catalyst, inviting participants to explore themes of diversity, inclusion, and community while creating artwork as a collective, and learning new skills in craft, painting, sculpture, printmaking, photography, and more.
This program has been presented at various schools and community centres in and around the city of Toronto.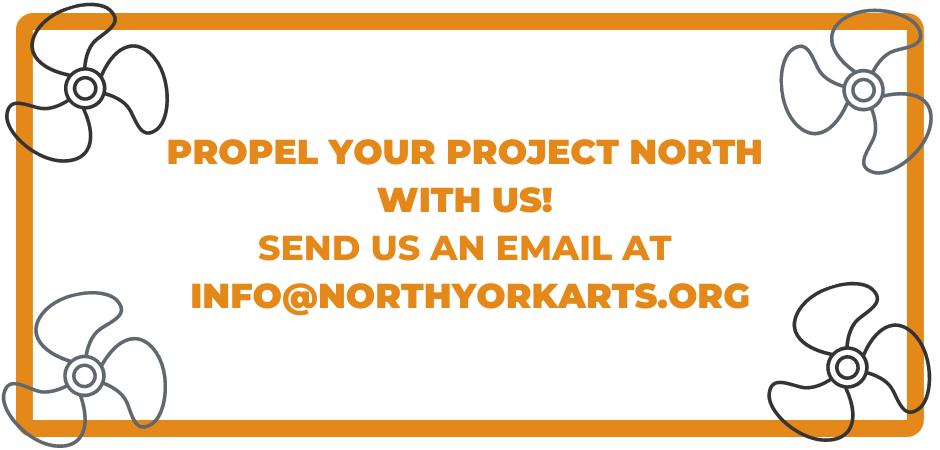 Do you have a project that may be a good fit?
Send us an email at info@northyorkarts.org with a description of your project, the support you may need, and your estimated timelines.