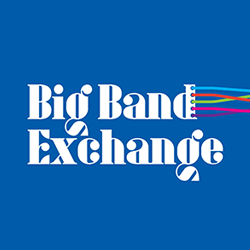 Big Band Exchange is Back!
Last year, in lieu of our music and dance festival Sunday Serenades, we brought you Big Band Exchange – an online video series where musicians and community members came together to exchange knowledge and ideas about the importance of music.
After a successful run, we are back this year with a new iteration that brings an even more impact straight to your screen. NYA invited tap dancer Travis Knights and Holla Jazz founder Natasha Powell, in dialogue with jazz singer Jenna Marie Pinard, to share their love for social dancing and their vision for a future where jazz and dance are reunited.
Tune in this Fall (date TBD) as we delve deep in four short video conversations with the artists on the following topics:
The Contemporary Challenge: Striving Toward A New Identity
How Jazz provides a blueprint for societal cohesion, celebrates individuality/authenticity, and promotes history and lineage.
Friends Don't Let Friends Clap on 1 & 3: The Rules of The Game
what are the rules to swing?
Shout Out To The Mentors: The Gift of Passing It On
Showing love to the elders
The Playlist: The Soundtrack of Our Lives
what are the sounds/songs that change(d) our lives?
For the first time in over 25 years, we couldn't gather on Mel Lastman Square to dance to the sound of the best Big Bands of Toronto and beyond. The safety of our community is always of utmost importance.
While the physical festival didn't take place, we didn't let that stop us from finding a way to bring the music to you. So, in lieu of Sunday Serenades, we launched a special project called Big Band Exchange and had YOU participate.
Big Band Exchange is a one-of-a-kind experience for you to connect with and support Toronto bands and musicians through the "exchange" of memories and stories about jazz, music, dancing, and everything in between through conversations and video podcasts!
Participants had the opportunity to sign up for a 1-to-1 30-minute conversation with a big band musician to chat all things music! Had a question, comment, or idea? This was a unique opportunity to connect with local talents.
Then, Every Sunday in August we brought the jazz directly to you! Each band released a pre-recorded podcast on Facebook Live. Watch below as these amazing performers share stories. We encourage you to tune in to listen, sing along, and dance!
Toronto All-Star Big Band
Martin Loomer's Orange Devils

Big Band Exchange 2020 (in lieu of Sunday Serenades)
Due to COVID-19, NYA presented Big Band Exchange in lieu of Sunday Serenades. Big Band Exchange is a online program celebrating music and conversation. Four bands presented video podcasts to share and exchange memories and stories about jazz, music and dancing! Attendees tuned-in live on Facebook. 
Dates: August 9, 16, 23, 30
Bands: Advocats Big Band, Jenna Marie Pinard Ensemble, Martin Loomer's Orange Devils, and Toronto All-Star Big Band.
Video Podcasts: https://www.youtube.com/watch?v=mxStEv1SiMs&list=PLzyFf1zw4thv5Ie_9wO1AoBaBFa9JCcu0
Funded by: Government of Canada
Sunday Serenades 2019
Dates: July 7, 14, 21, 28, 2019
Bands: Metro Big Band, Toronto All Star Big Band, Swing Shift Big Band, Starlight Orchestra 
Partnering Sponsor: TO Live
Community Partner: North York Seniors Centre
Funded by: Government of Canada
Sunday Serenades 2018
Dates: July 8, 15, 22, 29, 2018
Bands: George Lake Big Band, GTA Swing Band, Starlight Orchestra, Metro Big Band
Partnering Sponsor: Toronto Centre for the Arts
Supporting Sponsor: Delmanor
Community Partner: North York Seniors Centre
About Us
North York Arts (NYA)  collaborates with artists, arts organizations, and partners to develop, strengthen, and promote cultural programming and initiatives for North York communities
Contact us 
North York Arts
5040 Yonge St.
Toronto, ON, M2N 6R8
Monday – Friday, 9am – 5pm