Presented by Northcrest, North York Arts and Your Peak Performance, with support from the Government of Canada.
Join us every weekend in February for "Hangar Skate" – a FREE pop-up skating rink outside an 80,000 sq.ft airplane hangar at The Hangar District in Downsview. With live DJs in the evenings, free skating lessons in the afternoons, and a special Family Day program, bring your skates and scarves and explore the soon-to-be reimagined Downsview Airport Lands with some fun on the ice! Guests will be able to see the inside of an airplane hangar that has rarely been open to the public.
February 4-26, 2023
The Hangar District in Downsview
Across from 95 Garratt Blvd.
Saturdays & Sundays 1pm-4pm: Open skate with free skating lessons (first-come, first served)
Saturdays 5pm-8pm – Live DJs and open skate
Special Family Day Weekend additions:
Sunday, February 19 5pm-8pm: Live DJ and open skate
Monday, February 20, 1pm-4pm: Family DJ open skate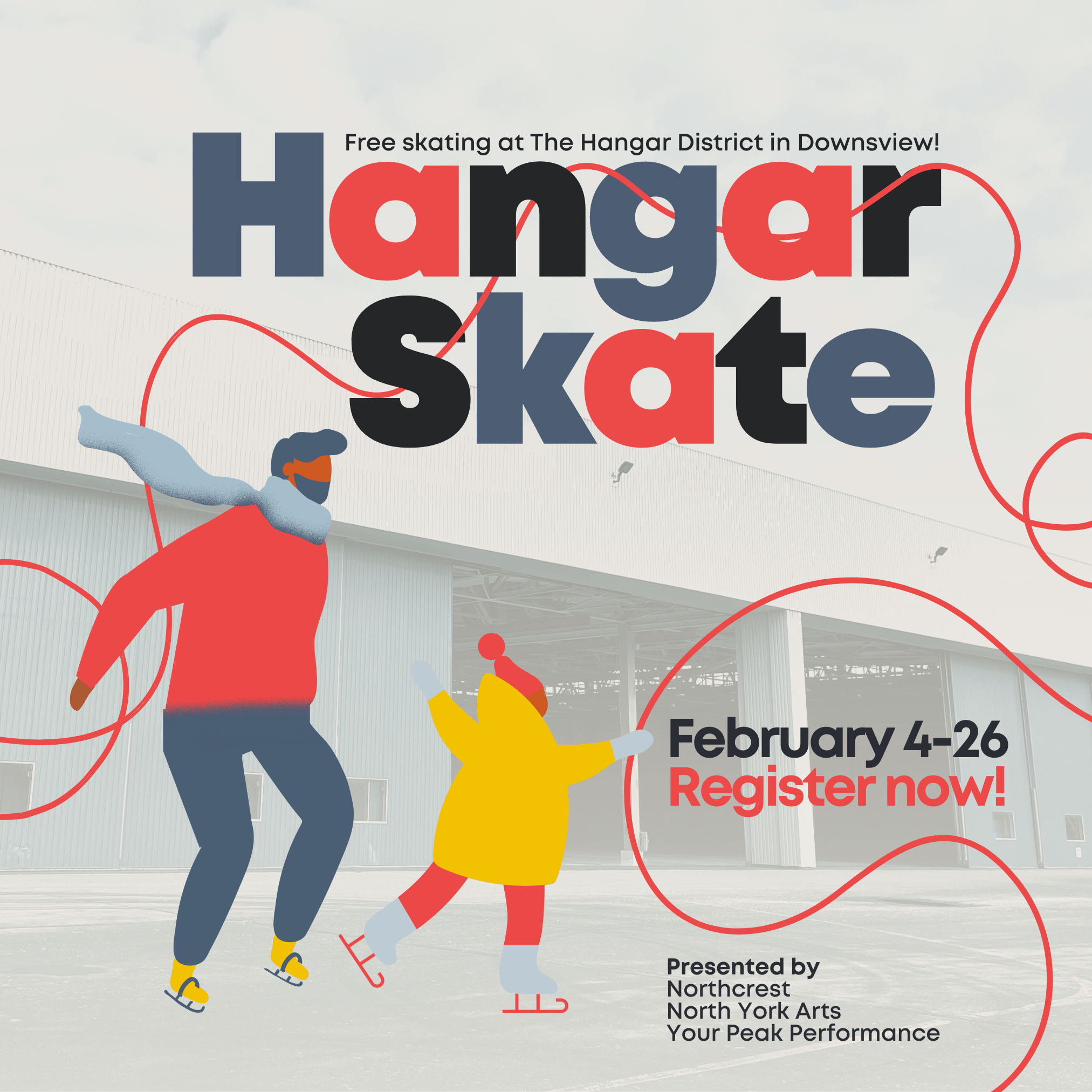 Bio and Skate Dates
Benjamin De Graaf – DJ Elegance is a Downsview local and musical connoisseur/curator and experiential event strategist. DJ Elegance's musical style incorporates a wide variety of styles from past to present mixed or blended to perfection and filled with a twist of musical experimentation. When he is not lighting up event spaces he is instructing/teaching new DJs through his successful DJ Academy or working with youth in schools and community using his arts based educational workshops (Love Music Initiative) to work with youth and make a difference www.lovemusicinitiative.com.
DJ Elegance will be at Hangar Skate on Feb 4th and Feb 25th from 5pm to 8pm!
Bio and Skate Date
Hailing from Toronto, DJ MelBoogie is one of the country's best-known female DJs. For over 25 years, her roots have been deeply embedded in radio, both as a host, and mixshow format DJ. She has also hosted several events in the GTA community, including Canadian Music Week, North By North East Indie Showcase, and has been a speaker/panelist at a variety of music industry conferences. Mel has also made several television appearances, including CBC Television, CP24, Much Music, New Music, MTV Canada, Toronto Life, and more. She's also opened for some of the most respected performers in the world of entertainment, including Kevin Hart, Nick Cannon (MTV's Wild 'N Out) Major Lazer, Lauryn Hill, Busta Rhymes, and more.
DJ MelBoogie will be at Hangar Skate on Feb 11th from 5pm to 8pm!
Bio and Skate Date
As a disk jockey (DJ) and master of ceremony (MC), DJ Dreadie Love aims to create a professional and memorable experience for her clients & audience.
Not only is she a DJ, but also she's a certified zumba instructor and drummer. Both skill sets creatively impact the way in which she selects songs, genres and tempos. She's very keen to detail, knows how to read the crowd and follow the flow of any event. Mixed in with her sharp, Personable MC skills, she's a powerful force!
DJ Dreadie Love will be at Hangar Skate on Feb 18th from 5pm to 8pm!
Bio and Skate Date
DJ MENSA IS A STAPLE IN TORONTO'S MUSIC SCENE. HE'S BEEN PROVIDING VIBES FOR TORONTO'S BIGGEST PARTIES FOR DECADES. DJ MENSA HAS OPENED FOR THE LIKES OF DRAKE AND THE WEEKND AND HAS PERFORMED ACROSS CANADA NUMEROUS TIMES.
DJ Mensa will be at Hangar Skate on Feb 19th from 5pm to 8pm!
Bio and Skate Date
Mista Jiggz is in the upper echelon of DJ's of his hometown Toronto, Canada. In a city so rich and diverse in culture, a person with a discerning ear and an open mind can flourish. Forever looking for the perfect beat, Jiggz has become a true music connoisseur, spending years developing a musical catalogue now rivaled by few.
From your radio to the nightclub and beyond, Mista Jiggz is undoubtedly a musical force to be reckoned with.
Mista Jiggz will be at Hangar Skate on Feb 20th from 1pm to 4pm!
About Us
North York Arts (NYA)  collaborates with artists, arts organizations, and partners to develop, strengthen, and promote cultural programming and initiatives for North York communities
Contact us 
North York Arts
5040 Yonge St.
Toronto, ON, M2N 6R8
Monday – Friday, 9am – 5pm