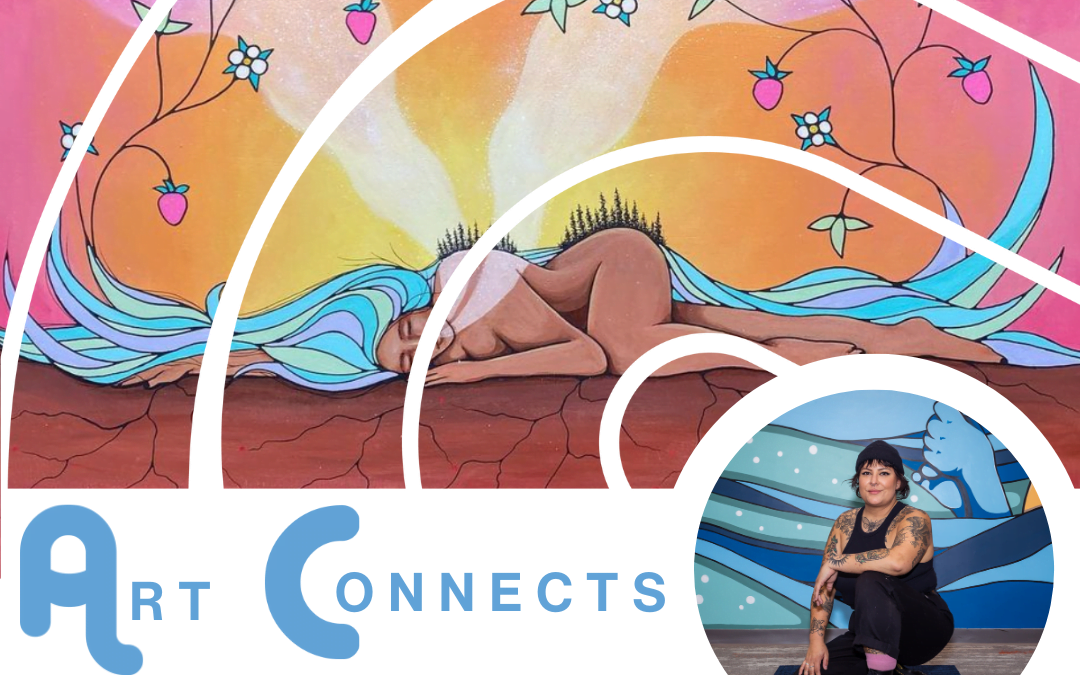 Art Connects is an ongoing initiative that started in 2019 to address North York Arts' role in Truth and Reconciliation. As North York Arts builds programs, partnerships, and relationships, we continue to ask ourselves "As a non-Indigenous organization, what can we do to support the process of decolonization and build the right relations with Indigenous communities?" Art Connects has consisted of multiple components and phases, all of which center Indigenous experience and teachings. To learn more about this project click here.
Ongoing Indigenous Community Mural Space
Visit The Gibson House at 1572 Yonge Street throughout the years to see different community artworks on display in this space, designed and led by Indigenous Artists.
2023/24 Art Connects Community Mural
Designed by Mo Thunder
In 2023, Mo Thunder will be leading two art-journaling workshops with community members, to together create a new community mural that will be unveiled on April 24th, 2024.
These workshops will reflect on themes led by Mo, and will be used as inspiration and content for the final creation of the mural.
Learn more about Mo Thunder
Mo is a nonbinary/fluid, neurodivergent multidisciplinary artist and facilitator who grew up in a small town along the St. Clair River, they currently live in T'karonto, which has been home for over a decade. They are Haudenosaunee (Oneida Nation of the Thames), French-Canadian and Anishinaabe (Aamjiwnaang First Nation). Mo holds a BFA in studio art with a focus on drawing, silkscreen printing, photography and video from Fanshawe and Lethbridge University, however, they are also self and community-taught. In June 2022, Mo graduated from the Toronto Art Therapy Institute. Through their multidisciplinary art practice (painting, murals, mixed media, beading, journaling, poetry and textiles), they create visual stories about their lived experiences in connection to their personal healing. Mo is also inspired by intergenerational connections and healing, family and memories, personal and collective empowerment, and all of creation, especially skyworld.
2022/23 Art Connects Community Mural
Two-Row Wampum Belt
Designed by Lindsey Lickers
In 2022, North York Arts hosted seven Indigenous talks about Treaty, the geography of North York, our responsibilities to Water and Land, and Indigenous Stewardship, Symbolism, and Art. This series was curated by Lindsey Lickers, and featured Jason Mercredi, Chyler Sewell & Daniel Rotsztain,Carolyn King, James Carpenter, & Raiden Levesque.
Inspired by these talks and teachings, community members and program participants were invited to come together to create a collaborative mural led and designed by lead artist Lindsey Lickers.
This piece depicts the Two Row Wampum, being restored in collaboration with the broader community, supported by the inclusion of participants' visual responses to the truths shared within the Art Connects, I-Talks series. The wampum beads, stories, and commitments are framed by Lindsey's stylized interpretation of spirit world above, with land and water below. Watch the mini-documentary below for a closer look into the creation of this project and mural.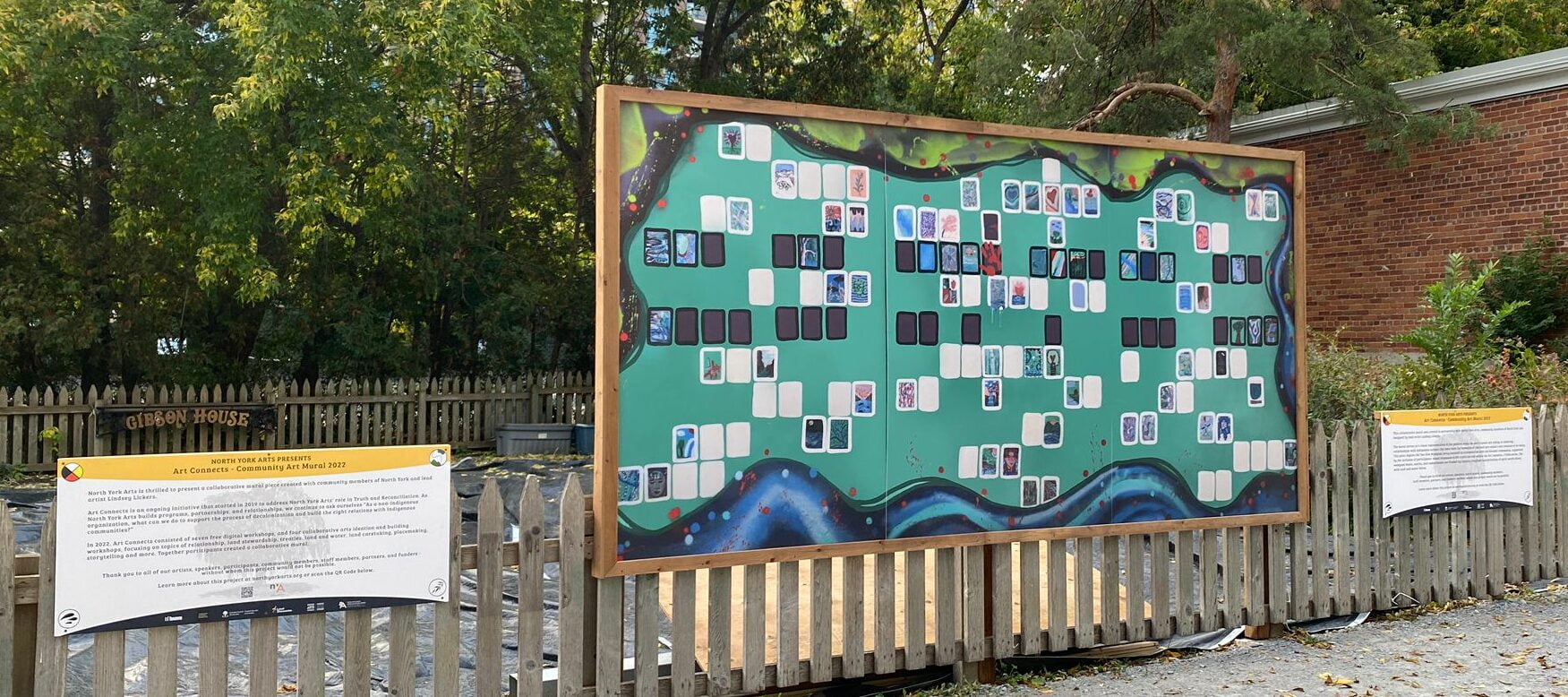 Learn more about Lindsey
Lindsey Lickers is a Haudenosaunee/ Anishinaabe multi-media artist, arts facilitator, and program developer originally from Six Nations of the Grand River with ancestral roots to the Mississaugas of the Credit. Her traditional name is 'Mushkiiki Nibi Kwe', which translates to 'Medicine Water Woman' and she is of the turtle clan. Recently, she was awarded a commission to create a permanent public installation for the Region of Waterloo's light rail transit system that will speak to the historical stewardship of the land base of Waterloo and the importance of agriculture from a First Nations perspective.
North York Arts is committed to continue working along Indigenous peoples to deepen our understanding and to bring truth to our programs.
In Partnership with The Gibson House Museum