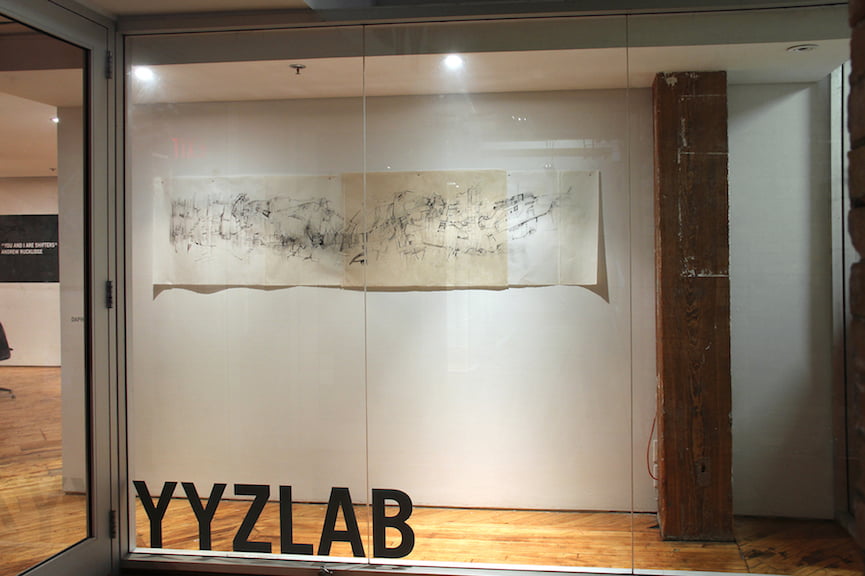 Default Programming features a selection of recent works and ongoing projects developed by emerging artists with diverse backgrounds, passions and practices, revealing surprising affinities when they are encouraged to approach, and reflect upon, the blurred borders between art and work. The exhibition presents works reflective of the studio environment and its varied conditions and connotations within the larger fabric of social reality, and thus it aims to cause a debate around the current conditions of artistic production. Thematically free, Default Programming looks at artists' workspaces as sites of knowledge and labour: mobile, temporary, and most times fortuitous, their studios became particular settings for reflection upon all these fluid and complicated relationships.
Works by SAMUEL DE LANGE, HAZEL ECKERT, BAILEY GOVIER, MONIKA HAUCK, BRYNN HIGGINS-STIRRUP, YOONJIN JUNG, ALICIA KUNTZE, CARRIE PERREAULT, RAZ ROTEM, DAPHNE VLASSIS, and CLAUDIA ZLOTEANU.
Accompanying essay by OANA TANASE.
For more information visit http://www.yyzartistsoutlet.org/
January 15th – February 5th
Opening Reception: January 15th, 5:30-7:30pm
Location: Lower Gallery at Toronto Centre for the arts
Hours: Tuesday – Friday, 11am-4pm
*Extented hours: February 5th, 11am-8pm (with special performance by harpsichordist Satoshi Matsumura from 7-8pm)
Volunteers gallery sitters needed for Default Programming
Please contact melissa@northyorkarts.org if you are interested in volunteering.
Volunteer hours: Tuesday – Friday 11am-4pm (January 15th – February 5th)
All hours can be used for community service hours. Volunteering can be done in pairs. Wifi available.