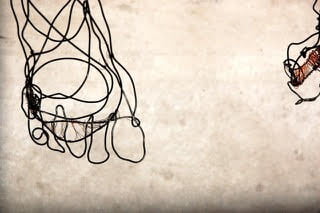 Conversations In Flux: Visible presence unfolding in time and space
Conversations in Flux consists of three multimedia, multidimensional sculpture and paint installations,  used to animate evidence of a visible black presence in North American Landscapes.
The objects, constructed with wire and paint, are bent and shaped into various forms depicting black populations inside and outside of hyper-visible and invisible states of blackness. "My concern as a visual artist in the area of visibility requires that I examine how black subjects maneuver between the points of hyper-visibility and invisibility, to get from one point to the other, you have to move", said Lurch.  "Marking visibility and making art requires me to envision the black subject visible in time and space".
Opening Reception: September 17, 6 – 8:30 pm September 15-October 9 Tues-Fri 1-4 pm or by appointmentToronto Centre for the Arts, Lower Gallery5040 Yonge StreetContact: melissa@northyorkarts.orgTelephone 416-733 9388 x7065www.tocentre.com