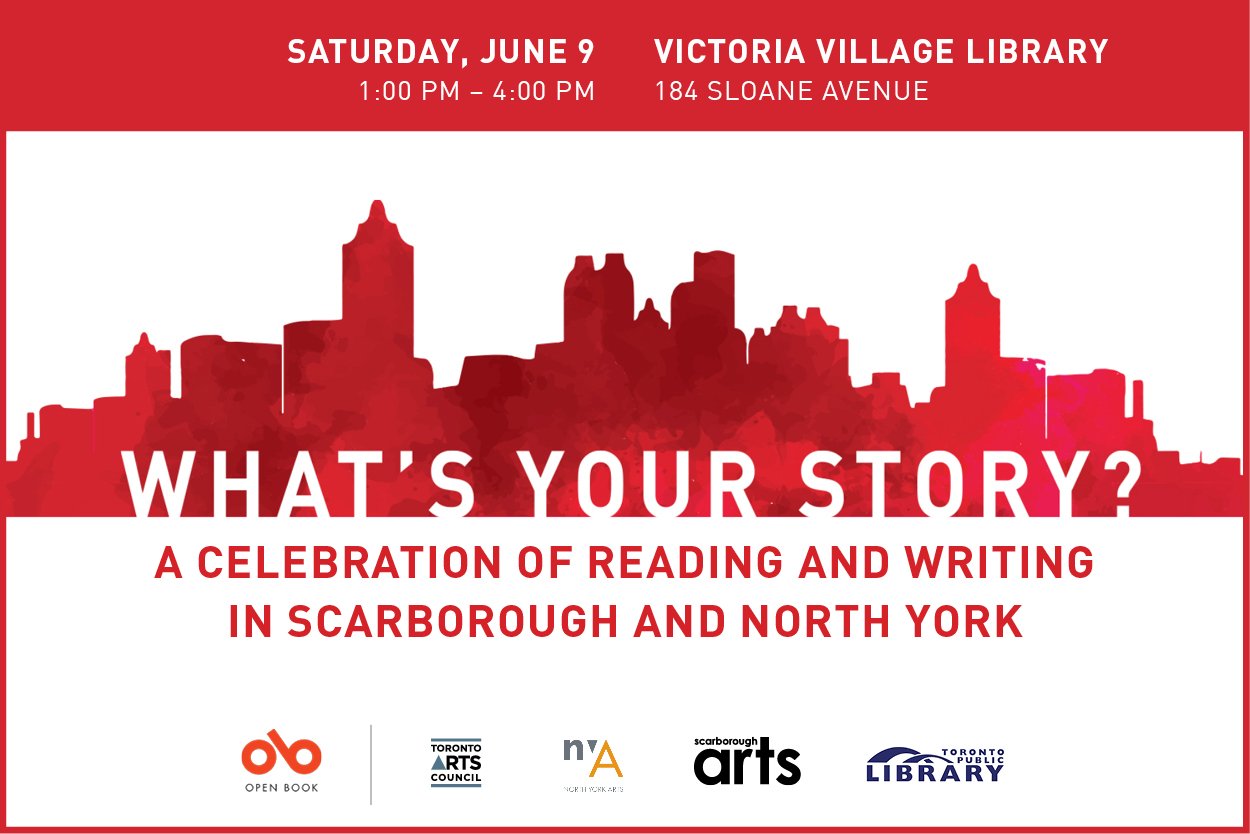 Place: Victoria Village Library
Address: 184 Sloane Avenue, Toronto, ON
What's Your Story? 2018 Schedule
1:00 – 1:15 pm – A special presentation by Veronica Johnny.
1:15 – 2:15 pm – Author Readings
The What's Your Story, North York writing competition winners read their North York inspired works.
– Author Lucy Black
– Author Sylvia Warsh
Introducing emerging North York writers:
– Laura Mullin
– Asheda Dwyer
The What's Your Story, Scarborough writing competition winners read their Scarborough inspired works.
– Author and creative writing instructor Alexandra Leggat
Introducing emerging Scarborough writers:
– Natasha Ramoutar
– Petrose Tesfai
– Nicole Bayes-Fleming
2:15 – 2:30 pm – Refreshments
2:30 – 4:00 pm – Engaging Workshops for Writers
2:30 – Decolonizing Writing Practice with award-winning author Catherine Hernandez
This workshop will give participants tools to liberate themselves from the confines of "conventional" storytelling and find truth in their own literary voice. Participants can expect quick exercises to awaken and empower the writer within.
3:00 – Publisher Speed Dating
Writers, this is your opportunity to chat one-on-one with publishers: Quattro Books, Guernica Editions, Dundurn Press, Cormorant Books, ECW Press and Inanna Publications and get the inside track on what publishers are on the lookout for.
Words Rhymes and Life will be onsite and happy to chat about Saving the Novel.
These authors' works have been published in an anthology that will be available for free to all attending.
What's Your Story? Winners
2018 Established Writer Winners:
Lucy E.M. Black
Sylvia Maultash Warsh
2018 Emerging Writer Winners:
Asheda Dwyer
Laura Mullin
2017 Established Writers Winner:
Elyse Friedman
2017 Emerging Writer Winners:
Jennilee Austria
Robyn Hamilton
David Stokes
2016 Established Writers Winners:
Domenico Capilongo
Richard Rosenbaum
Kenneth Sherman
2016 Emerging Writer Winner:
Sara Y. Cunningham