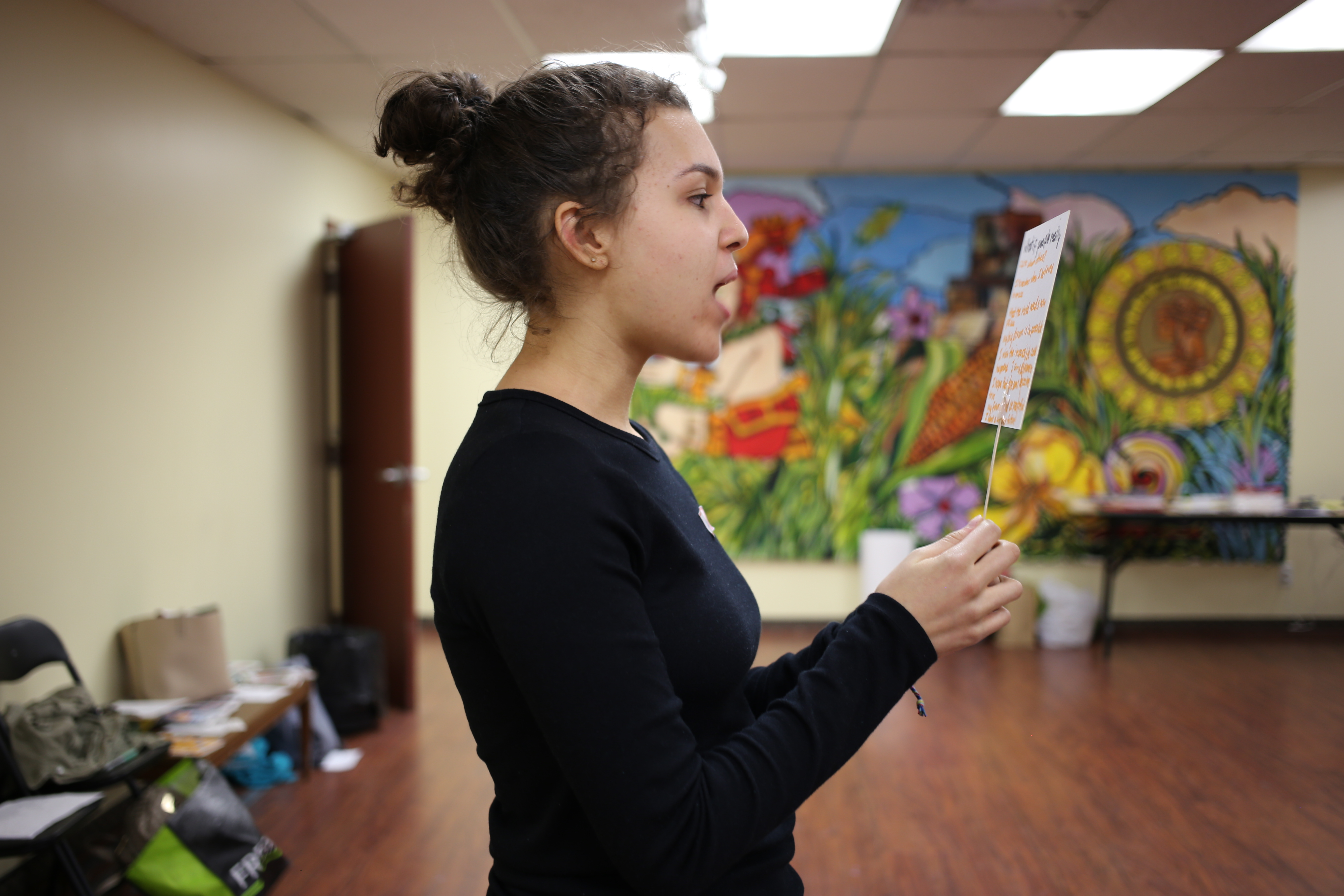 Second Act: ESL Theatre Program
Looking for a creative way to practice your English?
Second Act is a series of 8 FREE theatre-focused workshops for youth ages 14 to 19 to feel more comfortable and confident in their speaking abilities. You'll practice through storytelling, improv, public speaking, and more!
We strongly recommend that you attend all 8 of the workshops to get the most value out of the program. Plus, you will receive a participation certificate if you attend a minimum of 7 workshops! (scroll below for workshop details).
Second Act is led in English and is ideal for those with basic to intermediate English communication skills. TTC fare and snack will be provided.
In partnership with Culture Link, Casa Maiz, and CONOSER / Teach 2 Learn.
Date: September 23, 30, October 7, 21, 28 , November 4, 11, and 18
**Please note: after signing up on Eventbrite, a registration form will be emailed to you. This form MUST be completed in order to confirm your registration.**
September 23 and 30: Storytelling and Presence with Patrick Walters
During these workshops, you will learn and practice telling a story, creative writing, and how to perform for an audience. We will focus on curating a creative and encouraging environment for all. You will be given tips on how to project, how to stand and move on stage as well as the thought that goes into creating a compelling story for an audience to enjoy. Come and tell your story!
Patrick Walters is a poet and arts educator who is dedicated to sharing stories that speak to the issues we all battle daily. His work is a reminder to us to keep going and to not give up on our own hopes and dreams, until we can make them a reality. After graduating with a psychology degree from York University, Patrick been focused primarily on his arts education career as well as sharing his works of poetry on stages across North American cities and St. Kitts and Nevis where he was raised.
His ideals of perseverance and hope in the face of adversity have helped him to this point and today, he shares some of his thoughts with you!
October 7 and 21: Improv with Patricia Tab
Improv is a fun tool to build-up interpersonal and communication skills in a relaxed environment. Through comedy games and physical theatre exercises, these workshops will fuel your creativity and spontaneity, making amusing memories and even potential new friends!
Patricia Tab is a South American performer and writer based in Toronto. She is a Second City Toronto HouseCo and Diversity Fellowship alumn, a Bad Dog Theatre Featured Player and Stage Manager of the Canadian Comedy Award sketch show "Extravaganza Eleganza". She teaches Improv and Acting workshops in English and Spanish; and was featured in Improv Festivals in Toronto, Montreal and Vancouver.
October 28 and November 4: Public Speaking with Stephan Dyer and Juan Cajiao
Are you looking to overcome your fear of public speaking? Join us and let's have fun with Improvisation and Stand Up Comedy. We will use humor as the primary tool in order to become persuasive speakers, improve stage presence, and develop self-confidence. We will also talk about how to embrace your accents and roots through the 'mistakes are opportunities' mentality. 
Stephan Dyer & Juan Cajiao are international, award-winning comedians and public speaking coaches with 20+ years of combined experience and 400+ shows in 12 countries. Together they cofounded MalPensando, a bilingual comedy school that helps people become funny, confident speakers. MalPensando has been credited with improving the lives of 300+ students through humor and has been a vehicle for countless hours of community service in the Hispanic-Canadian community.
Their weekly shows in Spanish and English in Toronto, sold out public speaking workshops, as well as numerous awards from Toastmasters International earned them the Latin Comedians of the Year Prize by Latin Awards Canada (2017). In 2018, they were also awarded a full scholarship from The Second City and an invitation to TEDxTalks Malaysia. In 2019, they performed at Comedy Central Fest in Mexico City.
November 18: Conversation with Maria Montejo
A conversation with Maria Montejo (Deer clan) about the land that we stand on and our responsibilities as newcomers to the land and to the original keepers of this land. 
Maria Montejo (Deer clan) is a member of the Jakaltec/Popti (Mayan) community of Indigenous people who reside in the Xajla territory of Guatemala. In addition to her formal schooling, Maria has been mentored from a young age by various Elders, Medicine people and Traditional Teachers on Turtle Island and from Central and South America. Maria has had the privilege of being exposed to and participating in various ceremonies and traditional cultural practices, and this has fueled her passion to develop programming that will bridge the Newtonian/allopathic model of wellness and an Indigenous/multi-dimensional approach. She is currently the Manager for Dodem Kanonhsa' Indigenous Education and Cultural Facility in Toronto.
2018 Workshops
Getting Started | Facilitator: Cecilia Garcia
Learning a new language is hard, and sometimes the hardest part is learning the skills that we spent the least amount of time practicing. Speaking and interacting with others in a new language demands a lot of practice, courage, and confidence. Let's get started with play and games to get to know each other and start working on our English and confidence.
Story Telling and Presence| Facilitator: Patrick Walters
This program will be focused on curating a creative and encouraging environment to teach youth the requisite skills to speak or perform publicly for an audience. Participants will be given tangible examples of how to improve their speaking ability, including tips on how to project, how to stand and move on stage as well as the thought that goes into creating a compelling story for an audience to follow and enjoy.
Improv in a Second Language | Facilitator: Alana Shields Barker
This workshop will guide participants through the basics of Improvisation focusing on our social communications skills. We all use basic improv skills every day, solving problems, discovering information, communicating our needs and desires. In this workshop we'll be exploring how we do this in Canadian English using real time improv games and taking time to share our discoveries with each other as we play. You do not need drama or improvisation experience to join us – just a willingness to learn and explore your new social language with an open heart and mind. Wear comfortable clothing as we will be moving a bit.
Improv and Comedy | Facilitator:  Isaac Luy
This workshop is for youth that have english as their second language and are trying to improve their interpersonal and public speaking skills. We'll focus on some physical comedy games that get your body moving and your creative juices flowing. We will do exercises that aim to get you feeling confident and into a state of play.
Body Language, Gestures and Non-verbal Communication | Facilitator:  Beatriz Pizano
Theatrical language goes beyond the spoken word.  Our bodies create images, stories, and relationships without the use of words.  In this workshop we will work on a number of simple physical exercises to compose stories in space and we will introduce the group to the concept of collective creation.  Open to all. No experience necessary.
Storytelling with Images | Facilitator:  Jackie Omstead
During this workshop we will work together to explore a variety of storytelling skills: from movement to sound making, and "frozen pictures" to narration. Have fun, build your confidence, and try something new! No experience necessary, but always welcome!
Public Speaking | Facilitators:  Stephan Dyer and Juan Cajiao
The purpose of this workshop is to overcome the fear of public speaking through Improvisation and Stand Up Comedy. We will use humor as the primary tool in order to become persuasive speakers, improve stage presence, and develop self-confidence. The workshop will also show attendees how to embrace their accent and roots through the 'mistakes are opportunities' mentality.
Building your Character | Facilitator: Melissa Foster 
Explore your inner ego at this workshop designed to celebrate that lesser known side of you. Brave, insecure, funny, loud, quite, shy – all types are welcome here! You'll use basic acting techniques, character development and improvisation to create an alter ego that's all you.
About Us
North York Arts (NYA)  collaborates with artists, arts organizations, and partners to develop, strengthen, and promote cultural programming and initiatives for North York communities
Contact us 
North York Arts
5040 Yonge St.
Toronto, ON, M2N 6R8
Monday – Friday, 9am – 5pm