Mother Africa – Rhythm and Movements Dance Program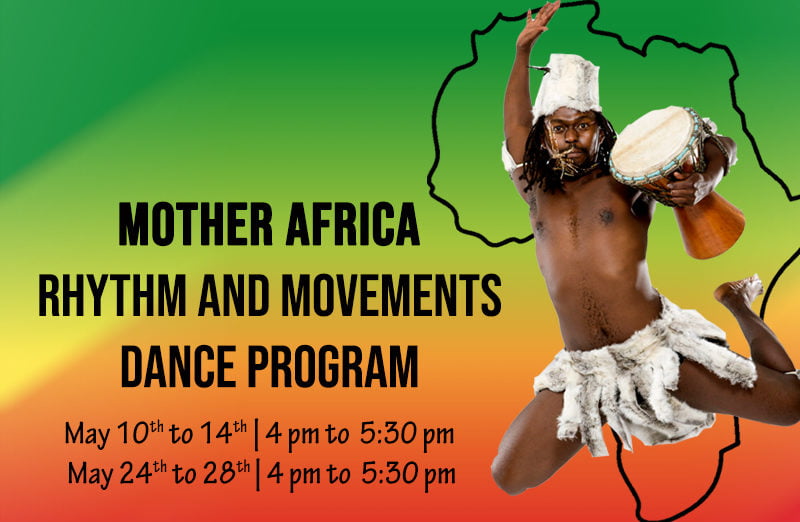 Please note, registration is now full.
 Rhythm and Movements Dance Program is a creative, innovative and hands-on program that will provide a safe space for young people to voice their concerns, share their opinions and acquire knowledge about healthy living through rhythm and movements.
Students ages 14-18 will gain physical education, social skill development, and they will learn about the different forms of creating rhythms and movements from African Traditional form to Urban hybrid style. The program consists of 4 sessions workshops and presentation/ performance (all via Zoom).
Note: This program is open to Black Youth living in Toronto all youth living in North York.  
Deadline to Apply: May 2, 2021
Deadline to Apply: May 2, 2021
IMPORTANT NOTE: One Registration per participant, if you have multiple family members, please email Julian Carvajal at julian@northyorkarts.org
Meet your Instructor : Mafa Makhubalo
Mafa Makhubalo started dancing at the age of five and continued his training with Tony Campbell, founder and director of ZAPAC (Zamdela Performing Arts Centre) in South Africa. Mafa obtain a three-year National Diploma in dance at Tshwane University of Technology. After moving to Toronto, he completed a two-year training program at Ballet Creole School of Arts.  In Toronto Mafa had the opportunity to work with choreographers like Milton Myers, Danny Grossman, Debbie Wilson, Gabby Kamino, and was also a company member of, COBA (Collective Of Black Artist), Ballet Creole, OMO Dance Company, Nyata-nyata in Montreal as well as his own Mafa Dance Village. 
To learn more about Mafa, visit http://www.mafadancevillage.ca