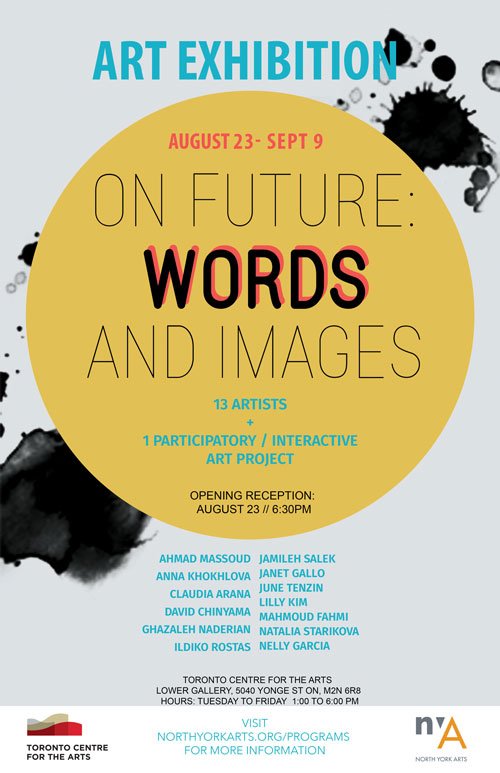 "On Future: Words and Images"
The artwork in this exhibition showcases diverse representational and conceptual explorations of how the idea of the future is constant and inevitable for all people, animals, buildings, memories and all other man-made and natural things.
In constructing their pieces, the artists were inspired by the selection of three words from The Toronto Word Pool (TWP) which is a collection of high-frequency nouns, adjectives, and verbs taken originally from the Thorndike-Lorge (1944) norms.
The result is a diverse collection of works that are both simple and complex and capture many forms, shapes, sizes, materials, patterns, and connections. They are all a potential means to contemplate what the future means to each of us and how we develop our own utopia.
In addition, the exhibit is enriched with the vibrant work of a younger audience. Several showcased artists took part in a participatory art event at JOUEZ, BIG on Bloor festival in July 2018. The artists invited the audience to select their own words and paint their visions of the future. The resulting artwork is presented as part of this exhibition.
Opening Reception: August 23, 2018
Exhibition Dates: August 23 – Sept 9
Opening Reception Time: 6:30pm-9pm
Exhibition Time: Tuesdays – Fridays 1pm – 6pm
Special Time: Saturday, Sept 8, 1pm – 5pm
---
Photography and Video Notice
This session will be recorded. Images and audio may be broadcast, reproduced and/or made available in print publications, online or on mobile devices, and may form part of one or more audiovisual productions intended for initial release on the internet, television and on home or mobile devices. By registering to attend and attending this event, you are consenting to the use of your appearance, image, and voice in the production and in any promotion or use of the production in any media throughout the world.
About Us
North York Arts (NYA)  collaborates with artists, arts organizations, and partners to develop, strengthen, and promote cultural programming and initiatives for North York communities
Contact us 
North York Arts
5040 Yonge St.
Toronto, ON, M2N 6R8
Monday – Friday, 9am – 5pm
Meet Julián
Julián Carvajal (he/him) is a Toronto-based award-winner creator & producer of experiences. This Queer Latinx Colombian Canadian Arts Manager/Producer has over 21 years of experience managing, curating and delivering arts festivals and cultural events. He is the Event Producer of the largest PanAmerican Food and Music Festival in Canada, Mentor in Residence at the Neighbourhood Arts Network while working at North York Arts, StreetARToronto and producing "In My Element(s) Symposia" for ArtWorkxTO.
Julián has collaborated with organizations and artists from 5 continents on multiple artistic projects. He has mentored over 400 self-identified artists for the past 10 years. He is passionate about building meaningful relationships; helping others to navigate the art sector in the city while collaborating with others to co-create an anti-oppressive and more diverse and inclusive vision of the art sector in Tkaronto.
What does art mean to you?
The Big Bang of my life