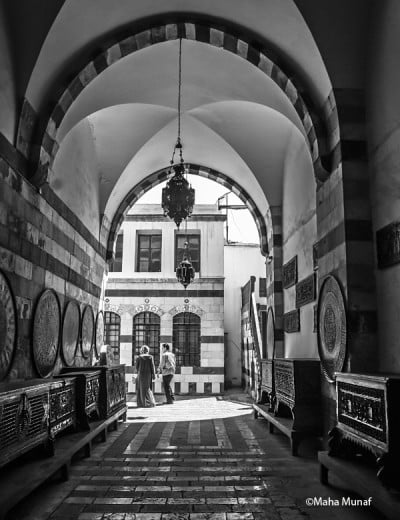 Maha Munaf Photography Exhibition – "Faces & Places"
Join us for the opening of Maha Munaf's solo exhibition, Faces & Places, taking place on February 11th from 6pm at the lower gallery in Toronto Centre for the Arts, where Maha will lead a guided artist-tour of the exhibition at 6:30pm.
Some of the images featured in the exhibition document places that are forever altered by history. Contextually the photographs from the Aleppo series now capture and speak to everyday moments which have become significant as the physical and the human geography of the space is altered by historical events.
Maha uncovers the connection between immortal art, people and their everyday lives.
The juxtaposition of old and new, modern and ancient, new growth and decay as well as the capturing of moments we always speed by, invites viewers to take pause and contemplate a moment in time.
The reception will feature a musical performance by The Levon Ichkhanian LEVANT trio.
Levon was born in Beirut Lebanon in 1964 into a musically rich Armenian family. His father Edouard is a renowned Musical Director of Middle Eastern Artists. His Uncle, Professor Joseph Ichkhanian is the founder of the classical guitar program at the Beirut Conservatory of Music and Uncle Jacques was a master Flamenco guitarist. Levon's cousin, Hovannes Darbinian, was the world's leading scholar and performer of the Armenian Tar and choir master for the oldest cathedral in the world – Etchmiadzin, in Armenia.
Exhibition runs February 10-24, 2016
Tuesday/ Wednesday 1-5pm
Friday 1-8pm
*after hours and weekend viewings by appointment, please contact melissa@northyorkarts.org
Reception and Artist-Run Tour on February 11, 2016
6-8pm
Toronto Centre for the Arts, Lower Gallery
5040 Yonge Street