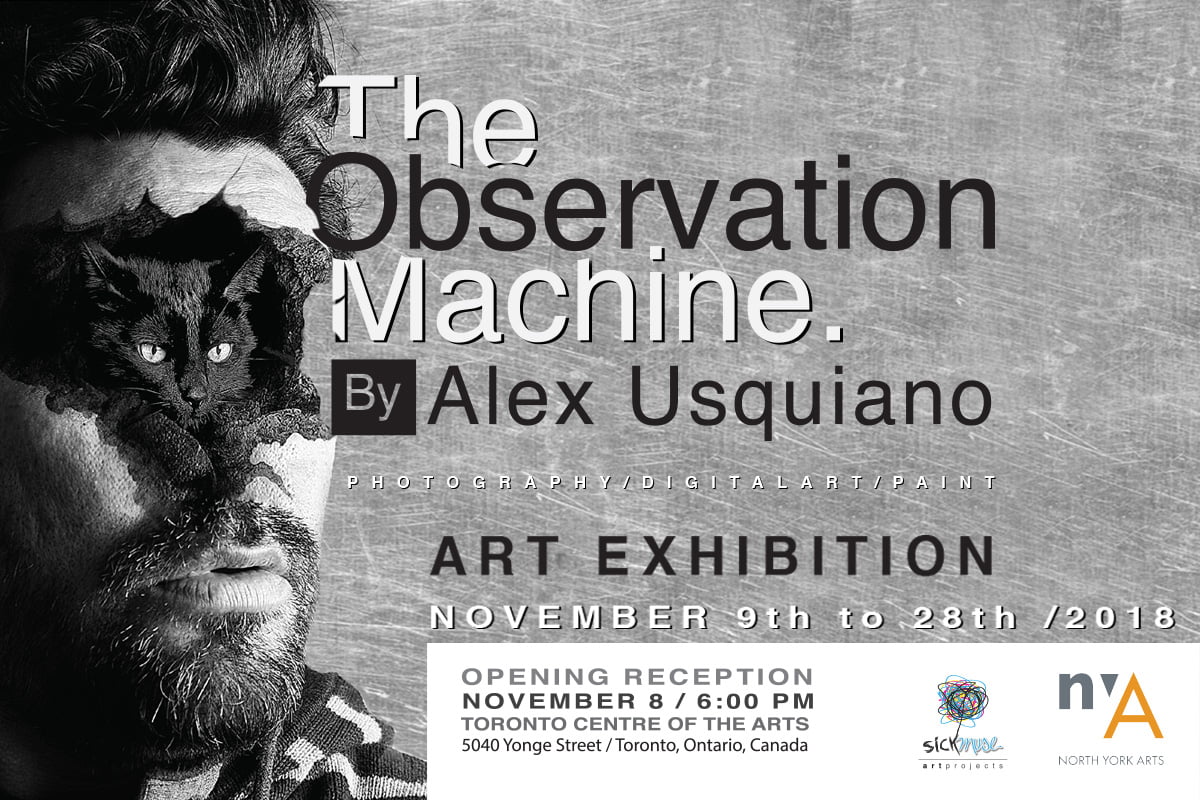 The Observation Machine  
By Alex Usquiano 
North York Arts is proud to present photographer and digital artist Alex Usquiano. Alex will be showcasing his latest exhibition "The Observation Machine" to the North York community.
"The Observation Machine exhibition is the result of a complex narrative and a truly personal style that Alex Usquiano has developed over the last 10 years. Within his multiple works and techniques, we will find many references to the history of art such as Surrealism, Neo-Futurism and Fantastic Novel immersed in the creation of incredible and poetic worlds."
Curatorial Statement Continued
He establishes an interesting perspective in which he invites the spectator to look at his artworks every time in different ways; sometimes with a tender optimism and sometimes with a straightforward criticism about the world that we are living now. His style is better understood when seen as a collection of images, between photographs and paintings, between poetry and reality. They are a reflection of an interior need; not a stylistic formula. He admires and confronts the female figure with seduction and irony. His aesthetics and technique have changed with time but the curiosity and liberty to question everything have remained intact over the years of his artistic exploration
His poetic world looks at reality in a different way, sometimes with a tender optimism and sometimes with a straight forward criticism about the world that we are living now
In this exhibition, the spectator will find intriguing juxtapositions between artworks. The flow between the space and the works allow the audience to establish an interesting dialog between his ability to work from different platforms, materials and techniques and the creation of fantastic images without the need of labels. The Observation Machine is the liberty of exploring any medium, concept or form in order to speak what he has on his mind. His most tender and optimistic work is framed by the communitary art practice that he has been doing by the side of his personal work, nursing and extending his creativity to an impressive social and humanitarian level. This work fosters and builds a connection among artists and the community through art education to promote that Social Justice and Community Development.
Opening Reception: November 8, 6-8pm, 2018
Gallery Dates: November 9 – 28, 2018
Gallery Hours: Tues to Fri, 1 pm – 6 pm
Place: Lower Gallery, Toronto Centre for the Arts
Address: 5040 Yonge St, North York, ON M2N 6R8
<div id="eventbrite-widget-container-51782022423"></div><!-- [et_pb_line_break_holder] --><!-- [et_pb_line_break_holder] --><script src="https://www.eventbrite.ca/static/widgets/eb_widgets.js"></script><!-- [et_pb_line_break_holder] --><!-- [et_pb_line_break_holder] --><script type="text/javascript"><!-- [et_pb_line_break_holder] --> var exampleCallback = function() {<!-- [et_pb_line_break_holder] --> console.log('Order complete!');<!-- [et_pb_line_break_holder] --> };<!-- [et_pb_line_break_holder] --><!-- [et_pb_line_break_holder] --> window.EBWidgets.createWidget({<!-- [et_pb_line_break_holder] --> // Required<!-- [et_pb_line_break_holder] --> widgetType: 'checkout',<!-- [et_pb_line_break_holder] --> eventId: '51782022423',<!-- [et_pb_line_break_holder] --> iframeContainerId: 'eventbrite-widget-container-51782022423',<!-- [et_pb_line_break_holder] --><!-- [et_pb_line_break_holder] --> // Optional<!-- [et_pb_line_break_holder] --> iframeContainerHeight: 425, // Widget height in pixels. Defaults to a minimum of 425px if not provided<!-- [et_pb_line_break_holder] --> onOrderComplete: exampleCallback // Method called when an order has successfully completed<!-- [et_pb_line_break_holder] --> });<!-- [et_pb_line_break_holder] --></script>
About Us
North York Arts (NYA)  collaborates with artists, arts organizations, and partners to develop, strengthen, and promote cultural programming and initiatives for North York communities
 Contact us 
North York Arts
(Toronto Centre for the Arts)
5040 Yonge St.
Toronto, ON, M2N 6R8
info@northyorkarts.org
Monday – Friday, 9am – 5pm