When I was a young creative growing up in North York, I knew I was drawn to the arts. But, at the time, I had limited access to opportunities that developed my toolkit for beautifying spaces, sparking conversations, and amplifying marginalized voices – myself included. It took interning at North York Arts, mentorship from community arts organizations VIBE Arts, Sketch, and JAYU, and peer support from talented artists to really make this emerging artist, facilitator, and arts administrator begin feeling confident. With these experiences, I make it my mission to give back to the community, especially youth, through arts education and community engagement – be it through my arts administration roles for community-based programming, my art by sharing my story, and through arts facilitation/mentorship by sharing what I've learned during my artistic journey.
I am so grateful that my story and my passion have led me to connecting with artists, creatives, and changemakers who have taken chances on me to create change in my community.
Journaling Your Cultural Collage (JYCC) is a reflective and explorative arts & wellness program I designed with youth in mind. Funded by RBC Foundation and VIBE Arts with community partners North York Arts and YIELD, this program uses digital collage and various forms of journaling to affirm identity and practice self-care. Artists were able to compile a photobook and appreciate various cultures and walks of life by sharing stories and learning how to create artist statements.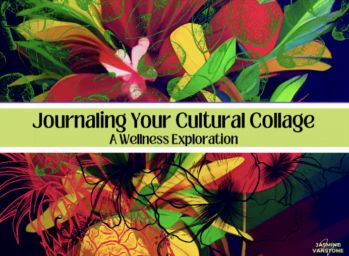 StreetARToronto Evelyn Wiggins Cycle Track brought me back to my university days where I could design and paint a mural near York University. It was very fulfilling being able to beautify the neighborhood where I learned about Cultural Artistic Practice and Visual Art. Thank you to the curatorial, administration, and health and safety team for supporting artists!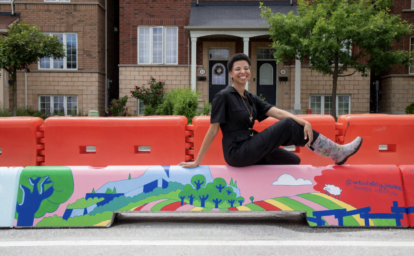 Photo credit: Gage Fletcher @gage.fletcher
Yonge North York BIA x STEPS – Cafe TO is exciting because I ate (and continue to eat) at so many restaurants in WIllowdale and revisited many family memories. I remember when Sheppard Centre had the movie theatre and Pizza Pizza was one building south, but now I have my art on picnic benches in front of many places I've witnessed change!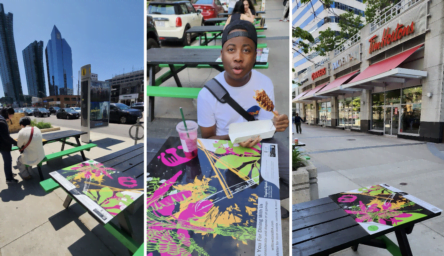 L-R Tropical Splash in front of Yonge Sheppard Centre, Eating ChungChun with little bro on Byng Ave, Tropical Splash near North York Blvd. 
VIBE Arts NExT Black Mentorship Exhibition was my first ever art exhibition and it was the greatest because I was able to bring my community into Meridian Arts Centre and connect with wholesome Black artists. I also juggled my arts administration and artist hats being the Education & Engagement Coordinator at TO Live. As an artist, I created a digital collage and painting series called Persephone's Panganat that spoke to my mixed race identity and I felt so seen, especially celebrating with my North York neighbours who came on opening night.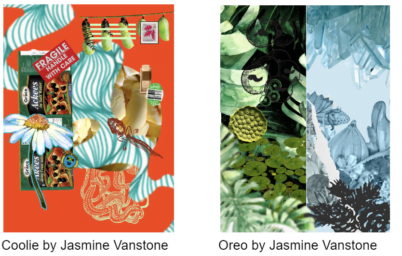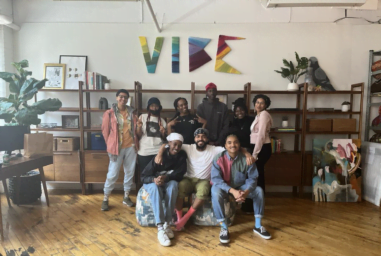 VIBE NExT Black Mentorship 3.0 cohort 
There is so much more to share, but alas word counts get the best of memories, so I would be honoured if you could support my artistic journey by following me on Instagram @articulately_jasmine. You are also invited to the Gardiner Museum x VIBE Arts FREE community celebration on August 16 @ 6:30pm!