Meet the Artists & Guest Speakers of Art Connects

Art Connects is a series of workshops, art installations, talks and tours that aims to connect the local North York Community with both the environment and the history of the land that we live, work and play on.
I-talks is part of the Art Connects Program which is under the umbrella of ArtworxTO.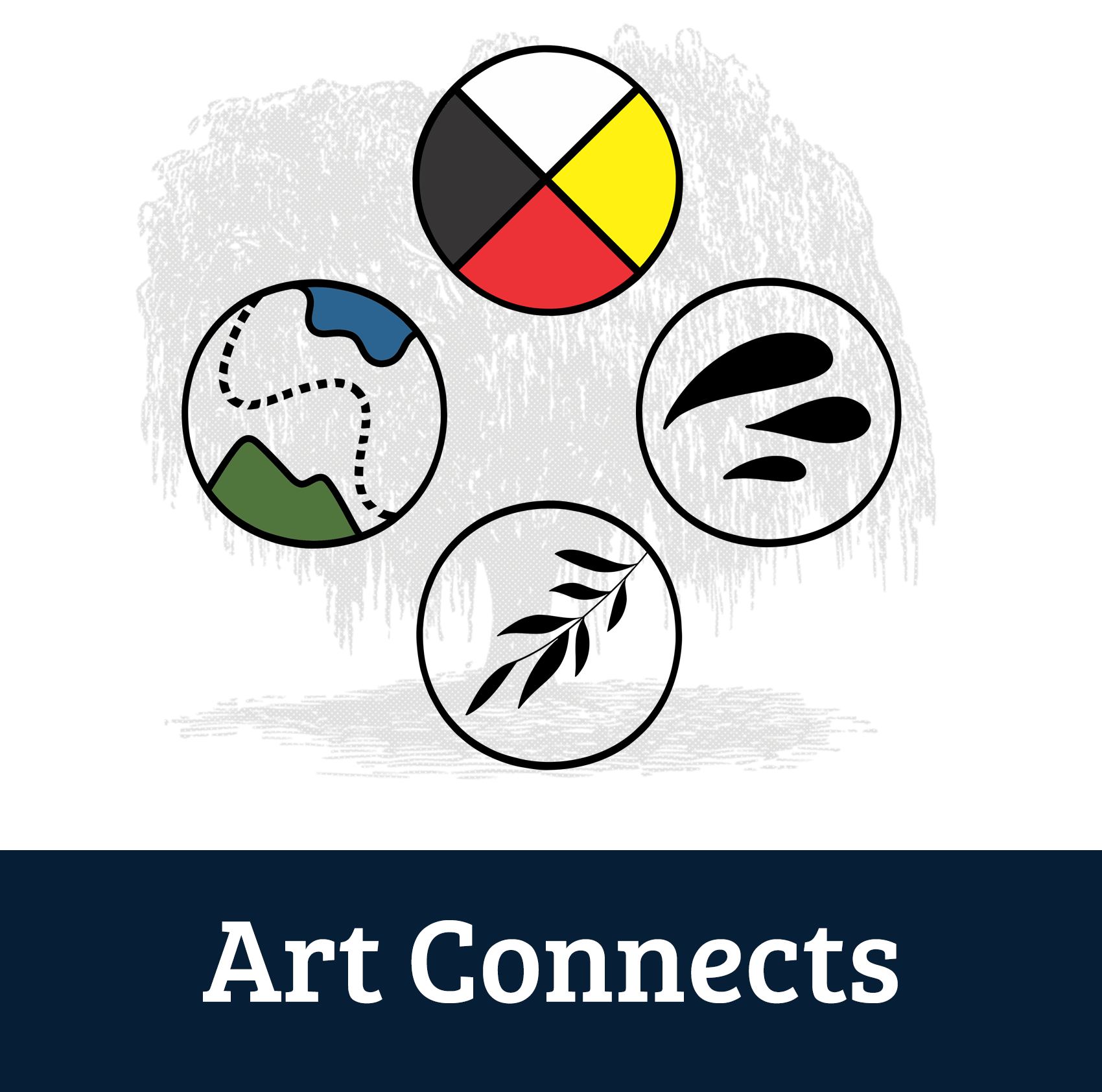 Learn more about Lindsey
Lindsey Lickers is a Haudenosaunee/ Anishinaabe multi-media artist, arts facilitator, and program developer originally from Six Nations of the Grand River with ancestral roots to the Mississaugas of the Credit. Her traditional name is 'Mushkiiki Nibi Kwe', which translates to 'Medicine Water Woman' and she is of the turtle clan. Recently, she was awarded a commission to create a permanent public installation for the Region of Waterloo's light rail transit system that will speak to the historical stewardship of the land base of Waterloo and the importance of agriculture from a First Nations perspective.
Learn more about Jason
Jason Mercredi is of Misipawistik Cree Nation, Ininnu descent. He has worked with several organizations dedicated to advancing Indigenous rights and holds a degree from Queen's University's Faculty of Law with a focus on Aboriginal Law in each of his courses. Due to the contrasting realities between Indigenous law and Aboriginal law, Jason chose not to practice Canadian law and instead focuses his energy into rebuilding Indigenous governance systems; bringing truth to our Treaty.
 Jason has worked in areas of Indigenous political tribal organizations, Aboriginal child welfare, Indigenous led programming and funding, and was very active as an Indigenous individual advocate while studying colonial law. While at Queen's, he created the Indigenous Law Student's Alliance; Revised the constitution of the Law Student Society to create and sit as the first Indigenous Student Representative; assisted as a core member of the Queen's University Truth and Reconciliation Task Force; participated as one of two Queen's representatives in the annual Kiwaskihmon Moot; was awarded the Dean's Key for best embodying the school's values. Jason continues to advocate for Indigenous led responses to Indigenous needs.
Jason is currently working at the Treaty Five Administration Office, a secretariat of the Summit of Treaty Five Sovereign Nations. He is continuously engaged in advancing Indigenous sovereignty over Canadian granted rights. His areas of strength focus on Indigenous sovereignty by supporting First Nations in areas that include knowledge of inherent rights, understanding current realities and rebuilding Indigenous governance and legal systems.
Learn more about Chyler
Chyler Sewell is an Anishinaabekwe storyteller from Garden River, Ontario and is currently living in Hamilton, Ontario. She actively dreams of and creates spaces where Indigenous youth, Black youth and racialized youth can creatively reimagine futures together. Chyler's ultimate dream for the world is one where Indigenous communities, Black communities, and racialized communities exist in balance with each other, honouring their relationships with the land, the water and each other. Her work towards this dream is reflected in the art she creates.
Instagram: boozhoo_chyler_here
Learn more about Daniel
Daniel Rotsztain is the Urban Geographer, an artist, writer and cartographer whose work examines our relationship to the places we inhabit. The author and illustrator of All the Libraries Toronto and A Colourful History Toronto, Daniel's work has also been featured in the Globe and Mail, the Toronto Star, and a regular segment on CBC Radio's Here and Now. As a frequenter of libraries, malls, and ravines, Daniel's projects seek to understand and support the diverse settings of the city's public life through walking tours, residencies, and landscape interventions. He is the co-lead of plazaPOPS, an initiative to recognize and enhance strip mall parking lots as community gathering spaces in Toronto's inner suburbs.
Instgaram: @theurbangeog
Learn more about Carolyn
I am the former elected Chief of the Mississaugas of the New Credit First Nation and completed one two-year term in political office from December 1997 to December 1999. I was the first woman ever elected as Chief of my First Nation. I am currently the sole proprietor of JDI Business Services. My goal is to be a facilitator/resource person for Aboriginal/First Nation Peoples in Canada. I am engaged by government, colleges and universities, businesses and community organizations to do cross-cultural training sessions/presentations to help people develop a better understanding of Aboriginal/First Nations Peoples in Canada.
I have over 25 years of work experience in the field of First Nations community development. My extensive experiences include community development, public relations, economic development, the development of environmental planning policies and procedures, and establishing community radio. I am a Board member on numerous local community-based organizations and have served as a board volunteer in municipal, regional, and national levels. As a First Nation employee for nearly 20 years with the Consultation and Outreach Office of the Mississaugas of the New Credit First Nation, I have gained hands-on experience and an in-depth knowledge of my First Nation community. My life and work experience bring together a life-long commitment to the development of my First Nation community. In 2012 I was awarded the Queen Elizabeth II Diamond Jubilee Medal in recognition of my support for First Nation history and the advancement of Aboriginal Peoples.
I reside on the Mississsaugas of the New Credit First Nation. I am married and I have 2 children and 5 grandchildren.
Learn more about GREY CLOUD
James Carpenter is a recognized Indigenous Traditional Healer and Oshkabewis (Helper). He is of First Nation's ancestry from the Anishnaabek/Mississauga Nations of Sounthern Ontario, and the Chippewa Territories around the Great Lakes region. James also is part Cree from the Shores of Hudson Bay and Onieda ancestry from New York State. James specializes in providing Traditional Indigenous Healing Ceremonies for communities, families, and individuals.
Learn more about Raiden
Raiden, also known as White Bear Standing, was born in Mississauga, Ontario, and is part of The Thunderbird Clan. Raiden is a citizen of The Métis Nation Of Ontario, his ancestors have Irish, French, Cree, Saulteaux, and Dakota ancestry. Raiden loves to participate in ceremony any chance he can, and is considered as an Oshkabewis (helper), Traditional Knowledge keeper, and Fire Keeper.
Learn more about Meredith
Meredith Stapon is a communications professional and graphic designer who has lived in Toronto for nearly a decade. Prior to living in Canada, Meredith studied and grew up in a small town in Connecticut.
Meredith's journey of navigating her Indigeneity was largely driven by her move north. Since graduating from York University with a degree in Communications Studies, she has worked with the Toronto Arts Council, Neighborhood Arts Network, VIBE Arts, and is the Director of Communications at Teach For Canada. Here, she joins her passion for strengthening Indigenous communities through clear and meaningful communication with an ambition to deepen personal connections to her own belonging.
In her spare time, she enjoys baking and spending time outdoors with her dog, Maeve.
About Us
North York Arts (NYA)  collaborates with artists, arts organizations, and partners to develop, strengthen, and promote cultural programming and initiatives for North York communities
Contact us 
North York Arts
5040 Yonge St.
Toronto, ON, M2N 6R8
Monday – Friday, 9am – 5pm