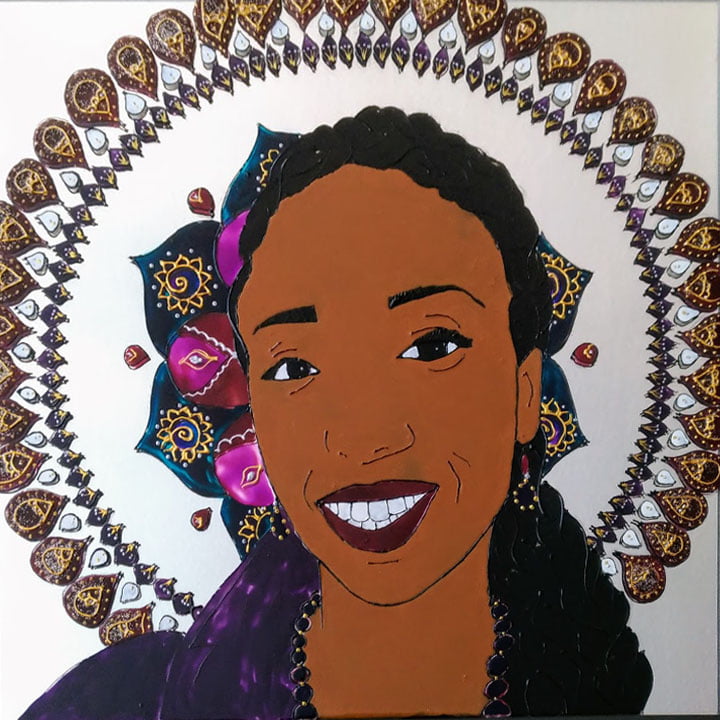 Metamorphic Reflections
by: Tasneem Dairywala
Metamorphic Reflections is a series of portrait paintings inspired by stories of Toronto residents from diverse demographics. Each painting is started through a question that encourages the subject to self-reflect on how they define and value themselves. The life-sized portraits are painted on mirrors and aim to capture the subjects' presence and aura. Tasneem uses mirrors to encourage viewers to see similarities between themselves and the painted individuals.
About the Artist
Tasneem Dairywala is a new-generation emerging artist living and working in North York. Tasneem's paintings explore personal and communal identities, and art's role in connecting people. Her work is inspired by her role as an art educator, her training at OCAD University, and traditional Pakistani art aesthetics. Her works are held in private collections in Canada, US, and Pakistan.
Time: Tuesdays – Fridays 1-6pm
Place: Toronto Centre for the Arts, Art Alley
About Us
North York Arts (NYA)  collaborates with artists, arts organizations, and partners to develop, strengthen, and promote cultural programming and initiatives for North York communities
Contact us 
North York Arts
5040 Yonge St.
Toronto, ON, M2N 6R8
Monday – Friday, 9am – 5pm
Meet Julián
Julián Carvajal (he/him) is a Toronto-based award-winner creator & producer of experiences. This Queer Latinx Colombian Canadian Arts Manager/Producer has over 21 years of experience managing, curating and delivering arts festivals and cultural events. He is the Event Producer of the largest PanAmerican Food and Music Festival in Canada, Mentor in Residence at the Neighbourhood Arts Network while working at North York Arts, StreetARToronto and producing "In My Element(s) Symposia" for ArtWorkxTO.
Julián has collaborated with organizations and artists from 5 continents on multiple artistic projects. He has mentored over 400 self-identified artists for the past 10 years. He is passionate about building meaningful relationships; helping others to navigate the art sector in the city while collaborating with others to co-create an anti-oppressive and more diverse and inclusive vision of the art sector in Tkaronto.
What does art mean to you?
The Big Bang of my life