A Drone Performance by Katharine Harvey at the Downsview Airport
Presented by Northcrest Developments in association with Luminato Festival Toronto and  North York Arts. Join us for an evening of illuminated wonder, as renowned Toronto artist, Katharine Harvey, uses drones flying in 3D formation to create ethereal magic in the sky.
Featuring complimentary hot beverages, entertainment, family activities and a breathtaking display of aerial art, don't miss this FREE and unforgettable celebration on the soon-to-be re-developed Downsview Airport Lands.
Due to overwhelming demand, our LIGHT UP DOWNSVIEW event has reached capacity. To join the waiting list, click the link below!
For those in the Downsview area, Katharine Harvey's "Turning In The Light" drone performance will be visible from the skies over Downsview at 7pm on November 12.
"Turning in the Light" is a twelve-minute show with 108 independent drones enacting eight scenes in the sky, some based on the artist's recent paintings.  Katharine Harvey, known for her large-scale public artworks, explores the mystery of the cosmos as interpreted by architectural space. Northstar Drone Shows will program the flight paths of the drones to paint each artistic image in the sky. For those unfamiliar with this technology, imagine fireworks set to music without loud explosions, air, or noise pollution. Afterwards, we welcome the public to see the drone field up close and talk to the flight crew. The creation of this work was funded in part by an Ontario Arts Council grant.
Come early to enjoy pre-show programming by North York Arts between 6pm and 7pm. We're thrilled to present music by local artist Benjamin De Graaf – DJ Elegance, and a Lantern Parade by Shadowland Theatre.
Make and bring your own lantern using the template below to participate!
Saturday November 12, 2022
6:00 p.m. – 7:30 p.m.
Across from 3 Hanover Road, Toronto (just north of Dufferin & Wilson)
FREE admission with advanced registration required. FREE parking and FREE 5-minute shuttle from Wilson Station. If you need to reserve a parking spot or if you would like to take the free shuttle from Wilson Station, please follow the prompts when you RSVP for this event.
EVENT SCHEDULE
6:00 p.m. Gates Open: free hot beverages, musical entertainment by DJ Benjamin De Graff
6:30 p.m. Lantern Parade by Shadowland Theatre, make your own lantern at home using the template below and join the parade!
7:00 p.m. Drone performance
7:30 p.m. Post-performance opportunity to see the drone field up close and talk to the flight crew.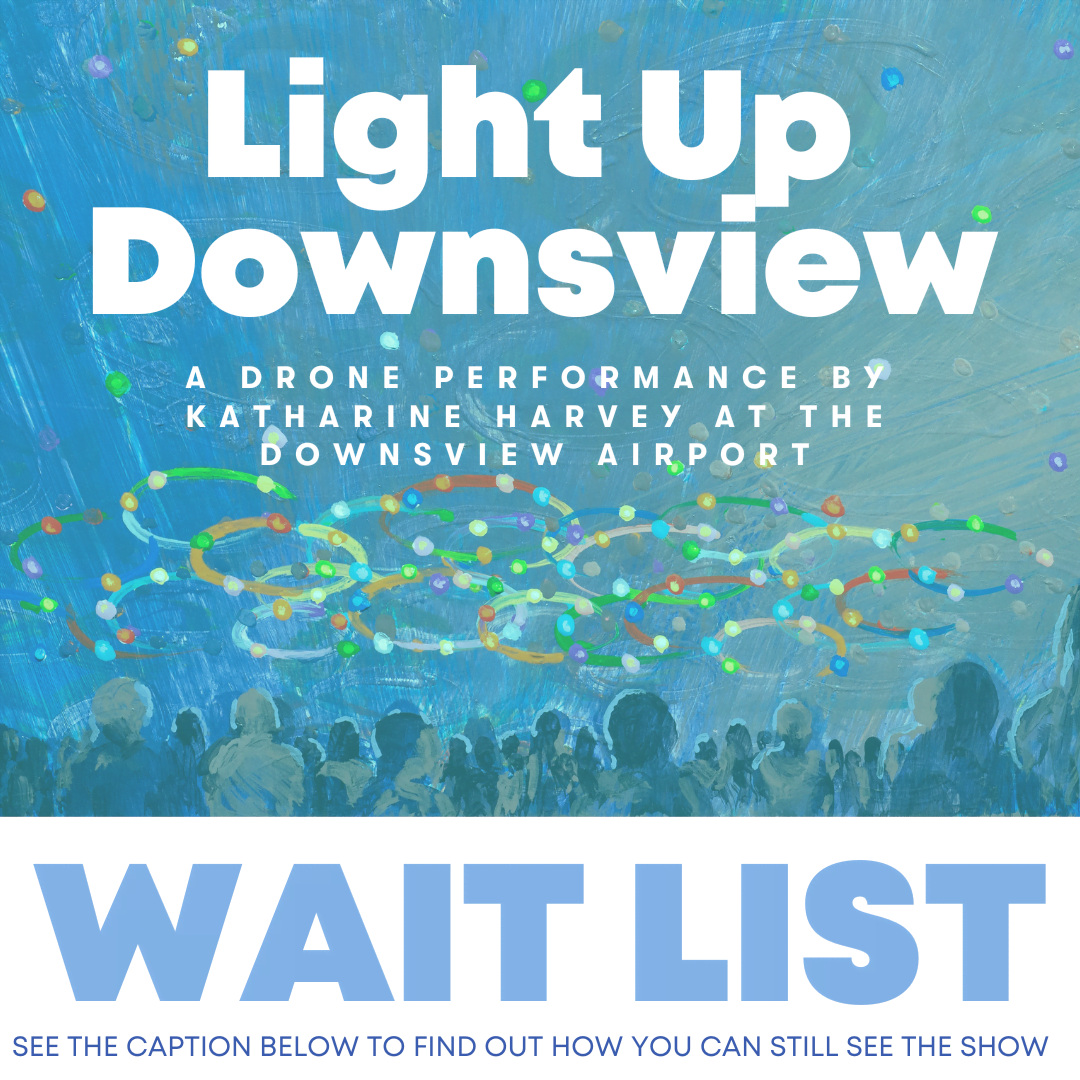 Learn More
Katharine Harvey's paintings feature rich tactile surfaces and colour effects that convey a sense of luminosity, while her sculptural practice radiates similar perceptions of shifting light and tenuousness through the use of transparent materials.
Learn More
Shadowland Theatre creates original theatre that entertains, engages, and inspires people to interact positively with each other and their environments. The company works with communities to animate local stories, create seasonal celebrations, and to nurture an appreciation of public and green spaces.
Shadowland's distinctive theatrical vocabulary includes puppetry, mask, stilt-dance, illuminations, spectacle arts, and live music, animating streets, parks and outdoor spaces with vibrant and large-scale images. Shadowland's designs have graced many theatre and arts organizations including, most recently, As You Like It for Dream in High Park and VideoCabaret's Cold War.
Learn More
Benjamin De Graaf – DJ Elegance is a Downsview local and musical connoisseur/curator and experiential event strategist. DJ Elegance's musical style incorporates a wide variety of styles from past to present mixed or blended to perfection and filled with a twist of musical experimentation. When he is not lighting up event spaces he is instructing/teaching new DJs through his successful DJ Academy or working with youth in schools and community using his arts based educational workshops (Love Music Initiative) to work with youth and make a difference www.lovemusicinitiative.com.
About Us
North York Arts (NYA)  collaborates with artists, arts organizations, and partners to develop, strengthen, and promote cultural programming and initiatives for North York communities
Contact us 
North York Arts
5040 Yonge St.
Toronto, ON, M2N 6R8
Monday – Friday, 9am – 5pm