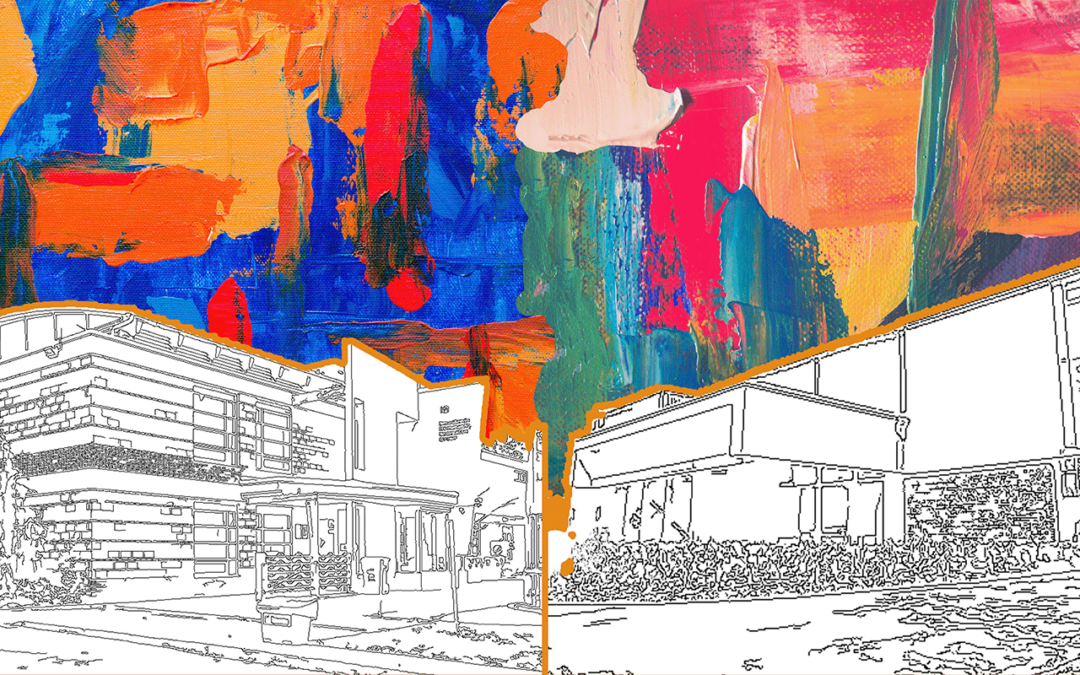 Six Community Centres. Six Artists. Lots of Love.
With Love, North York is a community art project produced by North York Arts.
Throughout Winter 2022 and Spring 2023, six new visual arts pieces were created across six community centres in North York, by local North York-based artists.
Artists engaged with their respective community centres to create an artwork that channels the values, members, and essence of each community. This project was designed to acknowledge the land we are privileged to live, work, and create on, as well as to celebrate 100 years of the incorporation of the Township of North York. North York Arts is lucky to serve and honour this community through public art.
We acknowledge the millenia-long history of these lands, its peoples and its history. We are honoured to foster arts and culture on the traditional lands of the Huron-Wendat, the Seneca, Haudenosaunee, and the Mississaugas of the Credit River, or what is known today by many as North York.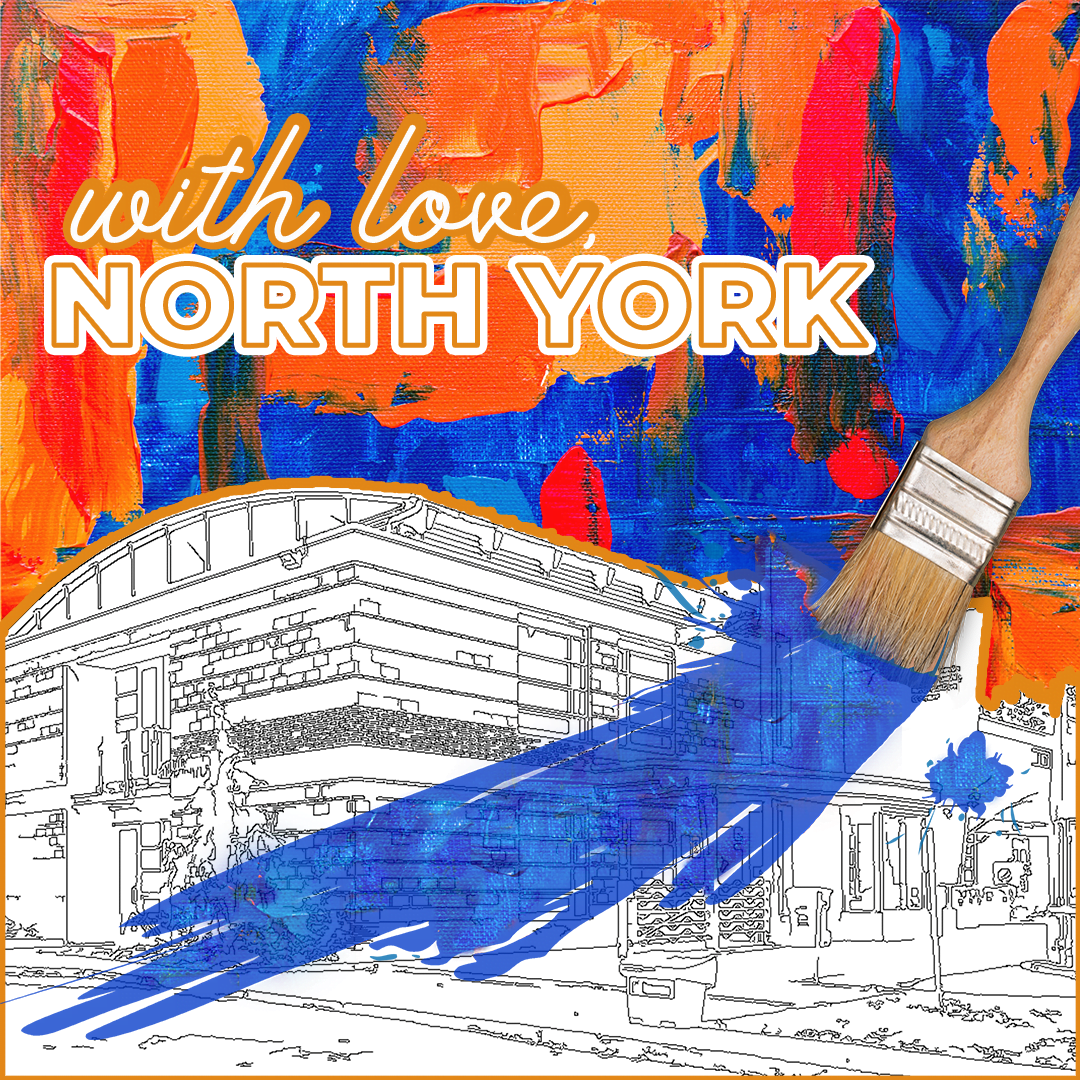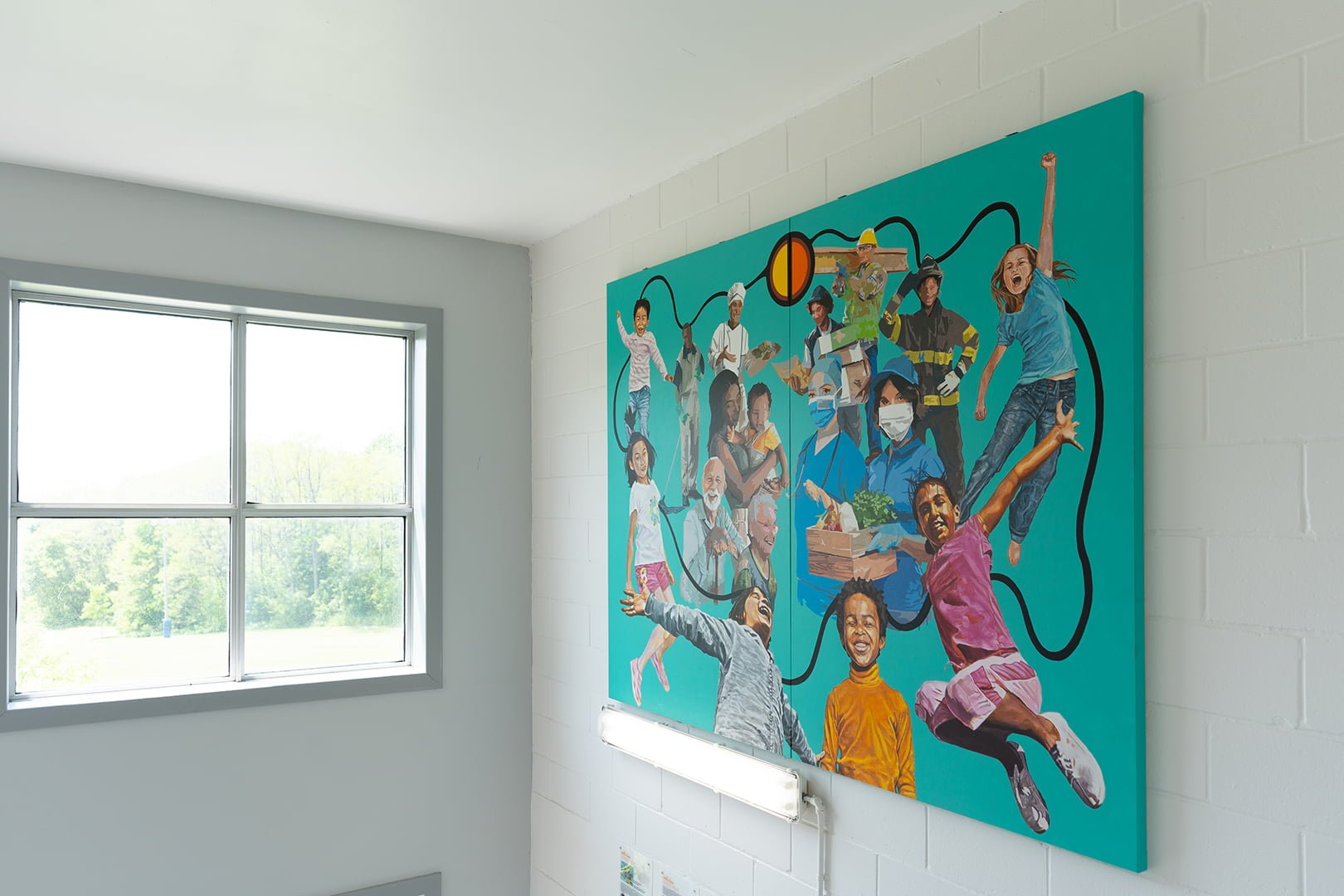 Community Builders
Bryan Taguba
Acrylic Paint on Stretch Canvas
Roding Community Centre
600 Roding St – M3M 2A5
York Centre, Ward 6
About Community Builders
The piece aims to portray the interconnectedness of our cultures, our past, and our current realities through the usage of communication lines borrowed from the Woodland Style of Native Canadian Art. As part of a diverse and multicultural community largely being made up of working class families and people, we have a collective role in creating and sustaining a culture of care, inclusivity, decolonization and empowerment. 'Community Builders' is inspired by everyday working people who serve our communities, the promise of the future generation and the idea that together we can shape a future that is truly equitable and cognizant of our wants and needs.
– Bryan Taguba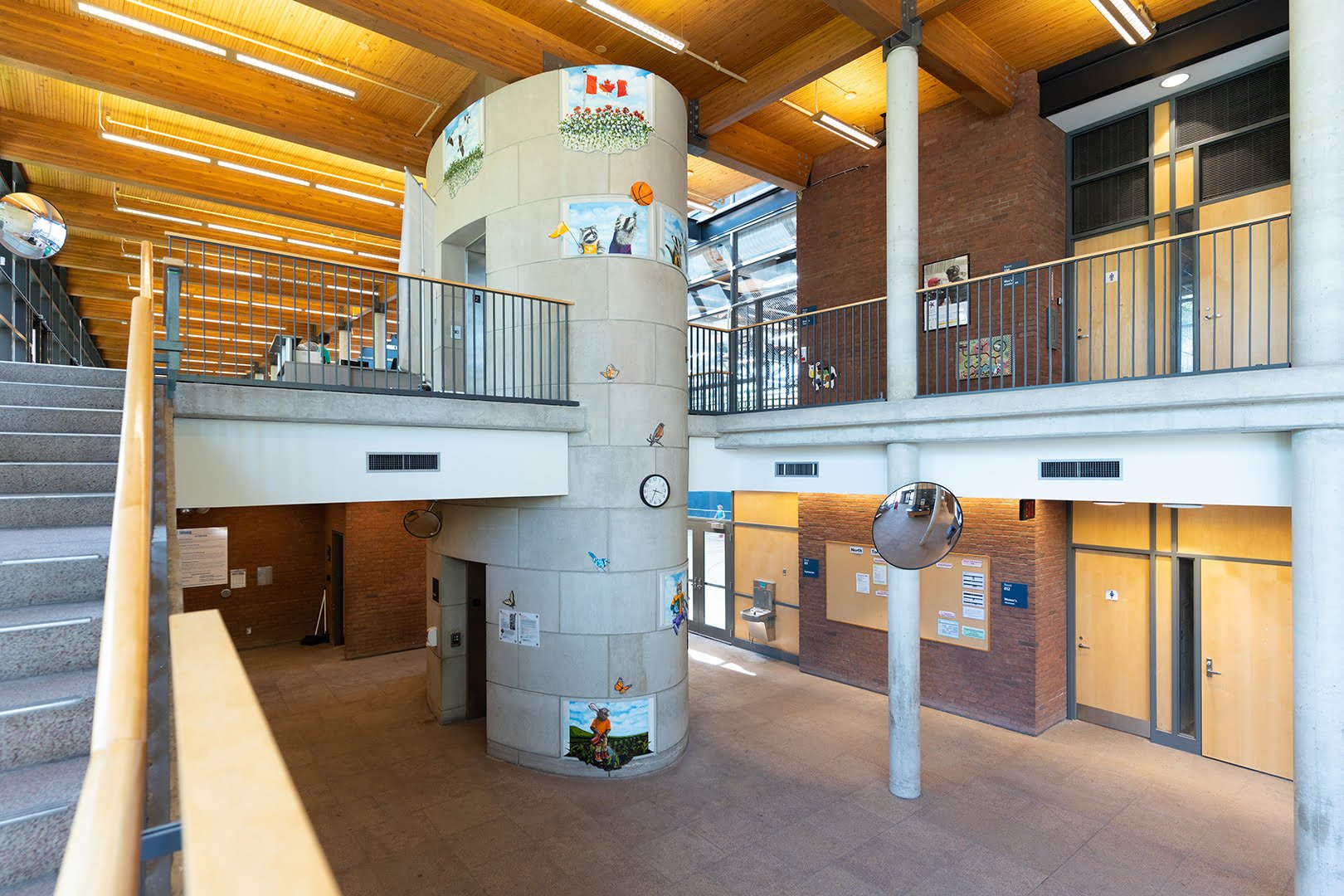 Windows of Opportunity
Marg Cresswell – Murals by Marg
Acrylic Paint on Bending Plywood
North Toronto Memorial Community Centre
200 Eglinton Ave West – M4R 1A7
Eglinton Lawrence, Ward 8
About Windows of Opportunity
The illusion of trompe l'oeil offers the chance of discovery, to perceive all the details inside and escaping the illusion in my murals. I aim not to deceive, but to reveal the illusion. This meeting place, between the real thing and the painted thing, brings the viewer to the edge of illusionism, only to assert that the reality is the paint.
Although the deception may appear only momentarily, it is an instant of being deceived. And once the illusion has dissolved, what remains will be the painting all on its own and draw in the viewer to spend time exploring all the details and visual delights each mural has to offer.
– Marg Cresswell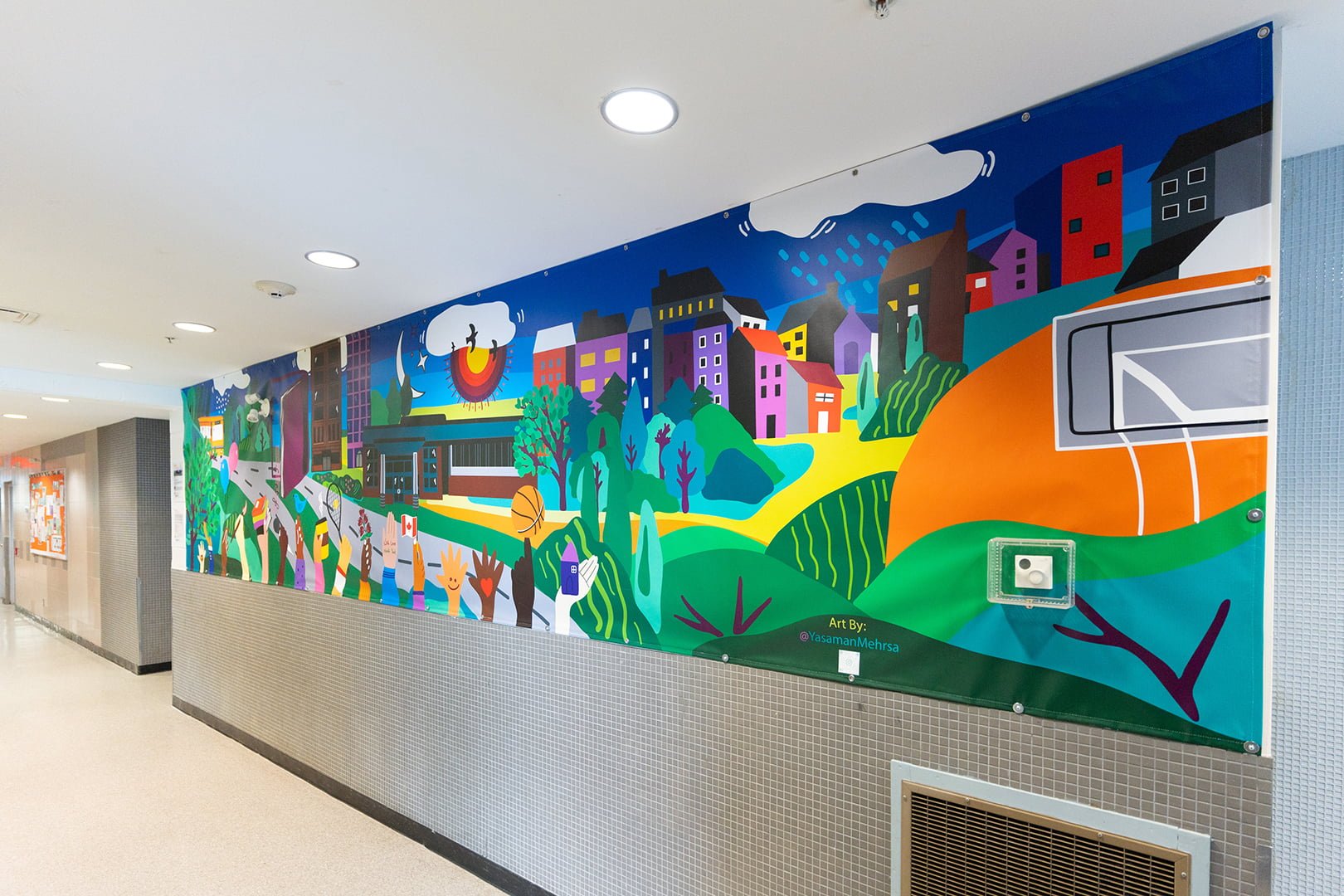 Community Love
Yasaman Mehrsa
Digital Artwork printed on Vinyl Banner
Jenner Jean-Marie Community Centre
48 Thorncliffe Park Drive – M4H1J7
Don Valley West, Ward 15
About Community Love
Inspired by the theme of community, this vibrant mural showcases love, support, and a sense of belonging between the community members, the neighbourhood, and the Jenner Jean-Marie Community Centre. People of all gender, ages, and backgrounds come together, share their interests, and interact with others. This mural is a representation of the people of a community that live, work, study, play, and grow together.
-Yasaman Mehrsa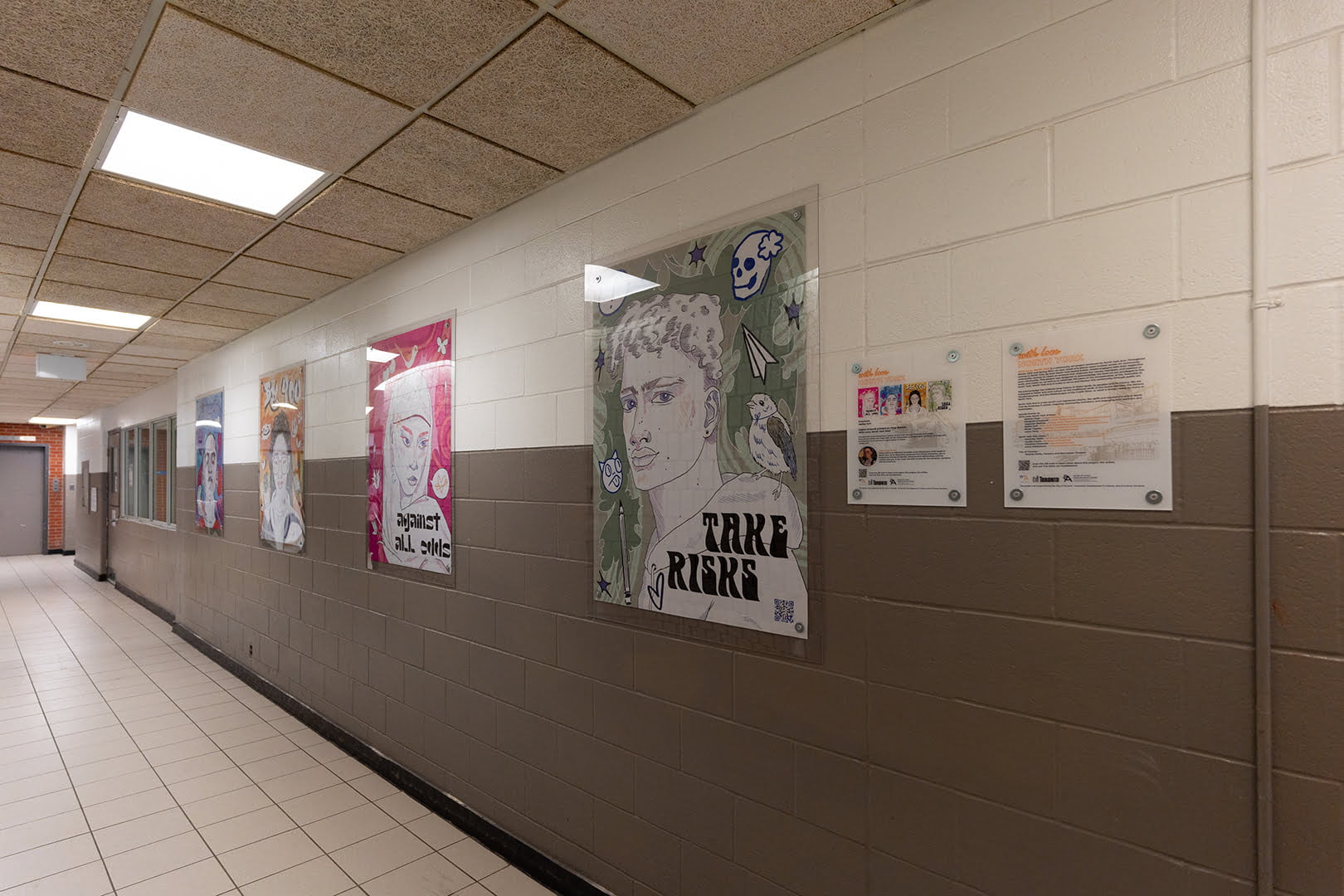 Dreamers
Melisa Sofi
Digital Artwork printed on Vinyl Banner
Dennis R Timbrell Resource and Community Centre
29 St Dennis Dr – M3C 3J3
Don Valley East, Ward 16
About Dreamers
This portraits series showcases a group of kids with diverse interests and styles.They all carry birds with them that can be interpreted as companions, symbolic of those who have found a home among the generosity of others.
– Melisa Sofi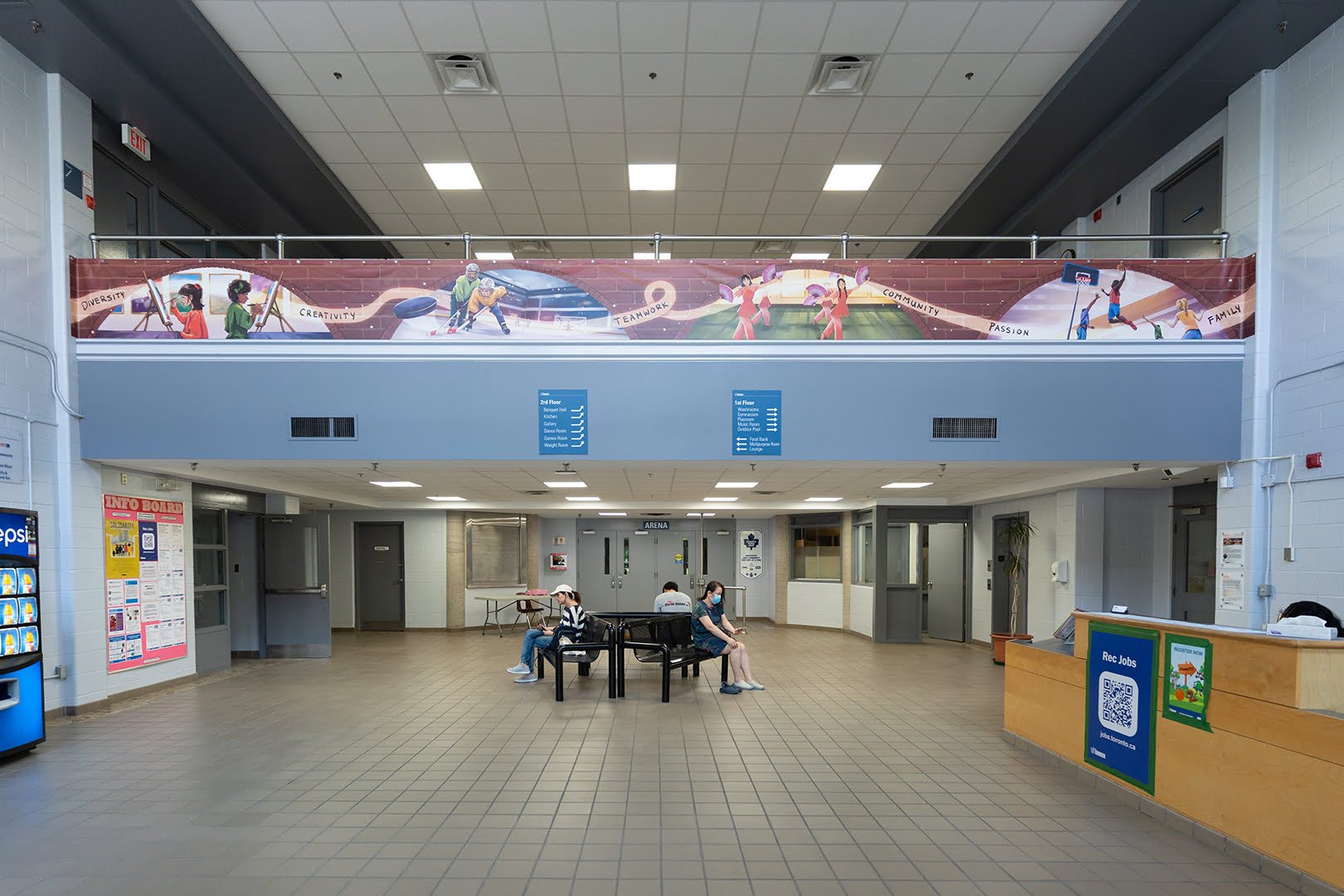 Window into Oriole
Serene Chan – Serene Illustrations
Digital Artwork printed on Vinyl Banner
Oriole Community Centre
2975 Don Mills Road – M2J 3B7
Don Valley North, Ward 17
About Window into Oriole
This painting depicts a brick wall with 4 arches acting as windows looking into some of the community's favorite activities. Each image showcases a different scenery that slightly reaches outside of the arch frame, portraying the activity almost coming to life. All four windows are connected with a white banner written with words that the community members used to describe the Oriole community centre: Diversity, Creativity, Teamwork, Community, Passion, and Family. This image ties together the heart of what Oriole represents: a community that prioritizes physical and creative activities in a family friendly environment.
– Serene Chan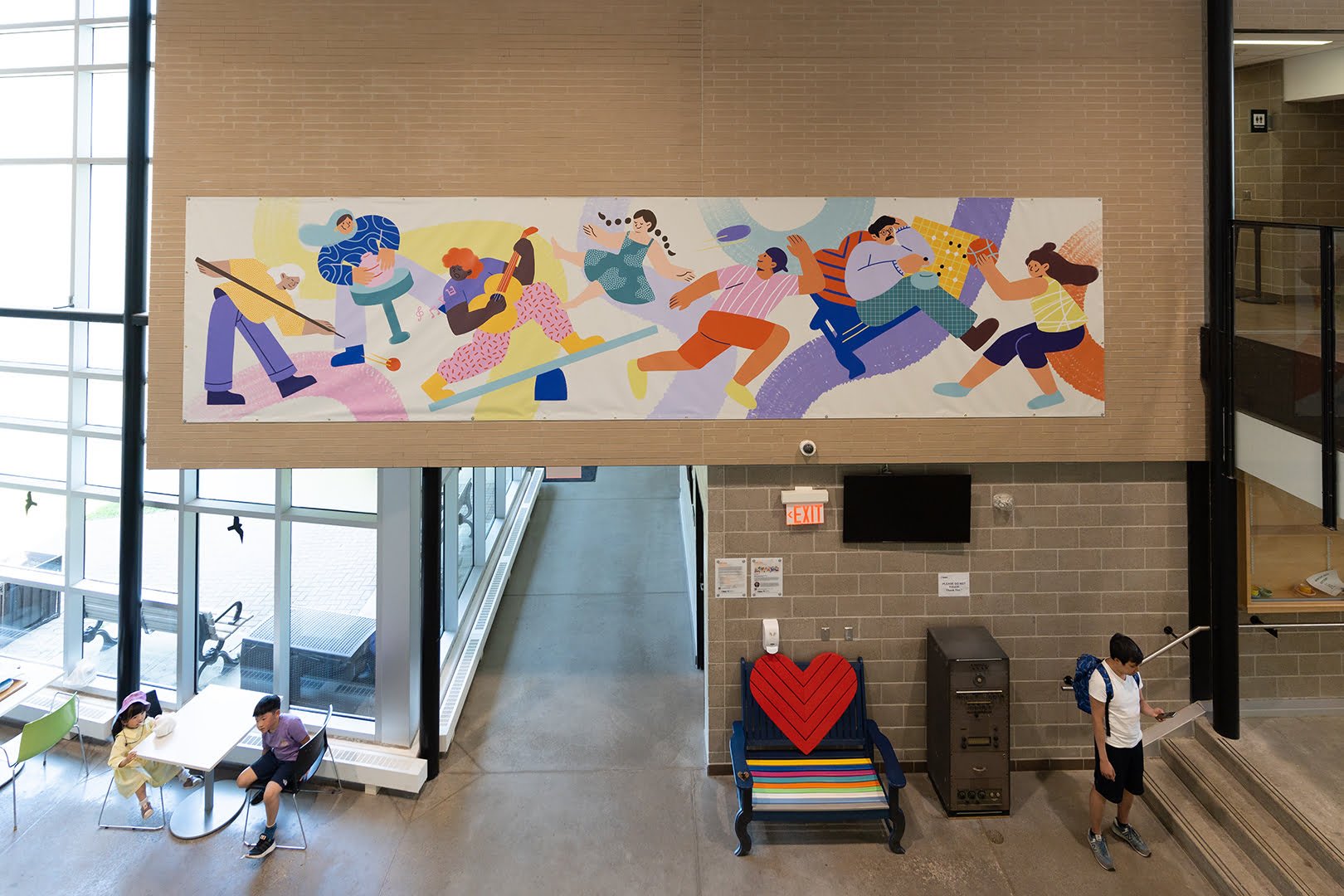 Community Vibe
Laura Yang
Digital Artwork printed on Vinyl Banner
Edithvale Community Centre
131 Finch Ave W – M2N 2H8
Willowdale, Ward 18
About Community Vibe
This mural design is a colorful and lively representation of the diverse cultures and ages that make up our community. It celebrates the different ethnic groups and the wide range of activities that take place within the center, including pottery, music, basketball, snooker, etc. This design conveys the passion and vibrancy of the community, showcasing the many ways people come together to create a home for everyone. Overall, the mural will be a testament to the power of community and how it can help people flourish and thrive.
-Laura Yang
Meet Bryan
Bryan Taguba is a painter, photographer, community organizer and activist with the Magkaisa Centre. He was born in the Philippines and came to Canada at age 9. His mother worked as a caregiver in Toronto. He works as an artist facilitator and teacher in various programs for "at-risk" youth in Toronto. He has worked on several city funded mural projects across Ontario and has led facilitation and advising for Magkaisa Centre's "Maleta Stories" Arts and Culture Project, exhibited in 2010, 2012 and 2015. Inspired by the pedagogical framework outlined by Paolo Freire that centres the perspectives of everyday working people, Bryan strives to use the visual arts as a tool for consciousness building, community building, and social transformation.
Meet Laura
Laura is a Chinese-Canadian illustrator and designer who loves to use colorful aesthetics and compelling storytelling to convey messages and ideas. Her work explores human emotions, feminist values, and cultural diversity, with the hope of establishing personal connections with audiences and fostering community building. As a multidisciplinary artist, she is passionate about using dynamic figures and creative forms to cherish all the meaningful things and moments in her life.
Meet Margaret
Marg is an award-winning muralist who spent her final year of study in Florence, Italy and graduated from the Ontario College of Art, in 1994. Over 20 years ago she began working as a muralist and, after requests for commissions, she opened her own studio, Murals By Marg, in 2001. In 2007, Marg was invited to exhibit her large-scale paintings at the Biennale Internazionale Dell'Arte Contempranea in Florence, Italy. Since 2015, she has painted over three dozen public art murals in the City of Toronto. In 2017, she was awarded a Certificate of Recognition from the House of Commons for her mural in Richmond Hill as part of Canada's 150th Anniversary. Marg continues to exhibit her paintings and has works in private and public collections in Canada, the USA and France.
Meet Melisa
Melisa Sofi is an Albanian-Canadian cross disciplinary artist based in North York. She is a recent Illustration graduate from OCAD University. Inspired by themes of identity, interpersonal relationships and the creative process, her work often blurs the line between narrative and documentary.
Meet Yasaman
Yasaman Mehrsa is a Toronto-based visual artist. Born and raised in Tehran/Iran, she got exposed to art from a young age. She completed her studies with a Bachelor of Visual Communication in Iran and later achieved Bachelor with honours in Visual Arts from Brock University in St. Catharines/Canada. Yasaman uses both digital and traditional mediums.
Yasaman's work is often representative of awareness of the human-nature relationship. She believes that nature is both all around us and deep within us. Inspiring by nature, she creates storytelling arts and expresses different emotions in each of them to inspire her audiences to discover their imagination, feeling, and interaction with the natural environment.
Meet Serene
I am a Chinese-Canadian creative and an expert daydreamer, who utilizes my passion in storytelling to produce digital and traditional imagery that provokes child-like wonder and captures nostalgia. My work draws on my interest in mental health, East Asian history and mythology, and all things fantasy. I strive to create awareness in the beauty of Asian cultures and otherwise marginalized communities. Alongside my art, my versatile background includes my academic education in business and years of entrepreneurial experience exemplified in three of my start-up businesses. When I'm not painting, you can find me working with my hands- sewing, making resin crafts, and thrift flipping.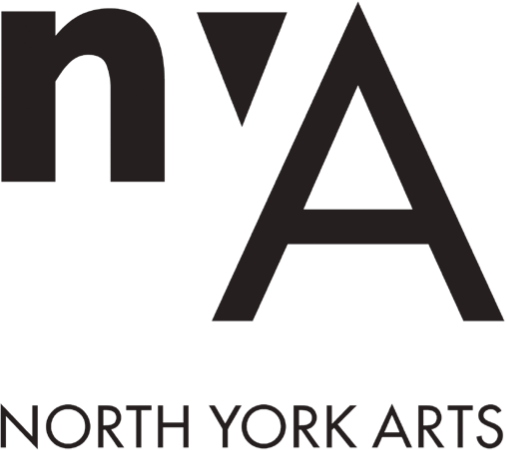 About Us
North York Arts (NYA)  collaborates with artists, arts organizations, and partners to develop, strengthen, and promote cultural programming and initiatives for North York communities
Contact us 
North York Arts
5040 Yonge St.
Toronto, ON, M2N 6R8
Monday – Friday, 9am – 5pm