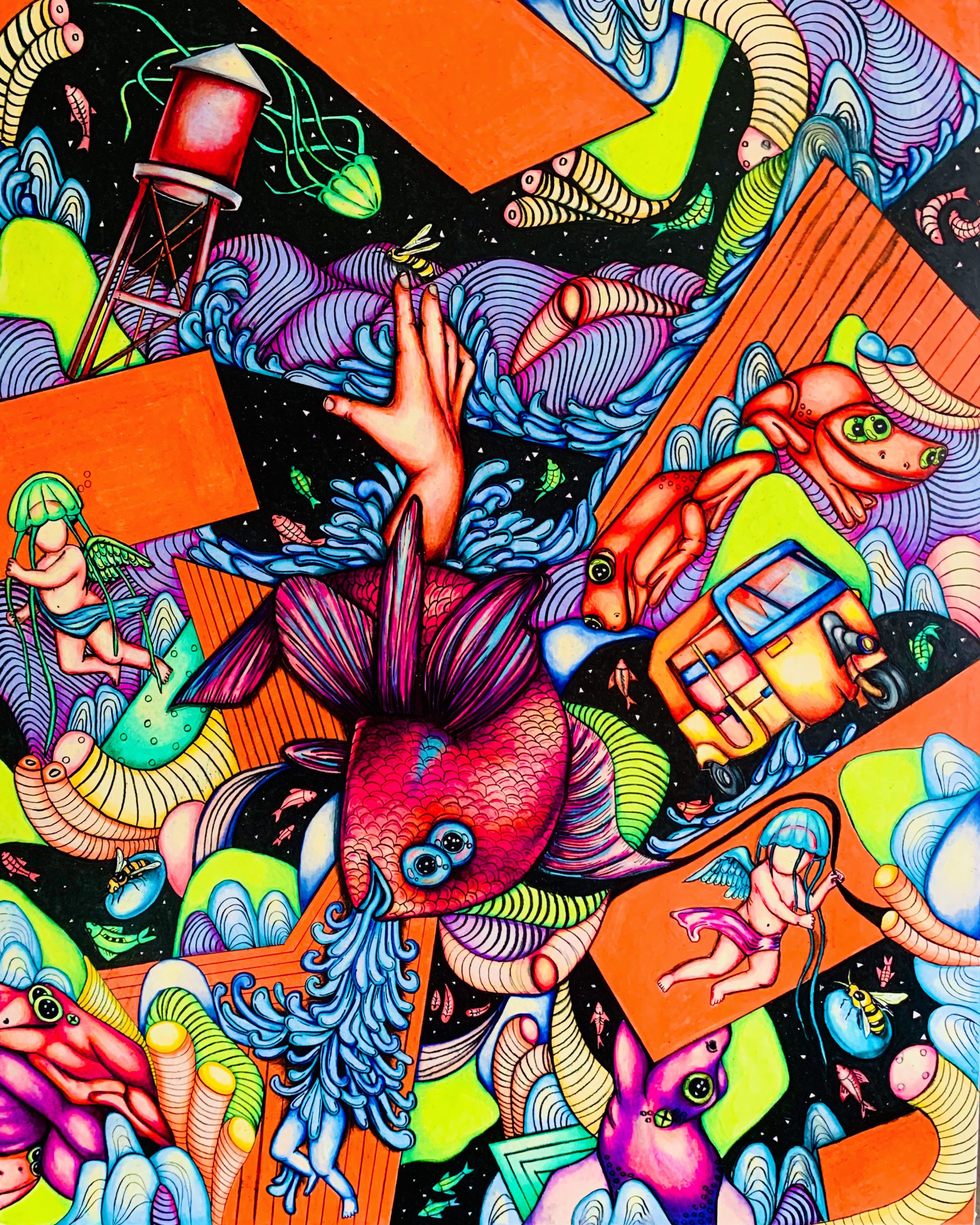 NOTICE: Exhibition Postponed due to COVID-19. Date TBD.
Unraveling Dreamscapes
by: Aqsah Shah
The exhibition explores the concepts of surrealism, the human subconscious, and dream interpretation. Aqsah uses surrealist techniques juxtaposed by images of underwater life to symbolize potent yet not entirely fathomable subconscious possibilities, while also exploring themes pertinent to her own lived experiences. Her work gives the audience insight into thoughts that move through our dreamscape; she invites viewers to look beyond the outside world and focus on their inner selves. 
About Aqsah Shah
Aqsah Shah is a visual artist. Born in Toronto, she acquired her BFA degree from Beaconhouse National University in Lahore, Pakistan, before returning to Toronto to pursue a career in art. Her work takes inspiration from the impact of dreams on human reality and vice versa. The unification between the dreamscape and real-life in her work is shown predominantly through subaquatic symbols and void-like imagery.
About Us
North York Arts (NYA)  collaborates with artists, arts organizations, and partners to develop, strengthen, and promote cultural programming and initiatives for North York communities
Contact us 
North York Arts
5040 Yonge St.
Toronto, ON, M2N 6R8
Monday – Friday, 9am – 5pm
Meet Julián
Julián Carvajal (he/him) is a Toronto-based award-winner creator & producer of experiences. This Queer Latinx Colombian Canadian Arts Manager/Producer has over 21 years of experience managing, curating and delivering arts festivals and cultural events. He is the Event Producer of the largest PanAmerican Food and Music Festival in Canada, Mentor in Residence at the Neighbourhood Arts Network while working at North York Arts, StreetARToronto and producing "In My Element(s) Symposia" for ArtWorkxTO.
Julián has collaborated with organizations and artists from 5 continents on multiple artistic projects. He has mentored over 400 self-identified artists for the past 10 years. He is passionate about building meaningful relationships; helping others to navigate the art sector in the city while collaborating with others to co-create an anti-oppressive and more diverse and inclusive vision of the art sector in Tkaronto.
What does art mean to you?
The Big Bang of my life