Creative Minds North York Satellite
Thanks to a $1 million investment over four years from the Slaight Family Foundation, Workman Arts is expanding its art training programs throughout the GTA by partnering with Scarborough Arts, Urban Arts, North York Arts, East End Arts, Arts Etobicoke and Lakeshore Arts.
The expanded program tackles the prevalence of social isolation in individuals with mental health issues and the lack of opportunities to build lasting social connections through meaningful engagement outside of the mainstream mental health system.
Workman Arts' art training programs are unique in the mental health sector because they do not treat the art class as secondary to the mental health benefits. High-quality art classes across all disciplines are facilitated by instructors with lived experience of mental health and/or addiction issues.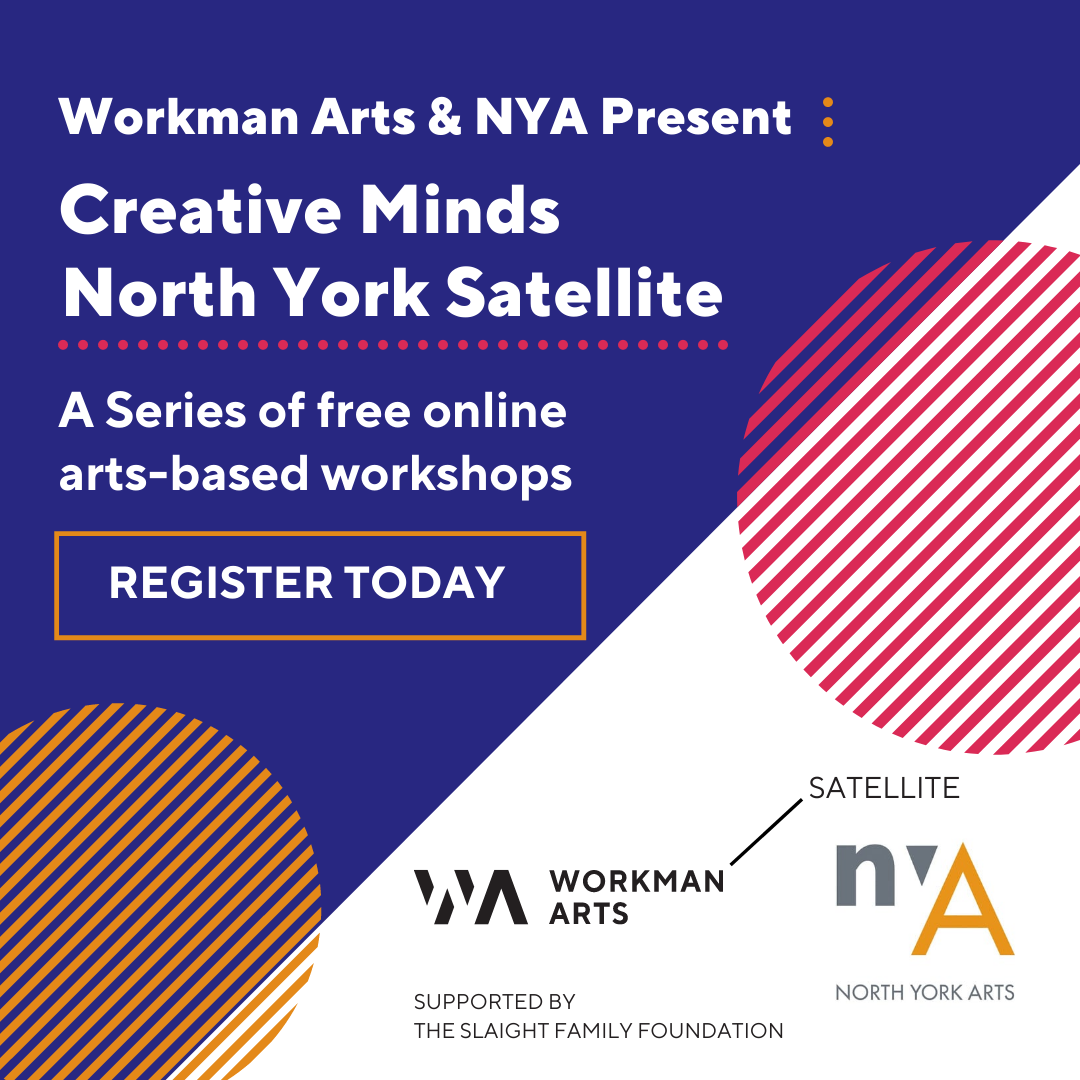 Check out our 2023 programs!
    Exploring Art with Paper (In-person)
Cyanotype Making  (Online) 
Exploring Art with Paper is an in-person course happening with Workman Arts and North York Arts part of Creative Minds Programming. 
Class Description:
Participants will start with a theme or word and brainstorm ideas on paper for 5 minutes and in response use art as a tool for reflection. A variety of material including watercolour, acrylic paints and markers will be used in the sessions as well as recycled items (cardboard boxes, plastic containers and bottles).
By using writing prompts and music as a guide for creating, participants will create two dimensional and three dimensional pieces using found/recycled material.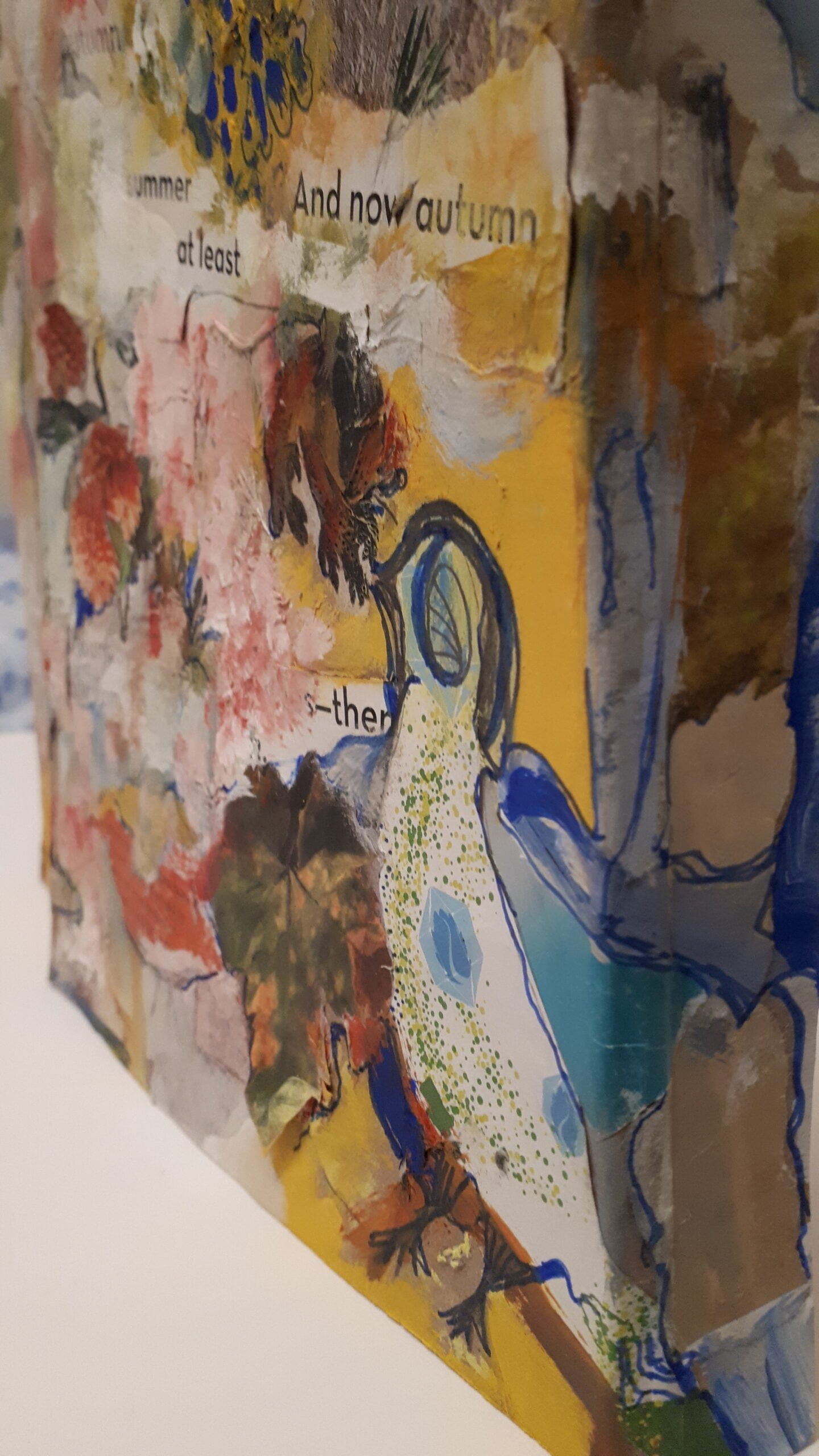 Meet your Instructor : Angela Walcott
Instructor: Angela Walcott
Angela Walcott is a multi-disciplinary artist who focuses on integrating found objects into art. Aiming to reduce waste, she has developed creative ways to recycle, reduce and reuse in order to create upcycled pieces that promote functionality. She has taught courses in eco art through the North York Arts and Workman Arts Satellite Program.
Instagram: @artistwritermaker
Cyanotype-Making Workshop
Cyanotype-Making Workshop is an Online course happening with Workman Arts and North York Arts part of Creative Minds Programming. Registration will be open until February 26th, 2023, at which point accepted registrants will be notified. Please note there is a limit on participants.
Class Description:
A cyanotype is a photographic printing process that produces a cyan-blue print. It's a simple and low-cost way to produce drawings or photos. It is made by treating a surface; paper or cloth with iron salts which then react to UV light. In this introductory course, participants will learn to create cyanotypes with drawings, photographs, and found objects.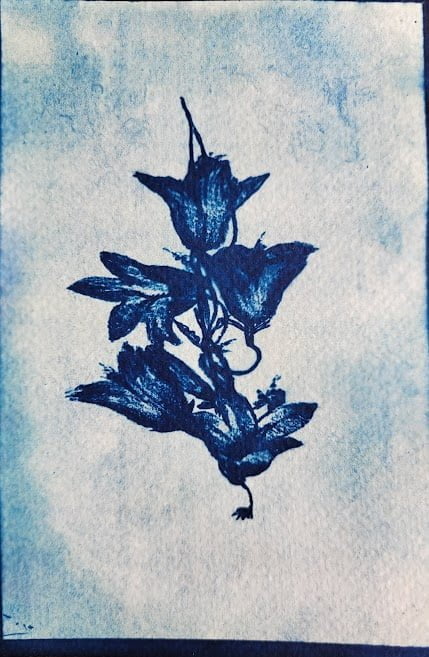 Meet your Instructor : Ashley Beerdat
Ashley Beerdat is a painter, art teacher and community arts facilitator based in the GTA. In her studio practice, she primarily works with oils in an impasto style to narrate fantastical stories based on references from pop culture, her childhood, and her imagination. Beerdat enjoys creating whimsical and playful compositions utilizing unique colour treatments and rich textures. She completed a BA in Studio Art and Art History from Western University in 2019. Her work is held in Mississauga's permanent corporate art collection and has been exhibited at the Small Arms Inspection Building, Latitude 53, and The Artist Project. Beerdat also dabbles in public art and has completed mural commissions for the Brampton BIA, StreetArtToronto, LCBO and Hyatt Mississauga. As an arts facilitator, she has delivered workshops for EmpowHer, Jayu Canada, Sketch, and Workman Arts.
Instagram: @ashleybeerdatart
Take a look at our 2022 programs!
Crochet Stitches and Beyond (In-person) 
    Public Speaking Through Comedy
Out of Frame: Mixed Media 3D Paintings
Out of Frame is a mixed media visual arts workshop where participants learn how to make 3D paintings. The workshop will run for 5 weeks in total over Zoom and each class will be 2 hours in length with a 15 minute break. Each class will increase in detail and complexity, giving the participants the time and space to learn new techniques and apply their knowledge. Each week will result in a differently-themed canvas and subject matter. Using a combination of canvas board, Plaster of Paris, acrylic paints, and more, participants will explore colour, shape, texture, and perspective as their creations figuratively and literally pop out of the frame! Out of Frame requires some dexterity and will include the use of scissors, hot glue, and plaster, so this course is recommended for participants 18 and older. No prior artistic experience necessary, all skill levels are welcome.
*Materials will be provided for pick up. Class limit of 10 participants.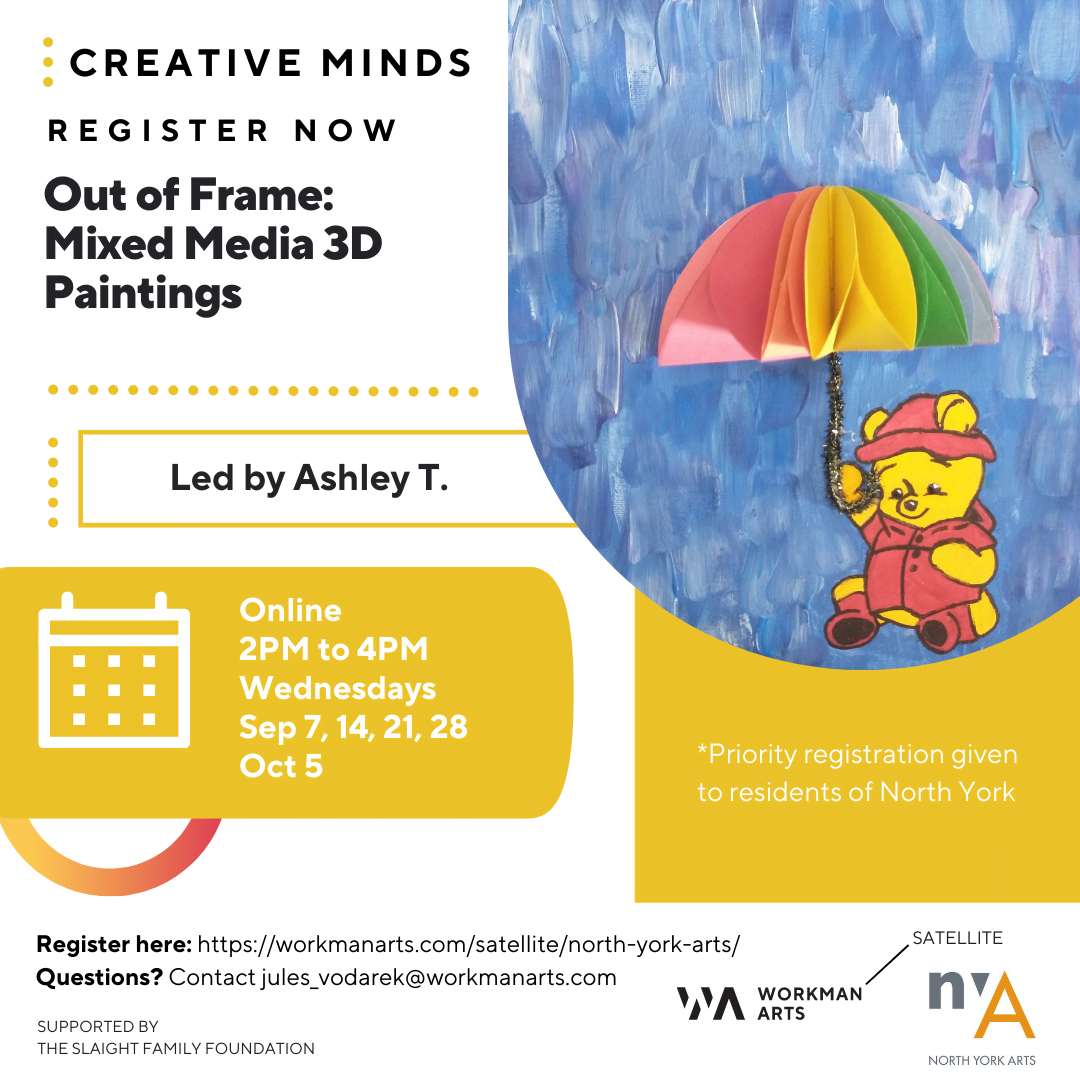 Meet your Instructor : Ashley T.
As a young, Black Biracial, Bisexual Woman with Type II Bipolar Disorder from Toronto, Ashley T. has coined herself as the "Bi-Fecta". She is a multidisciplinary artist who creates within the realms of abstract visual art, literary art, and performance art. She works with diverse materials spanning from acrylic paints on canvas, to ink on paper, to her voice on the mic, to her body on the stage. She uses art to ground and remind herself of the power she possesses to be a positive change in this world. Each piece she creates is a small chapter of her visual memoir.
Crochet Stitches and Beyond: Calm & Happiness through crocheting
This fun course will equip participants with basic crochet techniques so that you can make you own bracelets, scrunches, necklaces and other accessories. Moreover, you can apply the stitches learned in this course to make wonderful gifts. You will also experience mindful crocheting practice, which makes you feel calmer and happier!
Materials will be provided at the first class.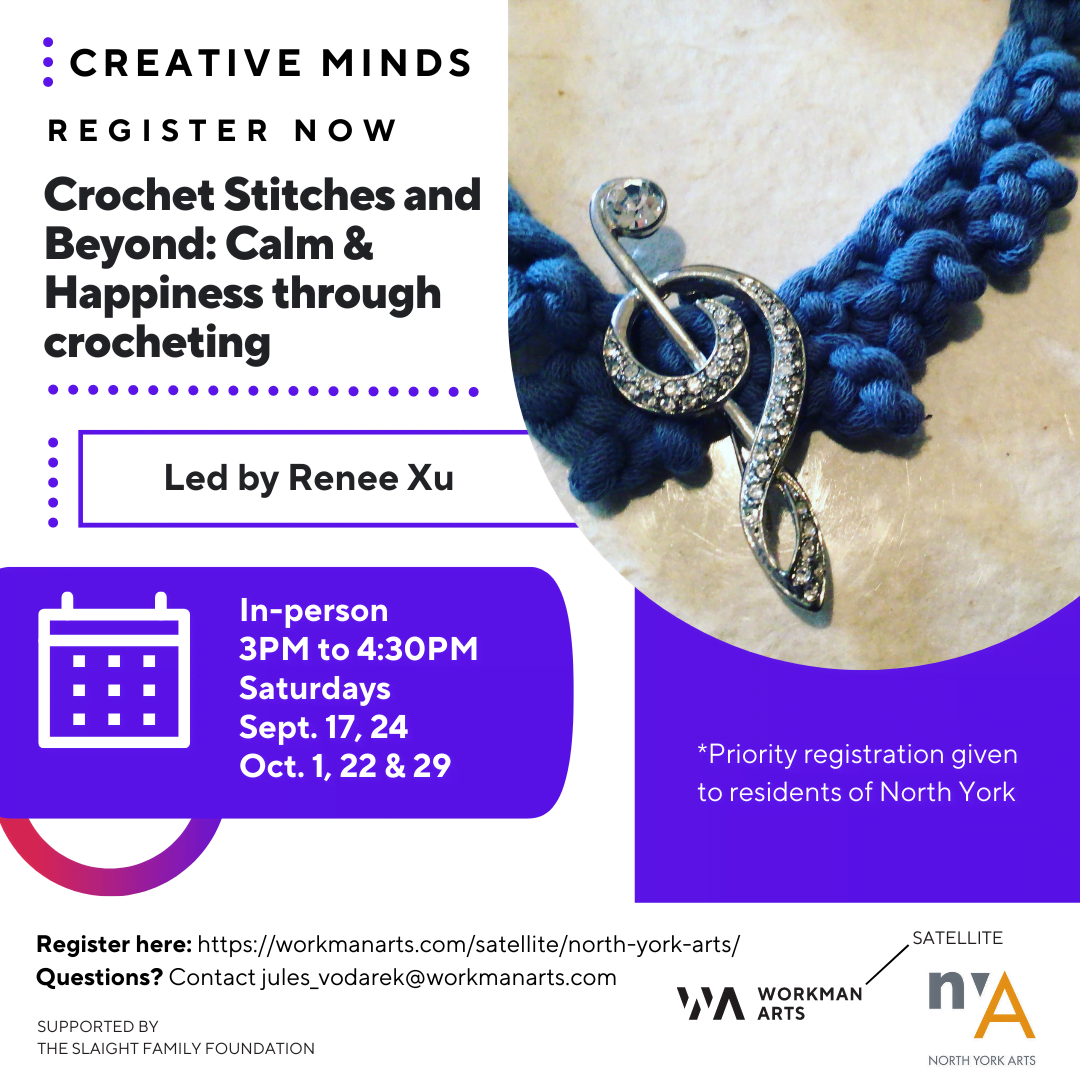 Meet your Instructor : Renee Xu
Renee Xu is a crochet artist, social worker and a mother. Crocheting provides her with both a creative outlet and stress relief. She enjoys creating unique stitches and patterns for bracelets, necklaces and other cuties. With limited spare time, she focuses on small and fun projects. She uses top quality T-shirt yarns to make chunky statement necklaces. All her chunky patterns are invented by herself, one of a kind. She also uses unusual yarns to generate impressive textures. Her exploration with yarn material including macramé cord, cotton rope and packaging ropes. Crocheting practice has been a channel for Renee to connect with the world. She taught crocheting classes in local community and is an active member of a healing art/craft group. She also crochet on TTC buses or subway trains on her way to work.
Social media: @yarnwonders4u
Public Speaking through Comedy Course
The purpose of the workshop is to overcome the fear of public speaking through stand up comedy. We will use humor as the primary tool in order to become persuasive speakers, improve stage presence, and develop self-confidence.
Participants will learn:
– 22 Public Speaking Tips & Techniques
– Unlocking Your Funny & Breaking The Ice
– Effective Speech Structuring
– Self Awareness & Body Language
– Confidence & Controlling Nerves
– Embracing Your Accent (if any)
Grad Show: On Grad Night each student will perform a 2-5 minute set before an audience of friends and family.
Target audience: Any adult (18-years or older) who:
Wants to improve their public speaking and/or use comedy as a way to become more confident and

Identifies with having lived experience of mental health and/or addiction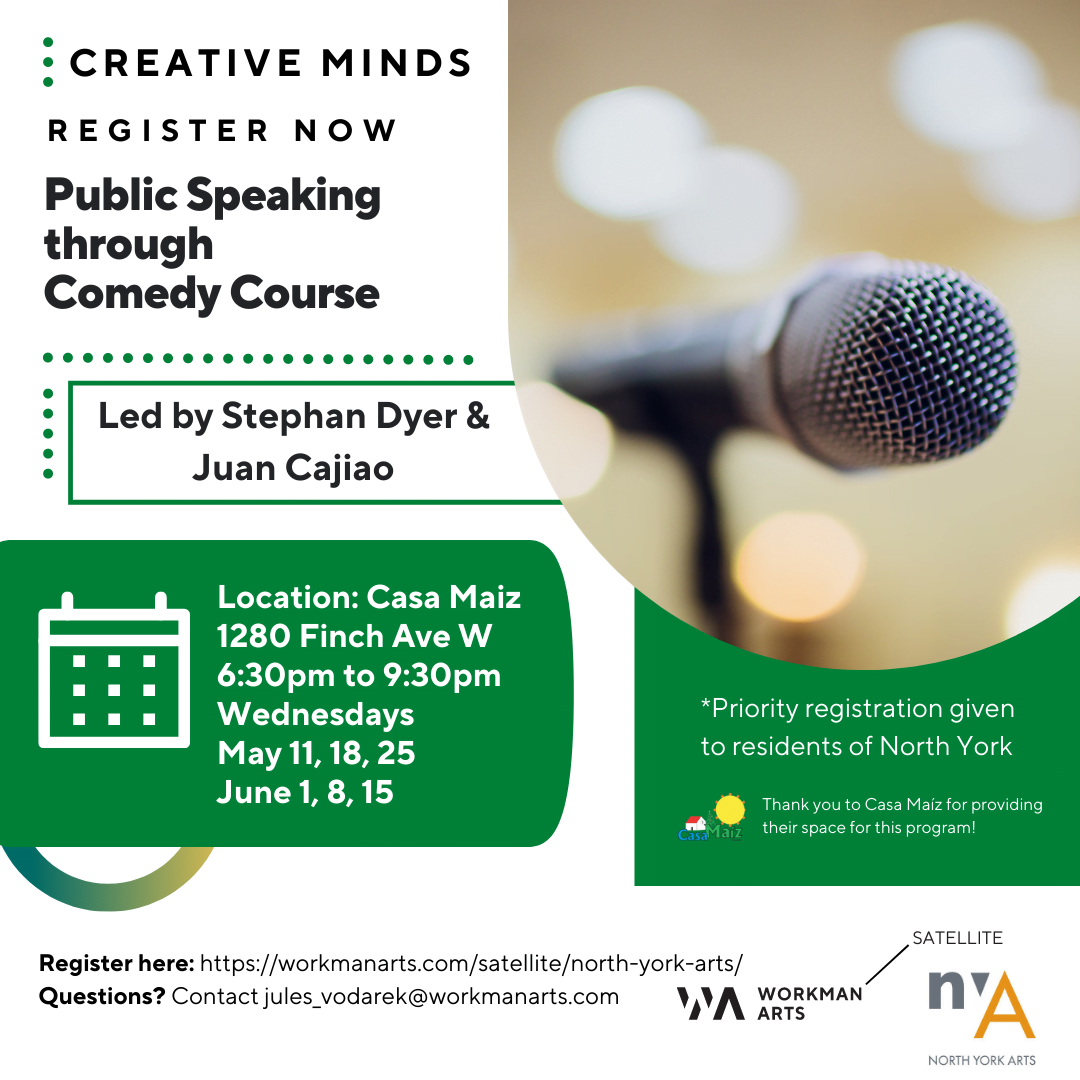 Meet your Instructors : Stephan Dyer and Juan Cajiao
Originally from Costa Rica and Colombia, Stephan Dyer and Juan Cajiao are bilingual corporate leadership and communication trainers, who also happen to be award-winning comedians and improv experts.
Leaving their executive positions in the banking world in 2017 to pursue their professional careers in stand up comedy, they've successfully founded MalPensando, a bilingual (English, Spanish) comedy and public speaking school, as well as its corporate training company, the reTHINK Group, and have grown it to include clients in 16 countries including Canada, Switzerland, England, Singapore, Malaysia, Mexico, and the United States.
Their mission is simple: entertaining, teaching, and inspiring personal and professional growth through the lens of comedy, and they've fulfilled that mission by reaching a total of over 10K professionals worldwide and counting.
Social media: @stephandyer @juan_cajiao @malpensando
A series of 5 workshops for older adults (55+)
In each of these three-hour fun-filled workshops, participants will immerse in: exploring basic principles of colour theory and elements of composition; experimenting with art materials, techniques, and strategies; and expressing their individuality through creative language.
Learning in a supportive creative environment, participants will have an opportunity to connect with each other through sharing their experiences. All levels are welcome.
Painting Workshop
Collage Workshop
Abstract/Intuitive Painting Workshop
Mixed Media Workshop
Arts & Crafts Workshop
Participants: Members of North York Senior Centre (Seniors (55+) / all backgrounds, gender, ethnicity, culture, race, language, literacy, income, education)
Objective: Enhance participants' quality of life and overall well-being by empowering them to engage in creative self-expression in a group setting and combat social isolation by connecting seniors with each other and with community.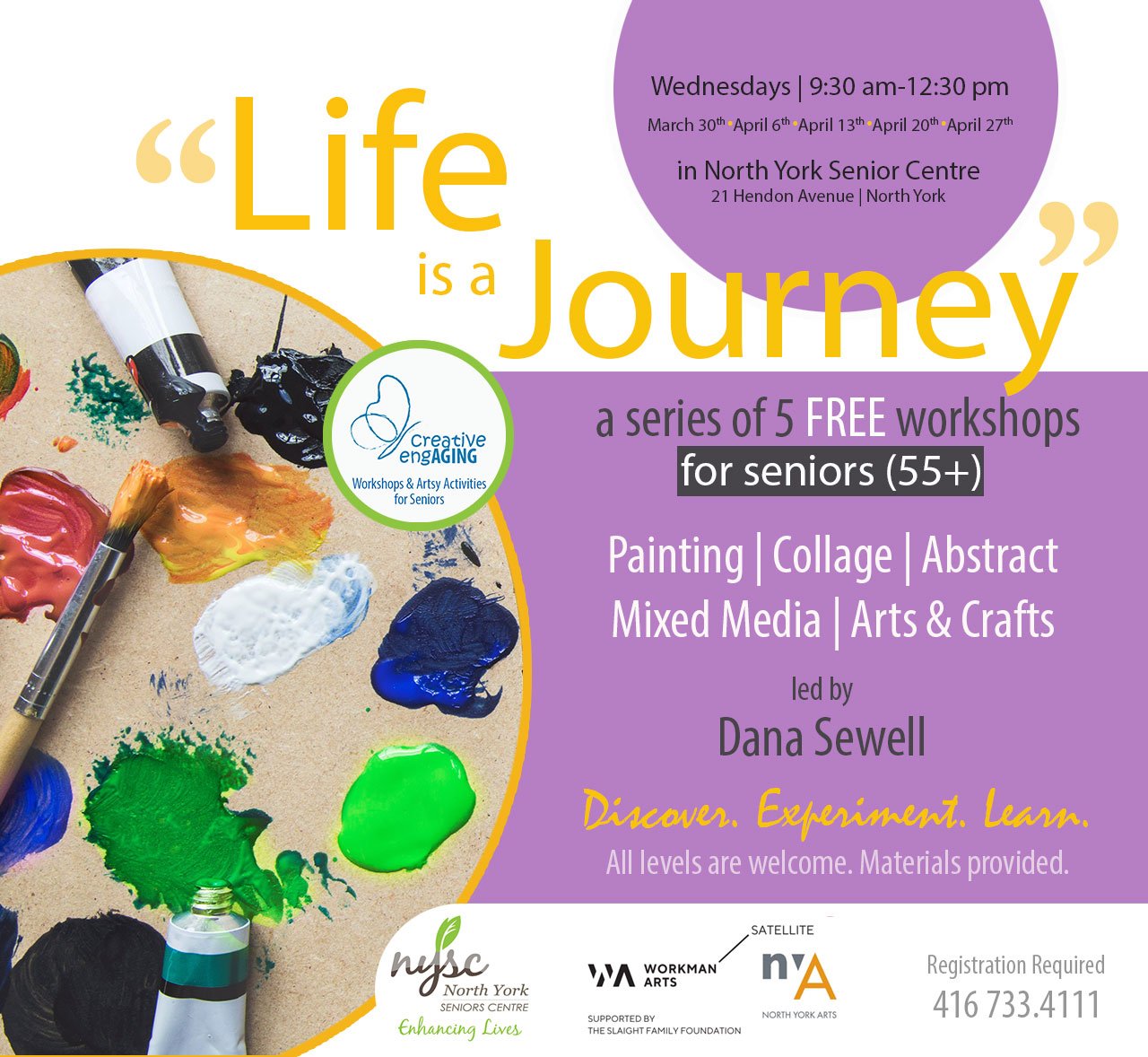 Meet your Instructor : Dana Sewell
Dana Sewell is a Visual Artist, Creative Director & Designer, and Art Facilitator. She is a founder of Creative engAGING, a program for elder adults (55+) that promotes healthy aging and well-being through artistic self-expression.
She is passionate about sharing her love for art and facilitating artsy activities for seniors. Dana envisions the initiative of using art workshops and classes as a vehicle to building healthier and stronger communities: addressing the issue of isolation and loneliness by connecting seniors with each other and involving them within the community.
dana@creative-engAGING.com
This course will provide a series of workshops exploring the art of doodling and drawing to work towards completing a hand drawn zine of artworks made in the duration of this course. This drawing/doodling workshop is accessible and requires minimal materials to encourage higher participation.
The early workshops will focus on becoming comfortable working with different dry media including pencils, pencil crayons, crayons and charcoal. As well as exploring different mark making techniques such as hatching, scribbling, dotting and shading. Through this course participants will work with using different drawing prompts and exercises to help develop a drawing routine that you can incorporate in your  daily life as a means of self- expression.
This course is intended for beginners but those with drawing experience are welcome to join. The outcome and goal of this course is to provide a safe, welcoming and creative space where participants can learn/develop their artistic skills together and complete a personal zine of drawings that trace their artistic development in this course. Additionally, this course aims to provide participants a calming and relaxing space to de-stress from their everyday lives and use art as a means of supporting a healthy well-being.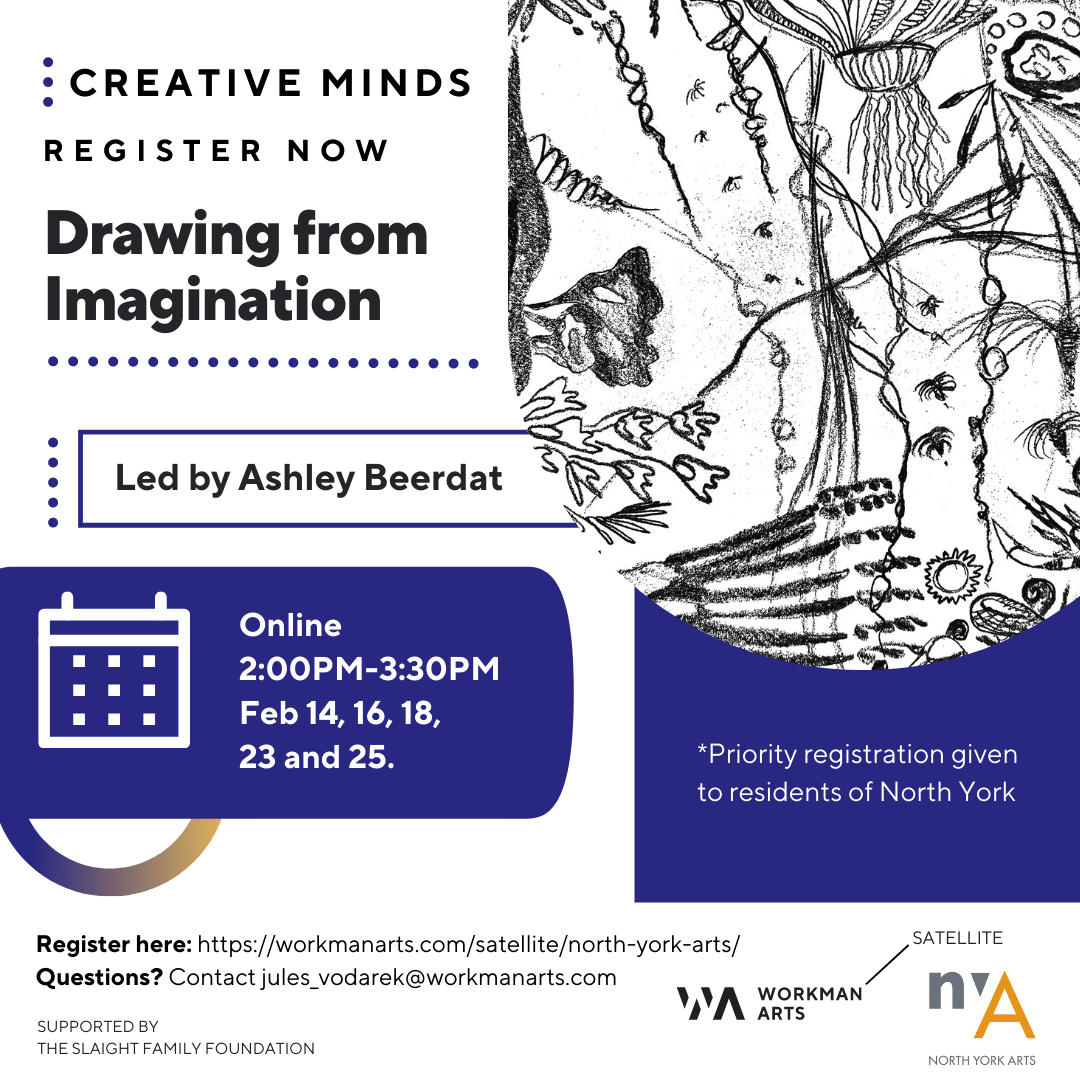 Meet your Instructor : Ashley Beerdat
Ashley Beerdat is a visual artist and community arts facilitator of Guyanese descent. She graduated in 2019 from Western University, completing a BA in Criminology and Visual Arts and Art History. Beerdat is primarily self-taught and uses oil paint to explore themes of mythology, folklore and storytelling to navigate the world around her. In 2020, she completed an artist residency at Visual Arts Mississauga Riverwood. Her work is held in Mississauga`s permanent corporate art collection and has been featured at PAMA and Artscape. As an arts facilitator, she is passionate about delivering accessible arts programming in the community and has facilitated workshops for SKETCH Working Arts, Making Space, Figment Toronto & EmpowHer. Ashley currently has an Exhibition "Messengers" with North York Arts as part of the Northbound Exhibition program.
Instagram: @ashleybeerdatart
Eco Art and Design: Reusing, Reducing and Upcycling Principles
Wondering what to do with all of your cardboard, paper and plastic? think twice before sorting them in your recycle bin and consider using them in your art. In this 5 week session participants will transform found objects into one of a kind art pieces while reducing waste. Learn how to create unique design patterns for everyday items like clothing, bags, cushions and more.
*BIPOC subject matter during African Heritage Month. All are welcome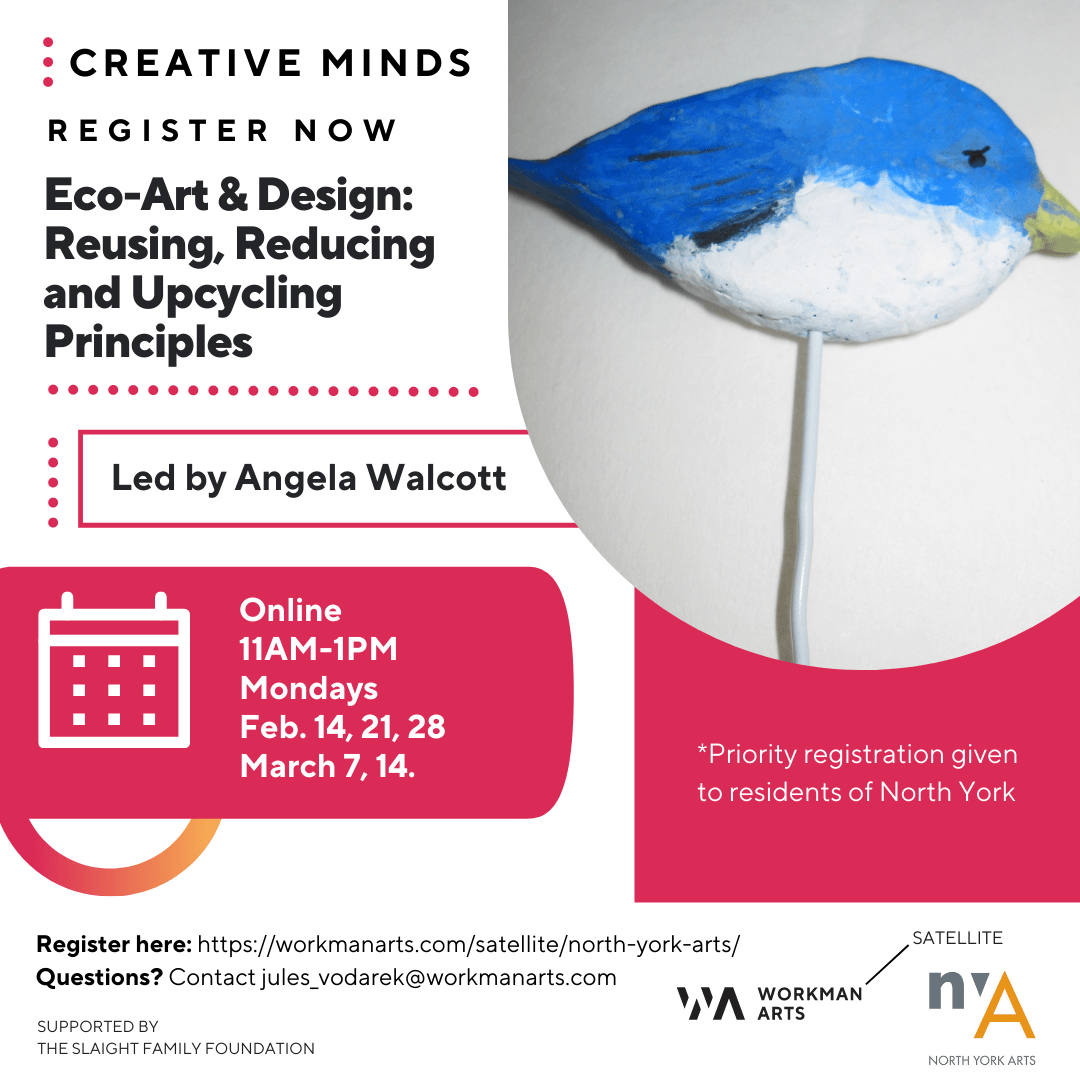 Meet your Instructor : Angela Walcott
Angela Walcott is a multi-disciplinary artist. Her Interests include sustainability; recycling and upcycling practices as well as the use of found objects as a means of reducing waste. She is passionate about the arts and eager to explore via different media. Integrating clay, textiles, photography and embroidery into her stories as well as typography and text-based poetry. Her work has been showcased at YYZ and Project Gallery. She has facilitated courses with Toronto Public Library and Project Humanity. Angela will be an artist-in-residence with Culture Days for 2022.
Instagram: @artistwritermaker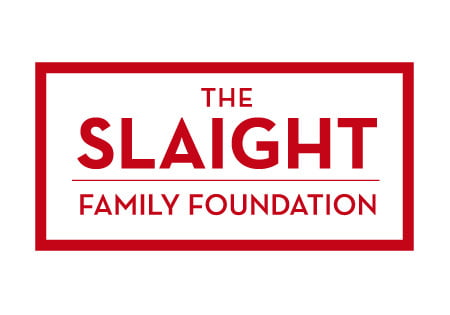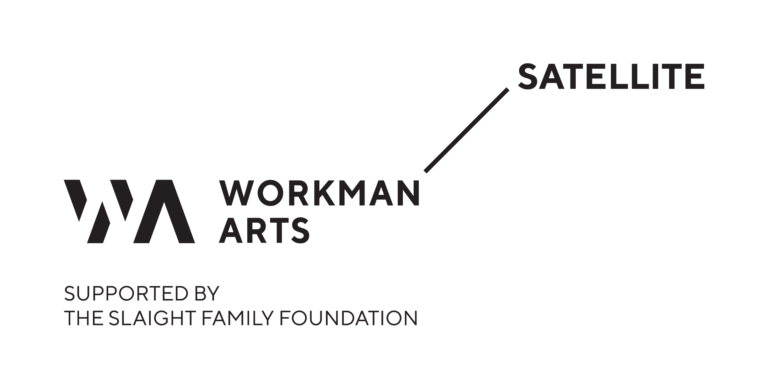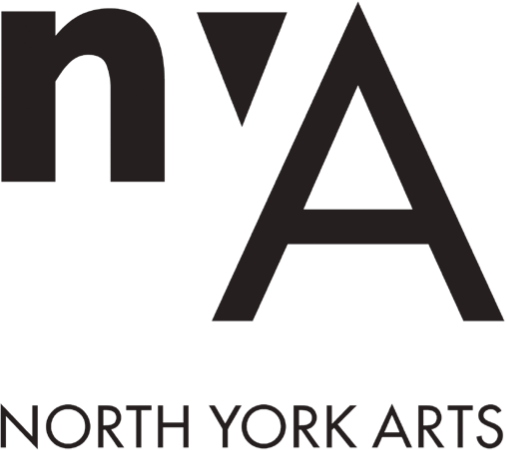 About Us
North York Arts (NYA)  collaborates with artists, arts organizations, and partners to develop, strengthen, and promote cultural programming and initiatives for North York communities
Contact us 
North York Arts
5040 Yonge St.
Toronto, ON, M2N 6R8
Monday – Friday, 9am – 5pm