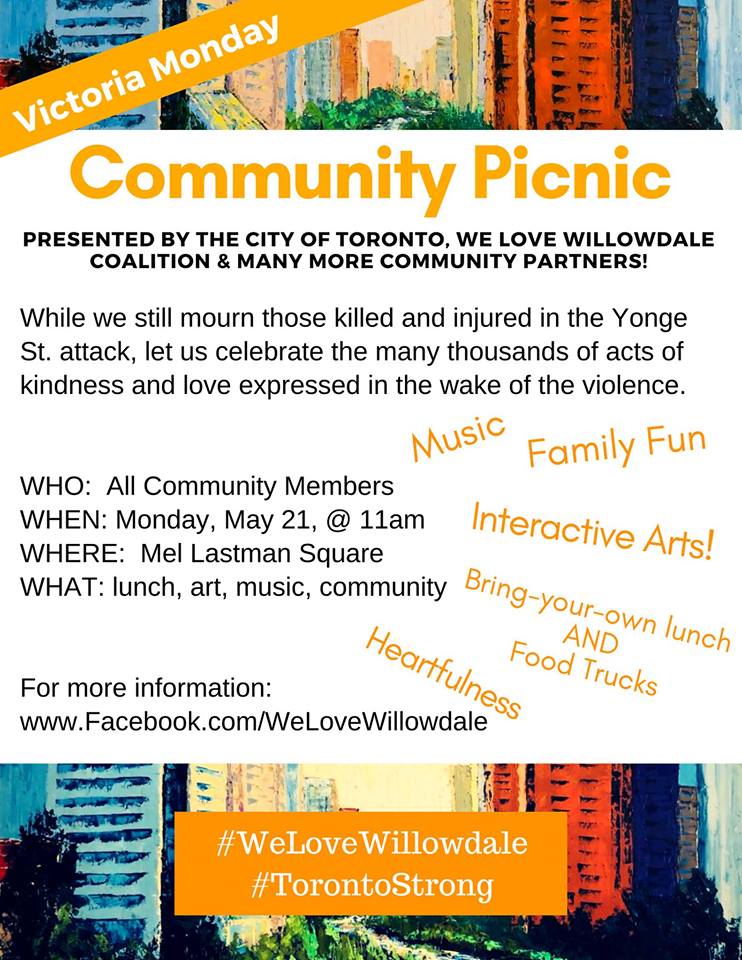 Community Picnic
The recent horrific tragedy has caused great sorrow. The Van Attack has also brought this community together.
To commemorate the many thousands of acts of kindness, goodness and love shared between people in the Willowdale community, many local groups and organizations (including the City of Toronto, TDSB, North York Arts, Orchestra Toronto, We Love Willowdale, and many others) are working together to organize a
COMMUNITY PICNIC in Mel Lastman Square!
This picnic will draw to a close the 26 Days of Music on Yonge, one day of music for every person injured or killed here in Willowdale on April 23rd.
So bring your family! Bring your own lunch and eat together as a wide family at tables that will spread across the entire Mel Lastman Square.
There will be kids' activities, interactive art projects, live music, meditation, and much more!
---
Date: Monday May 21st, 2018
Place: Mel Lastman Sqaure
Address: 5100 Yonge St, North York, ON M2N 5V7
Website: https://www.facebook.com/events/444475982640709/
About Us
North York Arts (NYA)  collaborates with artists, arts organizations, and partners to develop, strengthen, and promote cultural programming and initiatives for North York communities
 Contact us 
North York Arts
(Toronto Centre for the Arts)
5040 Yonge St.
Toronto, ON, M2N 6R8
info@northyorkarts.org
Monday – Friday, 9am – 5pm