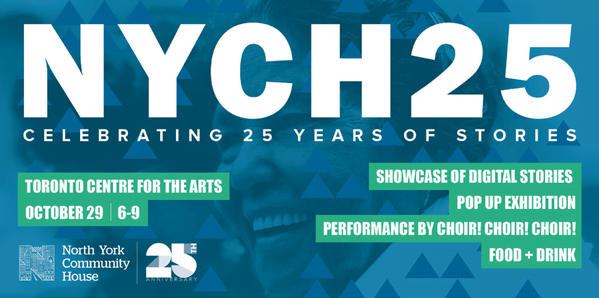 Celebrating 25 years of stories with North York Community House!
Please join us in celebrating our 25th Anniversary with an evening of stories!
Our event will feature:
A Showcase of our Digital Stories
Digital Storytelling has given NYCH a unique tool to capture the stories and experiences of our diverse community. We will be screening these stories throughout the evening; honest and often eye-opening stories that touch upon themes ranging from settlement & immigration, to mental health, to volunteerism, and more.
Pop-Up Exhibition
A special gallery will highlight snapshots and behind-the-scenes moments from our Digital Storytelling workshops. We'll also be sharing some of our favourite images from our NYCH25 Anniversary campaign.
Special Musical Guest
CHOIR! CHOIR! CHOIR! performs new arrangements of pop songs with a dedicated and passionate group of singers. They have shared the stage with renowned artists such as Patti Smith, and will add their voice to the evening's festivities.
Food + Drink
We will be serving a delicious selection of edibles for our guests, as well as drinks from the bar.