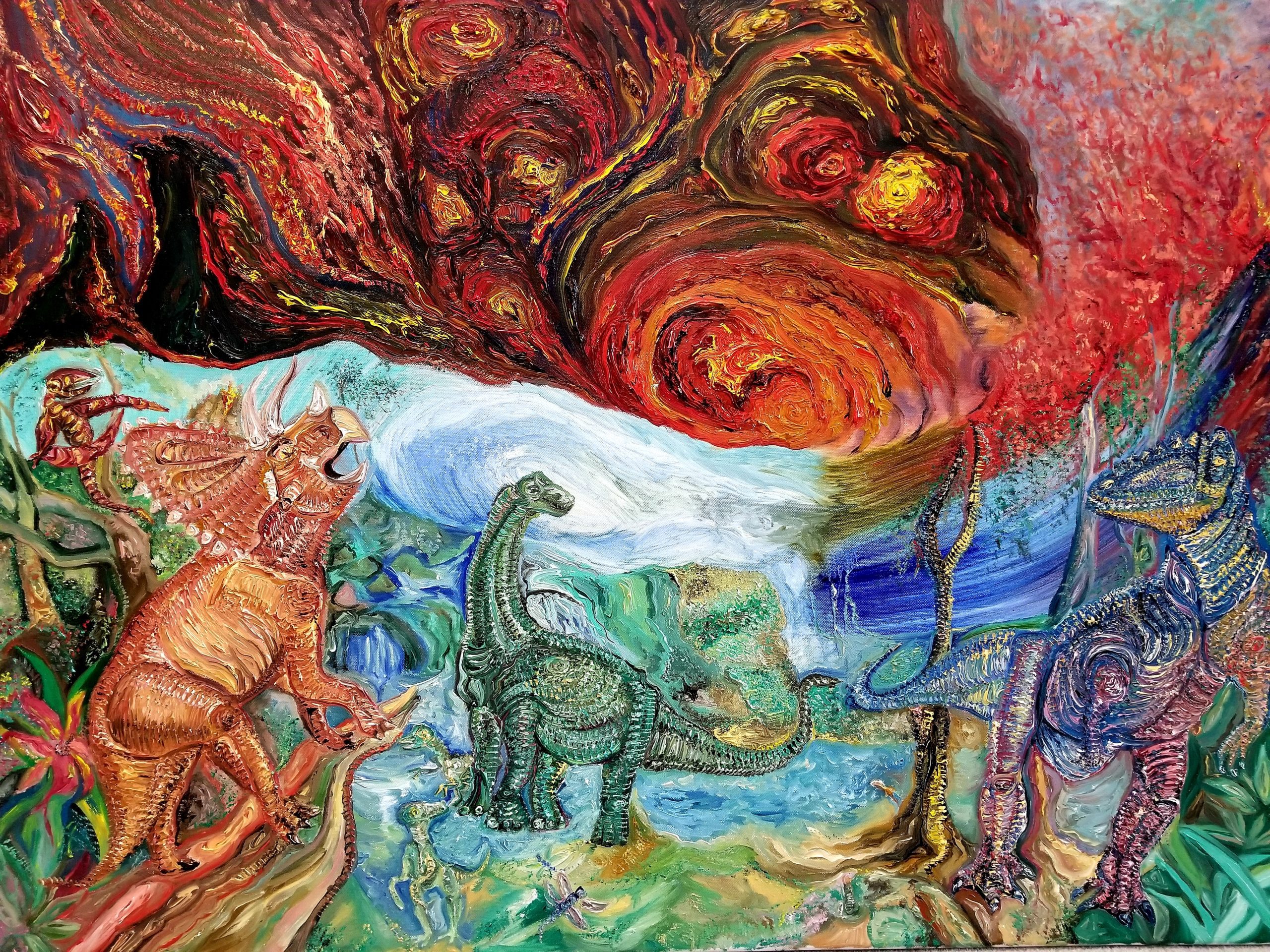 NOTICE: Exhibition Postponed due to COVID-19. Date TBD.
A Series of Mythological Narratives
by: Ashley Beerdat
Mythological Narratives is a series of paintings created through the process of searching. Ashley believes we are all searching for something meaningful but often, we're not sure about what that "something" is. Ashley treats each painting as an individual story that unfolds when the viewer seeks to find meaning. While the work explores concepts of climate change, evolution, dreams, and the environment, these mythical worlds also hold hidden stories for the viewer to uncover.
About Ashley Beerdat
Ashley Beerdat is an emerging artist of Guyanese descent who grew up in Brampton, Ontario. Ashley uses painting as a creative outlet to narrate mythical stories based on her childhood, dreams, and life experiences. The narratives do not follow a specific tale – rather, Ashley treats each painting as an expedition and takes bits of information from each in search of hidden meaning. Ashley's work toys with the line between imagination and reality.
About Us
North York Arts (NYA)  collaborates with artists, arts organizations, and partners to develop, strengthen, and promote cultural programming and initiatives for North York communities
Contact us 
North York Arts
5040 Yonge St.
Toronto, ON, M2N 6R8
Monday – Friday, 9am – 5pm
Meet Julián
Julián Carvajal (he/him) is a Toronto-based award-winner creator & producer of experiences. This Queer Latinx Colombian Canadian Arts Manager/Producer has over 21 years of experience managing, curating and delivering arts festivals and cultural events. He is the Event Producer of the largest PanAmerican Food and Music Festival in Canada, Mentor in Residence at the Neighbourhood Arts Network while working at North York Arts, StreetARToronto and producing "In My Element(s) Symposia" for ArtWorkxTO.
Julián has collaborated with organizations and artists from 5 continents on multiple artistic projects. He has mentored over 400 self-identified artists for the past 10 years. He is passionate about building meaningful relationships; helping others to navigate the art sector in the city while collaborating with others to co-create an anti-oppressive and more diverse and inclusive vision of the art sector in Tkaronto.
What does art mean to you?
The Big Bang of my life