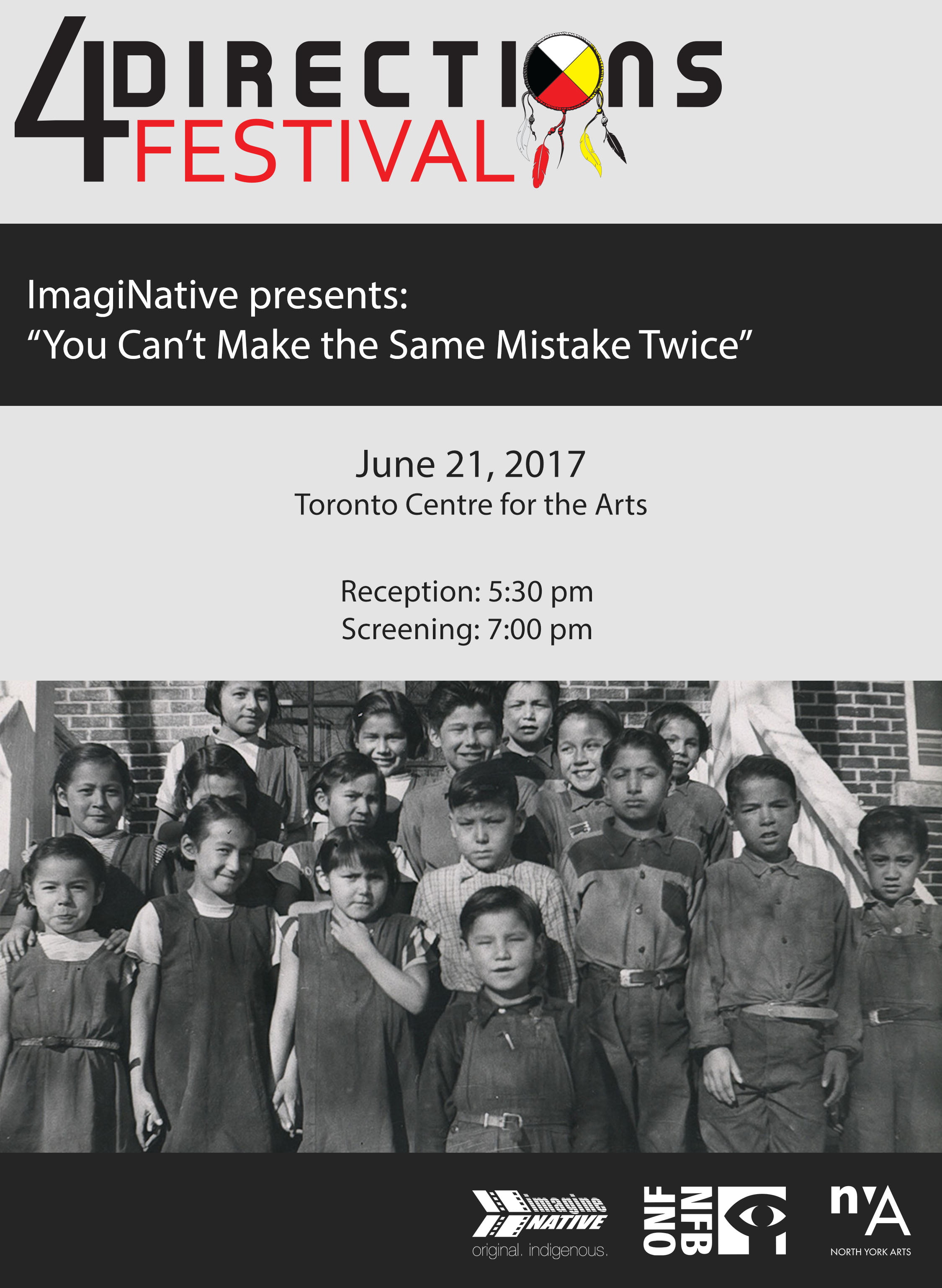 EAST EVENT: DENTONIA PARK, FRIDAY, JUNE 16, 2017 10:00 am – 2:30 pm
10:00 – 10:15 am Opening Drumming Ceremony
10:15 — 10:30 am Speaker: Michael Cheena, Residential School Survivor
10:30 – 11:45 am Fiya Bruxa Arts Education Workshop
11:45 – 12:25 pm Lunch
12:25 — 12:45 pm Chimera Project perform "Bears, Stars and Trees"
  12:45 — 12:50 pm Speakers: Kevin Harp & Chester Abbotsbury, Inter-Generational Survivors
12:50 — 1:05 pm 6 Bronx Zoo & Wasun
 1:05 — 1:15 pm First Fire Dance Crew
 1:15 –1:30 pm Bucc n' Flvr
 1:30 –1:45 pm Ruben "Benny" Esguerra
 1:45 –2:00 pm MataDanze Perform "La Raza Cosmica"
 2:00 –2:15 pm Harmony Hall Seniors Dance Group
 2:15 –2:25 pm Lone Child
 2:25 –2:45 pm Love Seyon & Shams
SOUTH EVENT: TBA, SUNDAY, JUNE 18, 2017, TBA 12:00 pm – 4:00 pm
12 noon – 12:15 pm Opening Drumming Ceremony
12:15 – 12:30 pm Speaker: Michael Cheena, Residential School Survivor
12:30 –1:30 pm Lunch
1:30 – 3:00 pm Jojo Geronimo , Globalization, Global Migration, and Indigenous Rights Popular Education Workshop
3:00 — 3:30 pm Performances & Speakers: Kevin Harp, Chester Abbotsbury, Pantayo, Whitney French, The Wind in the Leaves Collective
WEST EVENT: BROADACRES PARK, MONDAY, JUNE 19, 2017, 10:00 am – 2:30 pm
10:00 — 10:15 am Opening Drumming Ceremony
10:15 — 10:30 am Speaker: Michael Cheena, Residential School Survivor
10:30 – 11:45 am Fiya Bruxa Arts Education Workshop
12:00 — 12:30 pm Lunch
12:30 — 2:30 pm Storytelling Workshop Residential School Survivors, Inter-Generational Survivors, and the Journey of Healing and Hope with Lee Maracle, Michael Cheena, Kevin Harp & Charles Abbotsbury
NORTH EVENT: TORONTO CENTRE FOR THE ARTS, WED, JUNE 21, 2017, 5:30 pm – 10:30 pm
5:30 – 6:30 pm Pre-Reception
6:30 – 7:00 pm Opening Drumming Ceremony & Performance, Veronica Johnny
7:15 – 7:30 pm Speaker: Michael Cheena, Residential School Survivor
7:00 – 9:45 pm ImagiNative Presents: You Can't Make the Same Mistake Twice
9:45 – 10:15 pm Questions and Comments
Four Directions Reconciliation and the Arts Festival:
Honoring Residential School Survivors and Moving Forward on Righting Relations
The Four Directions Reconciliation and the Arts Festival in Toronto, June 16-21st, 2017, is about raising awareness on reconciliation and indigenous issues. We hope to educate the general public about the residential school experience, the 94 Calls to Action on Reconciliation, and the colonialist policies and attitudes of the Canadian government and society.
It is one of the darkest chapters in the history of the nation state that celebrates its 150th anniversary this year. That's a chilling number, when you consider that Residential Schools scooped 150.000 children away from their families to experience neglect, disease, oppression, and abuse. Canada is celebrating 150 years of Confederation in 2017, but for the First Nations people it is more like a celebration of colonialism and we don't want to celebrate that. Instead we want to honour the Indian residential school survivor legacy and the restoration of our identity as indigenous people.
I am Michael Cheena, a residential school survivor.  My connection to the Indian residential school survivor movement began in 1994. I filed a lawsuit against the federal government for residential school abuses: the loss of language, the loss of culture, and the loss of identity. We were indoctrinated to be Christians in the residential school system. We weren't allowed to practice our indigenous culture and languages. The goal of this legislative government policy was assimilation – an attempt to kill the Indian in the child.
We are Kevin Harp and Chester Abbotsbury, federal Native prisoners and inter-generational survivors who recently came to Toronto after serving 8 years at Collins Bay Penitentiary in Kingston, Ontario. We will be speaking at the festival to give people a better understanding of why indigenous people are so overpopulated in the federal prisons. Today, Canadian prisons are the new residential schools.
Restorative Relations Working Group Co-Chair, Reverend Brian McIntosh, sees Four Directions as an historic opportunity to recognize and celebrate the cultural and artistic contributions of the people of all nations who reside together in this land, and the reconciliation and right relations that we are all called to undertake and build: "Guided by the promise of the circle and four directions teachings of Indigenous peoples, this Festival celebrates our collective diversity and urges all participants to honour the presence and gifts of all who live in this region, particularly its first inhabitants, as we strive for harmony and healing."
by Micheal Cheena, Chester Abbotsbury, Kevin Harp, and Chris Harris, PhD