BIG BAND EXCHANGE
in lieu of Sunday Serenades
This summer, for the first time in over 25 years, we won't gather on Mel Lastman Square to dance to the sound of the best Big Bands of Toronto and beyond. The safety of our community is of utmost importance, and we plan on returning in full 'swing' next year!
While the physical event won't take place, we didn't let that stop us from finding a way to bring the music to you. So, in lieu of this year's festival, we're launching a special project called Big Band Exchange and we want YOU to participate.
Big Band Exchange is a one-of-a-kind experience for you to connect with and support Toronto bands and musicians through the "exchange" of memories and stories about jazz, music, dancing, and everything in between through conversations and video podcasts! 
Participating bands include: Advocats Big Band,Jenna Marie Pinard Ensemble, Martin Loomer's Orange Devils and Toronto All-Star Big Band.
Missed the live podcasts? Check them out below!
Facebook Live: August 9, 16, 23, and 30 from 4-5 PM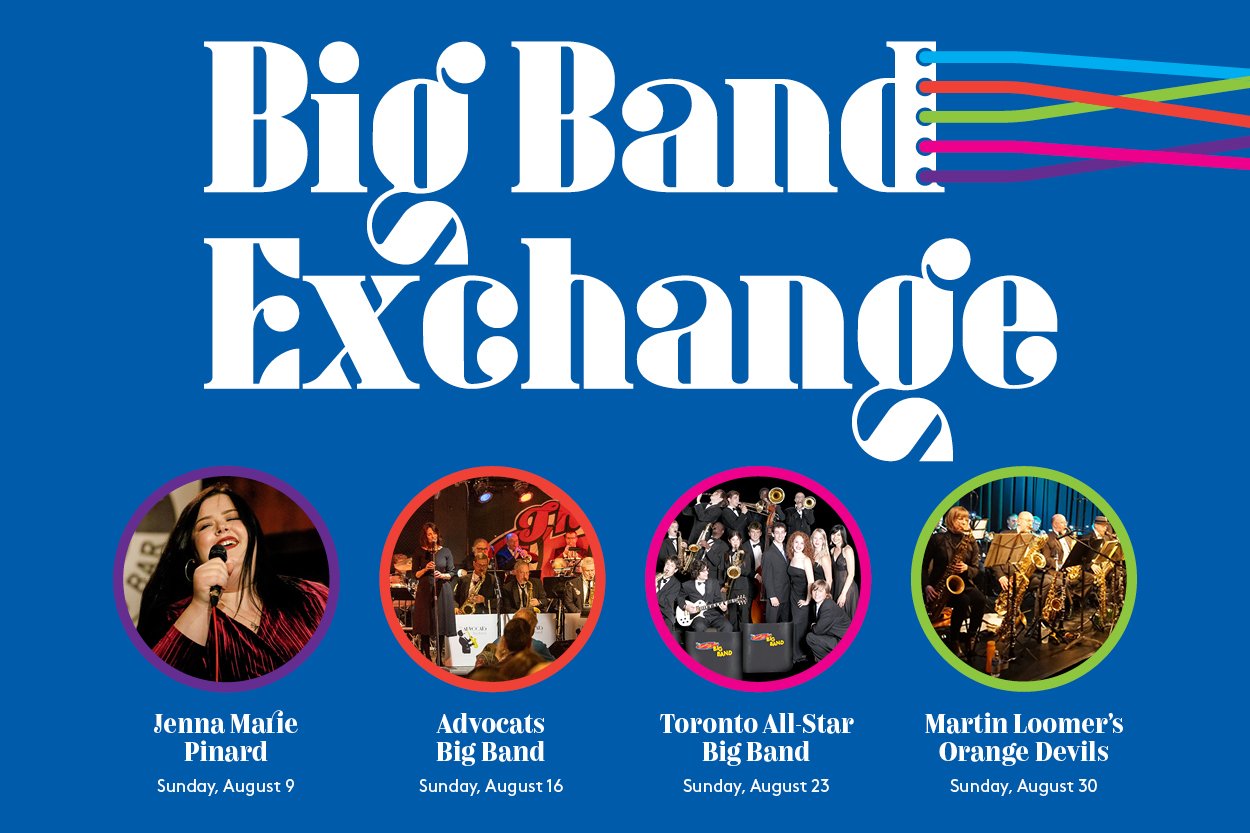 HOW IT WORKS
PART 1: 1-on-1 conversations
Participants had the opportunity to sign up for a 1-to-1 30-minute conversation with a big band musician to chat all things music! Had a question, comment, or idea? This was a unique opportunity to connect with local talents.
The musicians were very pleased to talk with music lovers and hearing about their favourite tunes, memories, and more.
PART 2: Facebook Video Podcasts
Every Sunday in August we brought the jazz directly to you! Each band released a pre-recorded podcast on Facebook Live. Watch below as these amazing performers share stories. We encourage you to tune in to listen, sing along, and dance! 
Watch Past Facebook Live Podcasts 
Toronto All-Star Big Band
Martin Loomer's Orange Devils
Sunday Serenades Lineup 2020
Stay tuned for details! 

Sunday Serenades 2019
Dates: July 7, 14, 21, 28, 2019
Bands: Metro Big Band, Toronto All Star Big Band, Swing Shift Big Band, Starlight Orchestra 
Partnering Sponsor: TO Live
Community Partner: North York Seniors Centre
Funded by: Government of Canada
Sunday Serenades 2018
Dates: July 8, 15, 22, 29, 2018
Bands: George Lake Big Band, GTA Swing Band, Starlight Orchestra, Metro Big Band
Partnering Sponsor: Toronto Centre for the Arts
Supporting Sponsor: Delmanor
Community Partner: North York Seniors Centre
About Us
North York Arts (NYA)  collaborates with artists, arts organizations, and partners to develop, strengthen, and promote cultural programming and initiatives for North York communities
Contact us 
North York Arts
5040 Yonge St.
Toronto, ON, M2N 6R8
Monday – Friday, 9am – 5pm